Lenovo Vibe X Hands-On: Staying In Stride With The Top Tier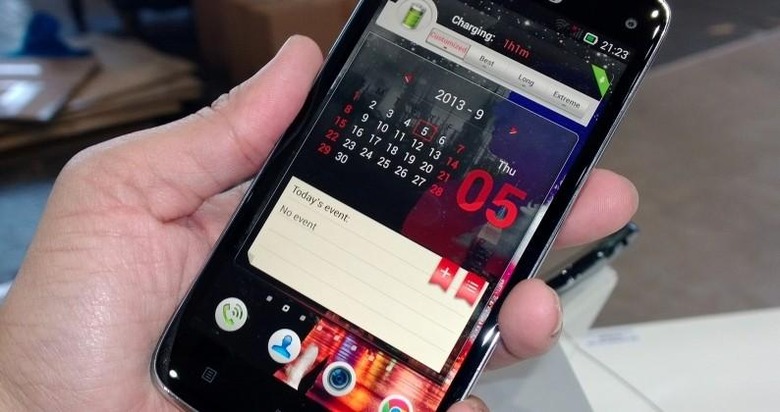 At the last CES event, we got our hands on Lenovo's K900 handset, a powerful smartphone that has been eclipsed by the company's latest offering, the Lenovo Vibe X. With the Vibe X comes some of the features we liked most about the K900 wrapped in a modern makeover for the 2013 consumer sphere. We got our hands on Lenovo's newest toy here at IFA 2013, and you can check out our impression of it after the jump.
The Lenovo Vibe X offers a 5-inch 1080p display, which is slightly smaller than the 5.5-inch offering on the K900, but a better deal overall with the use of a "20/20 Vision" IPS LCD panel. In total, this brings buyers 441 pixels per inch alongside the Full HD resolution, certainly a top-tier series of specs for those who take their screen real estate seriously.
The display itself is accompanied by Corning Gorilla Glass 3 with beveled edges and one of the biggest front-facing cameras you'll find on modern handsets, a 5-megapixel sensor for quality chat sessions or the occasional selfie. This is joined by a larger 13-megapixel camera on the rear with a back-illuminated sensor, auto-focus, and a single LED flash. The lens is a wide-angle offering with an 84-degree viewing angle.
You can check out our hands-on video above for a quick look at the Vibe X in all its glory, while the gallery below offers some more detailed looks at its menus and design. You'll note the second handset in some of the images, LG's newly launched LG G2, offering a comparison look at the design aspects of two top-of-the-line smartphones.
The unit is rounded out with a quad-core MediaTek 6589T 1.5GHz processor under the hood and a couple gigabytes of RAM. One area where users are likely to find a complaint, however, is with the internal storage space — Lenovo has 16GB under the hood, but has elected to eschew a microSD expansion slot, meaning content-heavy users might run into capacity problems.