Lenovo uses Freescale tech in a design reminiscent of the Skylight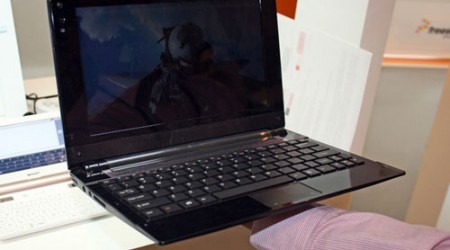 We found out late last month that Lenovo had killed off the interesting sounding Skylight smartbook in favor of devices running Android. Lenovo is showing off a new design for a smartbook that looks very interesting. The new device is being shown off by Freescale, who provides the hardware platform.
The new device uses the Freescale i.MX515 platform. The i.MX515 platform features an ARM Cortex A8 CPU at 800MHz featuring 32KB of L1 cache dedicated to instructions and data with 256KB of L2 cache. The platform also has a DDR2-400 memory controller.
One of the most interesting parts about the device is that the platform is so efficient Freescale says that it needs no fan and doesn't even need a passive heat sink to stay cool. The fact that no fan or heat sink is needed makes the smartbook have a standby time comparable to mobile phones. Other features include a memory card reader, SIM card slot, and a pair of USB ports.