Lenovo tipped to be first to market with Windows 8 tablet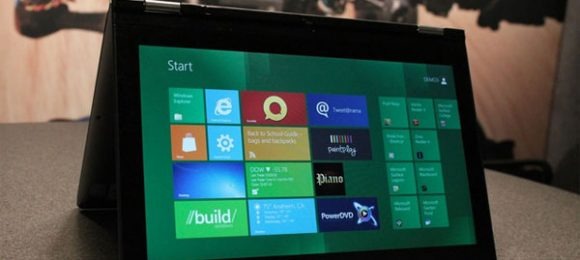 We all know Windows 8 tablets are coming. We will see some tablets running traditional Intel hardware using the operating system and others based on ARM processors that will hopefully be more inexpensive. Sources have tipped that the first company to market with a Windows 8 tablet will be Lenovo. Lenovo isn't the company that jumps to my mind as a likely first to bring one of these tablets to market.
A source told The Verge that Lenovo is planning to be the first company to launch Windows 8 tablet and that the company expects Windows 8 to launch in October. There are no details on the tablet Lenovo plans to launch, but the source says it will use an Intel processor. That Intel processor would seemingly indicate it will be one the more expensive Windows 8 tablets.
Back during CES Lenovo was showing off the IdeaPad Yoga Windows 8 tablet, which could possibly be the tablet that launches. The tablet is interesting because it had a keyboard attached with a hinge that can be folded back much like convertible tablets that have been on the market in the past. Even if Lenovo is first, you can bet there'll be a number of other tablets on the market straightaway as well. Dell already plans on offering an enterprise focused tablet on the day Windows 8 ships.
[via The Verge]