Lenovo ThinkStation E20 entry-level workstation from $599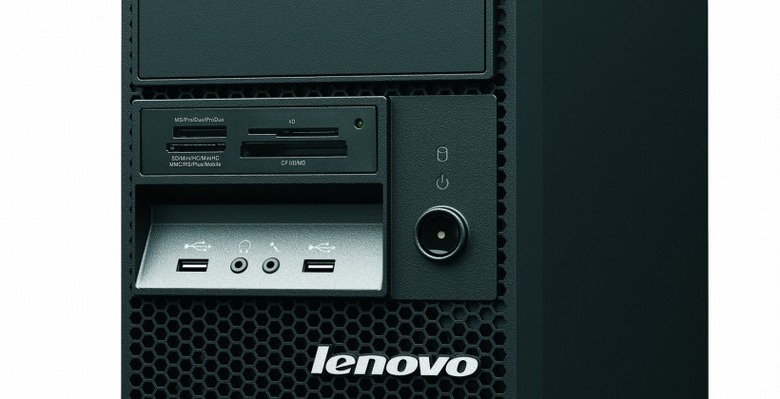 We may receive a commission on purchases made from links.
Hardly glamorous, but Lenovo's latest budget workstation could bring graphics crunching happily within reach of entry-level renderers.  The Lenovo ThinkStation E20 range kicks off at $599, with a choice of Intel Pentium, Core i3, Core i5 or Xeon processors, up to 16GB of DDR3 memory (spread over four DIMM slots) and an optional NVIDIA Quadro graphics card.
On top of that there's a choice of 7,200rpm, 10,000rpm or MLC SSD storage, with optional RAID 0 or 1 setups.  Connectivity includes gigabit ethernet, audio in/out and eight USB 2.0 ports, along with optional eSATA and FireWire.  Lenovo will pre-load Windows 7 Professional 64, but you can also have the 32-bit version, Windows XP x64 or Red Hat Enterprise Linux 5.
No sign of preorders being taken as yet, but that will apparently kick-off midway through this month.  Pricing is from $599, but don't expect that to get you a Core i3 or i5 machine, or much in the way of memory.
Press Release:
Lenovo Combines Workstation Performance with Unprecedented Price in New ThinkStation Workstation

RESEARCH TRIANGLE PARK, NC – February 9, 2010: Lenovo (HKSE:992) (ADR:LNVGY)today announced the ThinkStation E20, the first in a new series of entry level workstations. Starting under $6001 the new E20 offers professionals working in computer aided design (CAD) and digital content creation (DCC) fields the performance they need at an extremely affordable price. The E20 also sets a high bar for green design by using more than 50 percent recycled plastic content.

"We've found there are a number of CAD and DCC professionals who are currently getting by on desktop PC hardware due to budget constraints," said, Mark Cohen, vice president, Enterprise Products, Lenovo. "They're running workstation-class applications and could benefit from using true workstation hardware. We designed the ThinkStation E20 with these users in mind to put true workstation performance within their reach and enable them to realize significant productivity gains associated with using the right tool for the job."

Price and Performance

With models starting under $6001, the E20 offers workstation-class performance at desktop-level prices. It comes equipped with:

Choice of the latest Intel Core i3 and i5 Processors as well as Pentium and Xeon 3400 Series Processors

Choice of independent software vendor (ISV) certified graphics solutions – Intel Core HD graphics or NVIDIA Quadro discrete graphics up to the FX1800

Support for Error Correcting Code DDR3 memory

Certifications from leading ISVs like Autodesk, Siemens and Dassault Systemes

"Users can experience certified, tested and optimized workstation solutions at near PC prices with the Lenovo ThinkStation E20 workstation, based on the Intel® Xeon® 3400 processor series or the Intel® Core™ HD graphics," said Anthony Neal Graves, general manager, Workstation Group, Intel. "Users who once relied on high-end desktops now can benefit from a real workstation experience."

Built for a Greener Environment

The ThinkStation E20 leads the PC industry in its use recycled plastics. More than 50 percent of the plastic content comes from post-consumer recycled materials. Additionally, it achieves a Gold-rating by the Electronic Products Environmental Assessment Tool and is GREENGUARD certified for its environmental attributes. The E20 also meets the high energy efficiency criteria for Energy Star 5.0 and features an 80 Plus Bronze Power Supply.

Pricing and Availability2

The ThinkStation E20 workstation will be available in mid-February with models starting at approximately $599. The workstation will be sold through Lenovo business partners and www.lenovo.com. For the latest Lenovo news, subscribe to Lenovo RSS feeds or follow Lenovo on Twitter and Facebook.