Lenovo ThinkStation C20 Review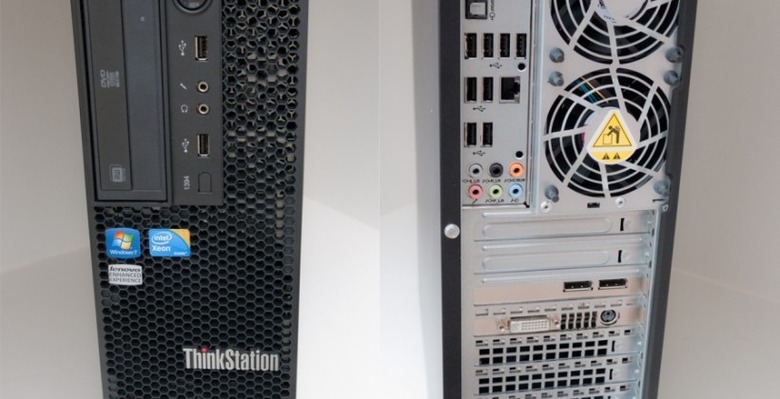 Big computers generally mean big performance, but does a PC need to be imposing in order to blitz through the benchmarks?  Lenovo's ThinkStation C20 is the baby of the range when it comes to physical size, but with dual Intel Xeon processors and NVIDIA's Quadro FX 4800 graphics, it's no slowpoke. Check out the full SlashGear review after the cut.
The ThinkStation C20's diminutive stature is down to its rack-mount friendliness: with the optional brackets you can stack up to 14 of them in a standard 42U rack.  Of course, it also means a smaller footprint – either on the desk or underneath it – for users with just one C20.  Aesthetically it's Lenovo's usual somber black handiwork, with the front panel mostly vent meshwork aside from a single optical drive – in this case a DVD burner – together with FireWire, two USB 2.0 ports, audio in/out and the power button.  On the top edge is a recessed handle lined with soft-touch plastic, which makes moving the C20 particularly straightforward.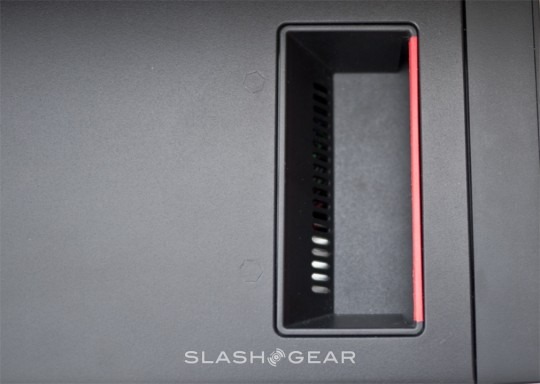 On the back, there are three fans (two system fans, one in the PSU) together with more meshwork and a further eight USB 2.0 ports, a gigabit ethernet port, two S/PDIF digital audio ports, analog surround audio outputs and a serial port, together with whatever graphics outputs your choice of video card offers (more on that in a moment).  The side panel opens to reveal a surprisingly straightforward internal layout, with tool-less mounts making upgrades and modifications relatively simple despite the comparatively small space.
There are some neat touches, too, some of which are obvious to the user and others less so.  Lenovo has used over 50-percent post-consumer recycled plastic and low-noise fans, which is always good, and the front panel port labels are backlit which makes plugging in peripherals simple when the C20 is under a desk or in a dim server room.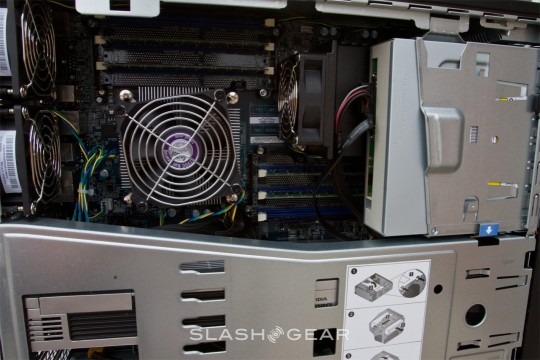 Of course, the real meat is what's inside the chassis, and Lenovo sent over a loaded ThinkStation for us to test out.  The range kicks off at $1,199 with a single 2.0GHz Intel Xeon E5503 processor and 1GB of RAM, but our C20 has a pair of 2.66GHz Intel Xeon (Westmere) X5650 processors for a total of twelve cores.  There's also 8GB of DDR3 memory, a 500GB hard-drive and an NVIDIA Quadro FX 4800 video card, with Windows 7 Professional 64-bit as the OS.  Expect to pay around $6,774 for a similarly specified C20, though this isn't the most outlandish configuration you could opt for.  Faster Xeon chips are on offer, together with up to 48GB of memory across six DIMM slots, dual graphics cards, a Blu-ray burner and twin hard-drives (HDD or SSD) with optional RAID.
[sgbenchmark id=111 show=system]
The NVIDIA Quadro FX 4800 deserves some attention, considering it alone adds $1,475 to the C20's sticker price.  Currently near the top of NVIDIA's workstation card range, it targets animators and designers running graphics-intensitive applications like 3D rendering.  At its heart is the new GT200GL GPU, with 192 CUDA cores, paired with 1.5GB of dedicated memory and 384-bit memory width; together, NVIDIA says the FX 4800 is capable of 76.8GB/s memory bandwidth, crunching 300 million triangles per second and 38 billion texels per second.
Of course, the CUDA cores are flexible in their abilities, and rather than being limited to pure graphics rendering they're in fact each an individual multi-threaded processor.  Compatible software – which generally means the latest image, CAD and other high-end apps – can take advantage of any unused cores to speed up other processing tasks, offset from the PC's main CPU(s).  As for outputs, you get two DisplayPort, one dual-link DVI-I and a stereo audio port, with a max 2560 x 1600 resolution and NVIDIA 3D Vision/3D Vision Pro compatibility.  It's worth remembering that – if your wallet can hold up to it – you can outfit the C20 with two of these cards.
It came as little surprise, then, to find the ThinkStation C20 blitzed our benchmarks.  We started off with Geekbench, a synthetic test of processor and memory performance, and the Lenovo ThinkStation C20 scored a massive 19565.  That was primarily held back by memory performance and bandwidth; the processor scores themselves were well in excess of 20k.  The closest score in our benchmark database is the iBUYPOWER Paladin F Series, which packs a single Intel Core i7-980 Extreme, and was around 400 points lower (though it's also in the region of $3,000 less than the C20).
[sgbenchmark id=111 show=score]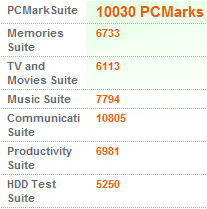 We then turned to PCMark, which is a broader test of system abilities.  Overall, the ThinkStation scored 10030, with particular strengths in the Communication (10805), Music (7794) and Gaming (7640) tests.  Lowest score was 5250 in the HDD testing, likely a result of the single 7,200rpm drive in our review machine.  Looking back, the iBUYPOWER system (which is targeted at gamers) scored almost twice as well in PCMark, though in pro-level graphics applications the Quadro FX card of the Lenovo would likely make a more significant difference while an SSD would also help.
Still, this is mighty impressive performance from a relatively small machine, and we can't help but be blown away by the sheer crunching ability of the dual Xeons.  In everyday use we had trouble slowing the C20 down – this isn't a PC where opening a few dozen browser windows will cause lag – and it stayed admirably quiet too (though fan noise did ramp up as the system was stressed during benchmark testing).
The Lenovo's price tag puts it out of contention for most people, and with its workstation credentials it's not intended to replace high-end gaming machines. Graphics professionals, video editors or anyone looking to do vast amounts of crunching in minimal amounts of time, however – and without turning their office into a server farm – should definitely be considering the C20.  Its primarily limitation (bar price) is the mere two internal drive bays, but that's the trade-off for its compact chassis; to be fair, Lenovo offer several larger alternatives in their S20 and D20 ranges that accommodate bigger RAID arrays.  For those unwilling to give space to such behemoths, the ThinkStation C20 delivers the power without the bulk.