Lenovo ThinkPad X100e Review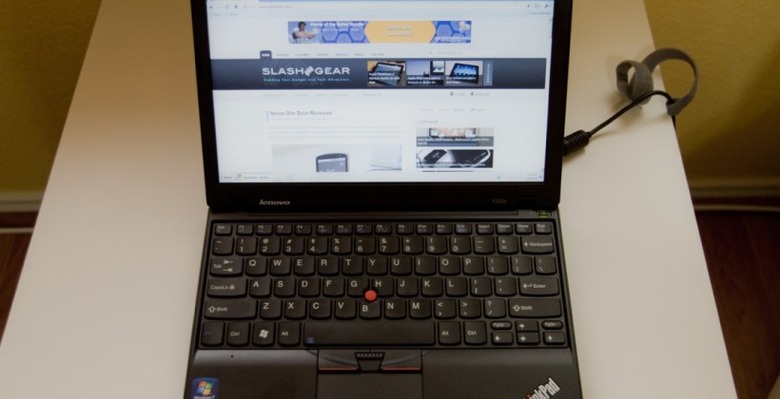 Lenovo's ThinkPad range has a new baby brother, and while the company is now several generations through its IdeaPad netbooks, the ThinkPad X100e is the first CULV-style machine intended for mobile pros. It's an ambitious undertaking, certainly: can the company deliver the traditional build-quality, reliability and performance expected from a ThinkPad, along with the low price expected for an 11.6-inch ultraportable? Check out the full SlashGear review after the cut.
While Lenovo will eventually offer dual-core processors, our review unit came with a 1.6GHz AMD Athlon Neo MV-40 CPU, paired with 2GB of RAM and a 160GB 5,400rpm hard-drive. Graphics are courtesy of an ATI Radeon HD3200 chipset, and the battery is a 6-cell 2,600mAh pack Lenovo rate for up to 5hrs runtime. Connectivity includes WiFi b/g/n (Bluetooth is a $20 option, not present on our unit), three USB 2.0 ports (one of which is powered), VGA, a combo mic/headphone socket and gigabit ethernet.
The ThinkPad X100e's display is an 11.6-inch 1366 x 768 HD Ready panel, LED backlit, and with a webcam above. In terms of appearance, the ThinkPad heritage is obvious; it's an angular, squared off notebook, and the traditional red TrackPoint nubbin nestles among an isolated key "chiclet" keyboard, in addition to a multitouch-capable trackpad and two sets of mouse buttons.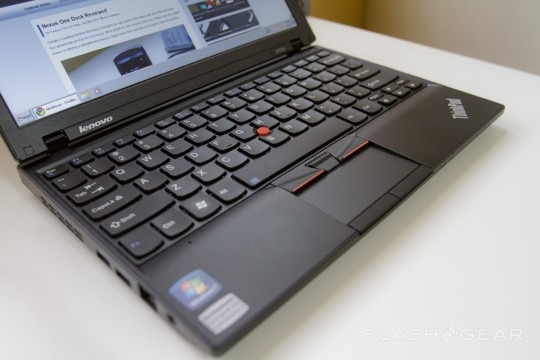 Considering how well-esteemed ThinkPad keyboards are, happily the X100e delivers in terms of usability. Key feel and response is some of the best we've experienced on an ultraportable of this size, and belies the X100e's "budget" segment positioning. Unlike some of Lenovo's other recent models, however, it seems there hasn't been the space for keyboard layout tinkering; the commonly-used keys, such as Delete, are the same size as their infrequently-tapped neighbours. As for the screen, we're fans of the matte finish which banished frustrating reflections, and even makes the X100e suitable for outdoors use (though particularly bright days will still wash out the 200 nit backlight).
Unfortunately, building to a price rears its head when it comes to overall build quality, and the X100e is noticeably lacking in comparison to other ThinkPad ultraportables. To be fair, it's probably better made than other CULV notebooks out there, but then again some of those start $100-$150 less than the Lenovo does. It's also not a quiet machine, with the fan particularly loud and, even when it's been running for some time, the X100e still hot to the touch.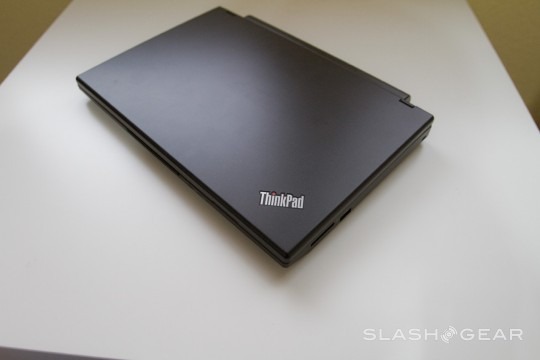 Real-world performance is competitive in comparison to Intel's Atom counterpart paired with integrated graphics, which is to say it'll multitask with several browser tabs, media playing and email, but you wouldn't want to consider anything as serious as video processing or heavy-duty image editing. Similarly gaming is out of the question, unless your ambitions are particularly low.
We ran Geekbench, which tests processor and memory performance, and the ThinkPad X100e scored 737 (see update below) 1192 overall. That's actually over a hundred points less than an Atom N270 based netbook with 1GB of RAM. What is disappointing, however, has been battery performance. While Lenovo rate their 6-cell battery for around 5hrs runtime, in practice we found that average use drained the X100e in around 3hrs. We didn't have access to the optional 3-cell battery (2,200mAh) which is rated for 2hrs, but we can't imagine it being of use to anyone but the most desk-bound of users, to whom "mobile" is moving their laptop between the office and the boardroom.
Update: Having compared the X100e's Geekbench scores with other MV-40 systems, we suspected something was causing this machine to underperform.  Sure enough, when we updated the existing BIOS (v1.04) to the latest available version (v1.10) and retested, the ThinkPad X100e scored a far healthier 1196. The stock BIOS had dragged down scores in all four of the performance categories Geekbench tests for; meanwhile battery performance has also increased slightly, up to 3.5hrs on average. The moral of the story is to make sure your computer is up to date with its drivers, as these can significantly affect performance. We've updated our conclusion accordingly.
At the start we wondered whether a comparatively budget notebook could deliver not only sufficient power for a mobile professional but tick all the boxes we've come to expect from ThinkPads. With the updated BIOS, the Lenovo ThinkPad X100e puts in a significantly stronger showing than regular Intel Atom netbooks, overshadowed only by middling battery longevity. Faster dual-core processors should increase performance even more, but we'll have to wait and see what damage they might do to to runtimes. As for this particular SKU, for those users who prioritize text-entry above all else the X100e's keyboard is significantly better than many other 11.6-inch models on the market, and it's paired with speed sufficient for everyday tasks. Road warriors spending long periods away from an AC point should look elsewhere, but the ThinkPad X100e still puts in a decent showing.