Lenovo ThinkPad X1 line gets CES 2018 update plus 4K Thunderbolt 3 display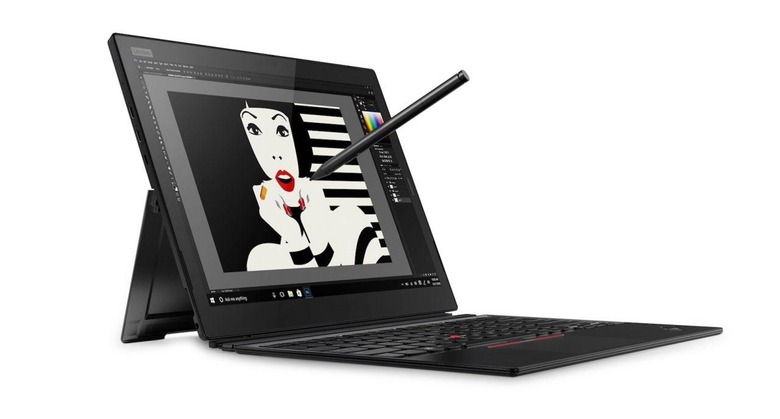 Lenovo's ThinkPad line-up is getting a refresh for CES 2018, with updated X1 Tablet, X1 Carbon notebook, and X1 Yoga models, together with a brand new 27-inch Thunderbolt 3 display. While they may be ostensibly targeting businesses and mobile pros, the combination of speedy 8th Gen Intel processors and features like Amazon Alexa mean there's likely to be plenty of interest among consumers, too. As for that ThinkVision X1 display, it might be the Thunderbolt 3 display-hub you've been waiting for.
Lenovo ThinkPad X1 Tablet (3rd Gen)
The ThinkPad X1 Tablet 3rd Generation is Lenovo's latest pro-tablet, running Windows 10 Pro and packing Pen Pro stylus support and a removable keyboard. It has a fingerprint scanner and an optional infrared camera for Windows Hello, and a 13-inch 3K 3,000 x 2,000 HDR-compatible IPS touchscreen with Gorilla Glass.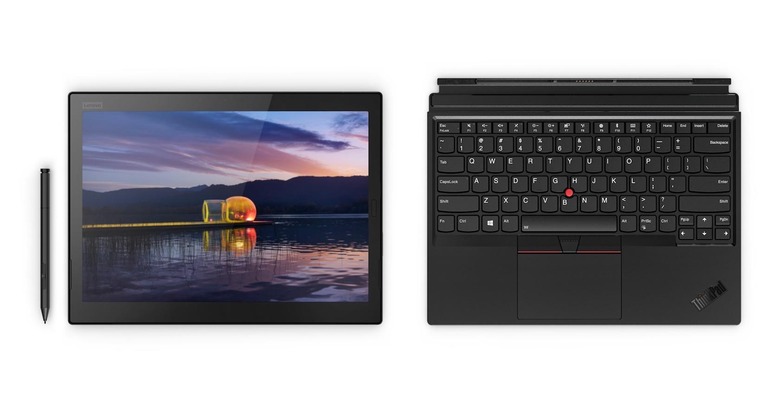 Inside there's up to an 8th-generation Intel Core i7 processor with Intel UHD Graphics 620. Configurations with up to 16GB of LPDDR3 memory will be available, along with up to 1 TB of SSD storage. The battery is good for up to 9.5 hours, Lenovo claims, and it charges via USB-C.
As for connectivity, there are two Thunderbolt 3 ports, an SD card reader, headphone/mic combo, and a nano SIM slot for the 4G LTE-A Cat6 modem. There's also 802.11ac 2x2 MIMO WiFi and Bluetooth 4.2. The whole thing weighs from 1.9 pounds tablet-alone, or 2.79 pounds with the keyboard. It'll be priced from $1,599 when it goes on sale this month.
Lenovo ThinkPad X1 Tablet (3rd Gen):
Lenovo ThinkPad X1 Carbon (6th Gen)
The ThinkPad X1 Carbon 6th Generation is Lenovo's professional notebook, blending classic ThinkPad styling with the latest 8th Gen Intel Core chips. Offered with up to a Core i7 and Intel UHD Graphics 620, the X1 Carbon can be spec'd with up to 16GB of LPDDR3 RAM and up to a 1TB PCIe SSD.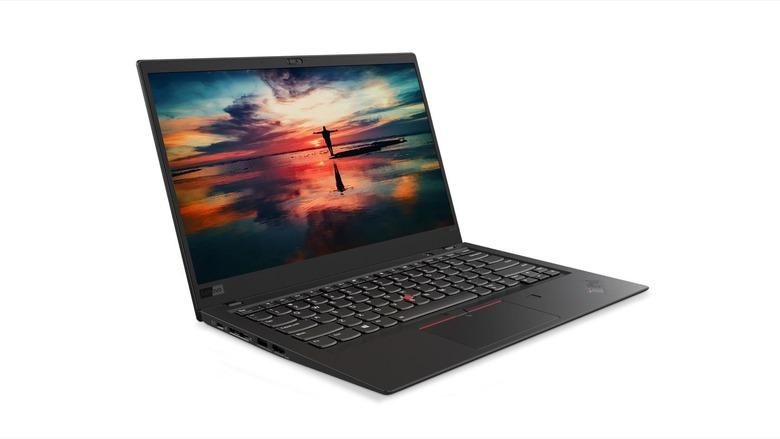 Battery life is up to 15 hours, and the display is a 14-inch HDR IPS 2560 x 1440 panel. Ports include two USB 3.0, two Thunderbolt 3, a headphone/mic combo, a microSD card reader, HDMI output, and a docking connector. 802.11ac 2x2 MIMO and Bluetooth 4.2 are inside; 4G LTE-A integrated WWAN will be an option.
Meanwhile, a ThinkShutter camera cover provides physical safe-of-mind over webcam hacks, and there's a fingerprint scanner for Windows Hello. A microphone array gives support for Amazon Alexa, and there's Wake on Voice too. It'll be priced from $1,709 when it goes on sale this month.
Lenovo ThinkPad X1 Carbon (6th Gen):
Lenovo ThinkPad X1 Yoga (3rd Gen)
The ThinkPad X1 Yoga 3rd Generation is a 360-degree convertible, flipping its 14-inch HDR 2560 x 1440 touchscreen between laptop, tent, and tablet orientations. Like the ThinkPad X1 Carbon it has the same choice of processors, graphics, RAM, and storage. It matches the 15 hour battery life too, Lenovo claims.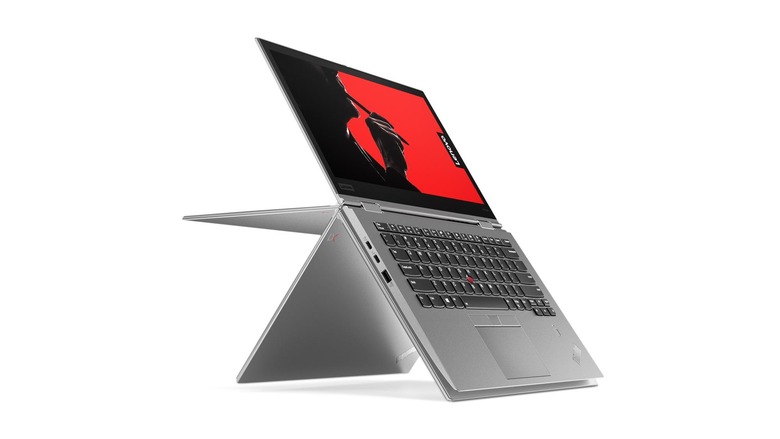 Similarly, the ports include the same mixture of USB 3.0, Thunderbolt 3, and HDMI, but it also finds space for an ethernet port. Baked-in LTE-A is also an option. You get the physical ThinkShutter camera cover, Alexa support, and fingerprint security as well. It'll go on sale this month, priced from $1,889.
Lenovo ThinkPad X1 Yoga (3rd Gen):
Lenovo ThinkVision X1 Monitor
Lenovo's last addition to its professional line at CES 2018 is the ThinkVision X1. A 27-inch display, it has minimal bezels around its 4K 3840 x 2160 IPS anti-glare panel. Maximum brightness is 350 cd/m2, while the contrast ratio is 1,000:1, and it covers 99-percent of the sRGB color gamut.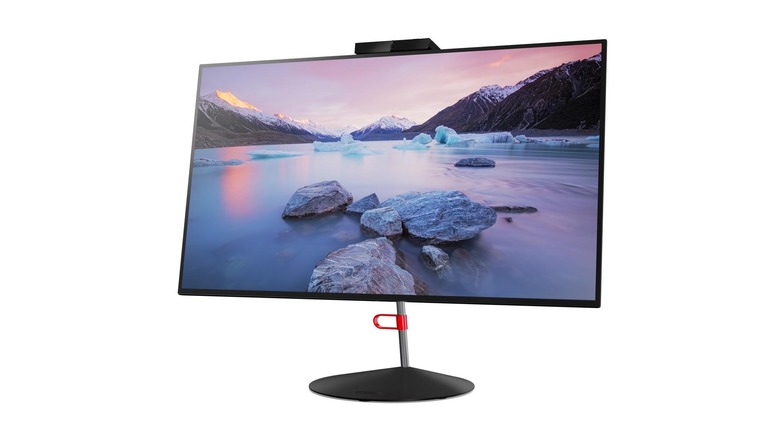 It hooks up with a single Thunderbolt 3 cable, if you have a compatible notebook. If you don't, there are DisplayPort 1.2 and HDMI 2.0 ports as well; Lenovo even throws an HDMI cable and a USB Type-C cable in the box. A four port USB 3.0 hub is built-in, and there's a 3.5mm audio output as well.
Most striking, though, is the "Motor Camera" which puts the webcam on a power-adjusted arm. That pivots up from behind the screen when required, then dips down again when not. A gimmick? Maybe, but it certainly looks cool. The ThinkVision X1 will go on sale this month like the rest of the updated X1 range, priced at $799.
Lenovo ThinkVision X1 Monitor: