Lenovo ThinkPad X1 Carbon pricing and configurations revealed
This week the thinnest ultrabook on the block has been re-revealed with its full specifications, pricing, and release date ready to roll. This next-generation computer will be available from Lenovo's online store starting on August 21st, and users will be able to configure their own model online starting at $1399 going all the way up to $1849 depending on what's chosen for the notebook's innards. This device comes with a 3rd generation Intel Core processor in three configurations: i5 at 1.7GHz, i5 at 1.8Ghz, or i7 at 2.0Ghz.
This notebook works with a lovely 14-inch HD+ display that's Anti-glare at 1600x900 pixel resolution with brightness up to 300 nits. Memory on each different model is always 4 GB DDR 1333 MHz, you've got a battery inside that works with RapidCharge said to last 6.3 hours by Lenovo, and you've got a front-facing camera for video chat that works at 720p resolution. Each model will come with Windows 7 Professional right out of the box, and the whole beast weighs in at 2.998 pounds.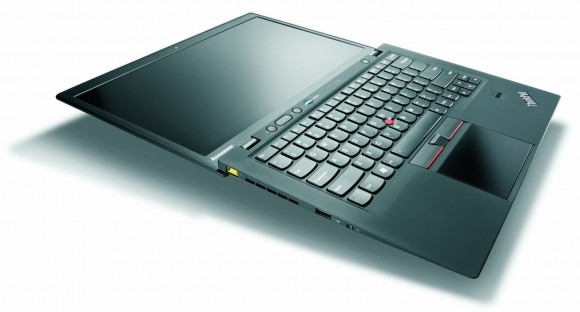 Several configurations exist, each of them costing you a few more dollar bills than the last. You'll start with the $1399 model with Intel Core i5-3317U (1.7 GHz, 3MB L3, 1333MHz FSB) and 128GB SSD SATA 3. Next you'll ramp up to the $1499 model with Intel Core i5-3427U (1.80 GHz, 3MB L3, 1333MHz FSB) VPRO and 128GB SSD SATA 3. There's a model that's quite similar to the second model with an 256GB SSD SATA 3 that'll cost you $1649 as well. Finally there's the king of the pack, a model with Intel Core i7-3667U (2.0 GHz, 4MB L3, 1333MHz FSB) VPRO and 256GB SSD SATA 3 for $1849 USD.
These models all come with a fabulous collection of slots and ports: (1) Mini DP, (1) Combo Audio, (1) USB 2.0, (1) USB 3.0, (1) 4-in-1 SD card reader, and Ethernet via USB dongle. They all measure in at the same height, width, and depth, at 13.03 x 8.9 x 0.74 inches. And they all come with a three year warrantee.
We'll be checking this beast out here on SlashGear with a full review soon. For now, have a peek at the earlier posts about this device and get knowledgeable!