Lenovo ThinkPad X1 Carbon (2019) Review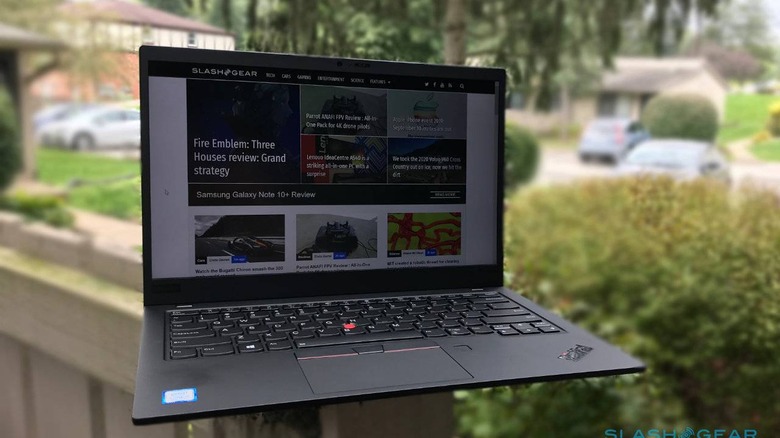 Lenovo is back with the 7th-generation version of its hit business laptop, the ThinkPad X1 Carbon. Consumers have come to love this model for many reasons, not the least of which is its slim, durable design, quality keyboard, and vast features. Lenovo has brought a number of updates to the table in its 7th-gen model, including a new brighter Ultra HD display option with HDR400, additional far-field microphones, and more.
Hardware
Historically speaking, Lenovo's X1 Carbon lineup has resisted flashy, tacky, and otherwise gimmicky design elements, sticking instead with a professional, slim, mostly black aesthetic that doesn't make a show of itself. This design is welcome in the business world, offering an image of professionalism that holds up well over the years. Lenovo has stuck with its classic ThinkPad keyboard (including the red TrackPoint), the three-button trackpad adorned with red trim, and angular, slim laptop base.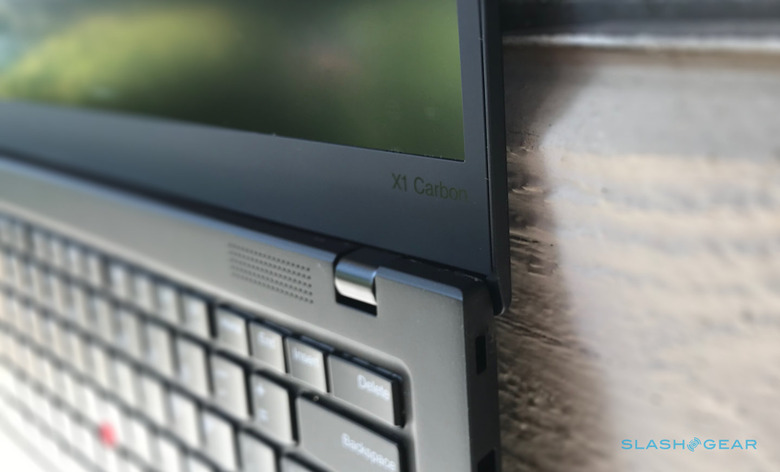 The new ThinkPad X1 Carbon features the model's thinnest and lightest chassis thus far. The model has a starting weight of 2.4lbs and is 6-percent thinner than before, but despite that, the company has managed to pack in a new four-speaker Dolby Atmos system alongside a quad array of top-facing 360-degree far-field microphones.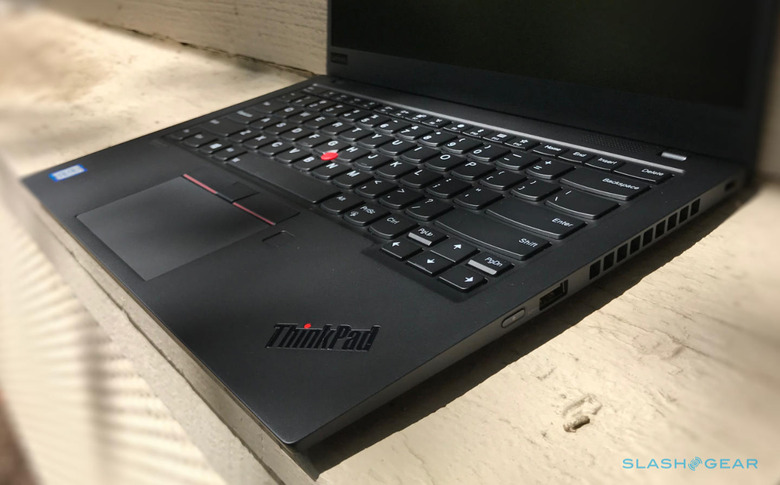 Lenovo is offering new display options with this model, as well, the most notable being the aforementioned Ultra HD panel with HDR400, Dolby Vision and 500-nit brightness. Buyers can also choose the new Full HD panel with PrivacyGuard or the Full HD panel with 400-nit brightness. Each option comes with its own benefits and downsides. The 4K panel, for example, offers the best quality, but also comes with greater power demands resulting in reduced battery life.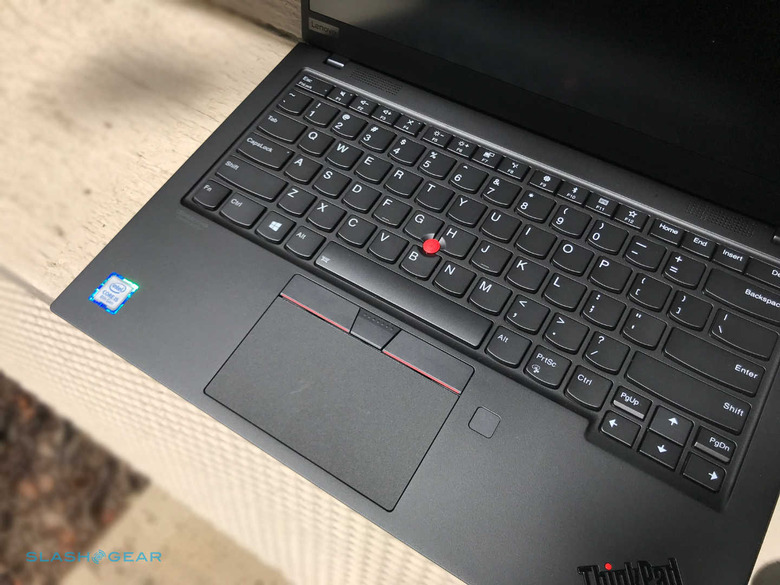 It's no surprise that a laptop primarily targeted at business users offers a number of security features. Buyers can choose to get the new X1 Carbon with an optional infrared camera, which makes facial recognition logins possible, as well as a match-on-chip fingerprint reader, dTPM 2.0 chip, and ThinkShutter privacy guard that covers the webcam when it's not in use. Lenovo also emphasizes that it uses securely sourced components.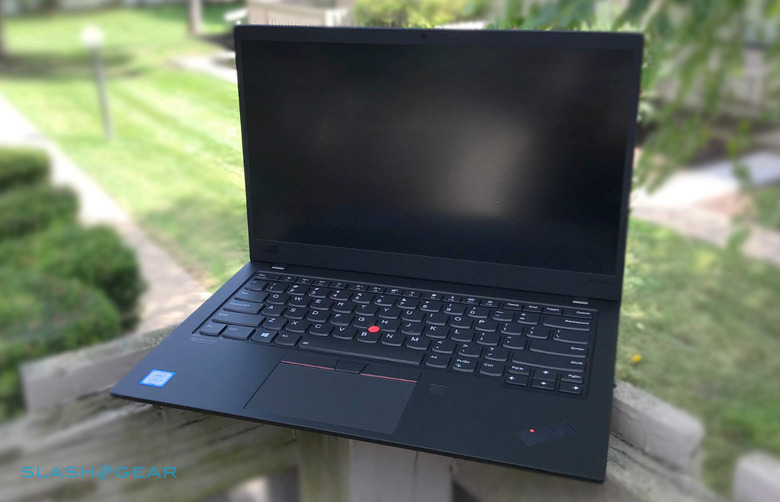 As expected, the 7th-gen X1 Carbon laptop is MILSPEC tested for the durability expected from a ThinkPad laptop. Likewise, the anti-fry protection we've seen in some of the company's other laptop models this year is included in the new X1 Carbon, protecting the laptop from poorly made third-party USB-C chargers. Users can recharge the laptop from zero to 80-percent capacity in a single hour, assuming the lid is closed, thanks to Rapid Charge tech.
A number of small changes make this update stand out. For example, the Match-on-Sensor fingerprint reader included on the X1 uses hardware acceleration to speed up the rate of encryption and matching. As well, this model's fingerprint hardware utilizes PurePrint from Synaptics, an anti-spoof technology that prevents snoops from accessing the laptop using a fake fingerprint.
Users will also find that this model's four new far-field microphones are better able to pick up on the user's voice, particularly at a distance. As a result, users are better equipped to use voice assistants and participate in voice calls without having to pull out a headset or sit very close to the machine.
On the software side of that, users can directly access the Microphone Settings in Windows to choose the microphone volume, as well as the optimization for the microphone. Options include Normal, Multiple voices, Only my voice, and Voice recognition. There are also options to cancel acoustic echos, suppress keyboard noise if typing, and automatically optimize the audio.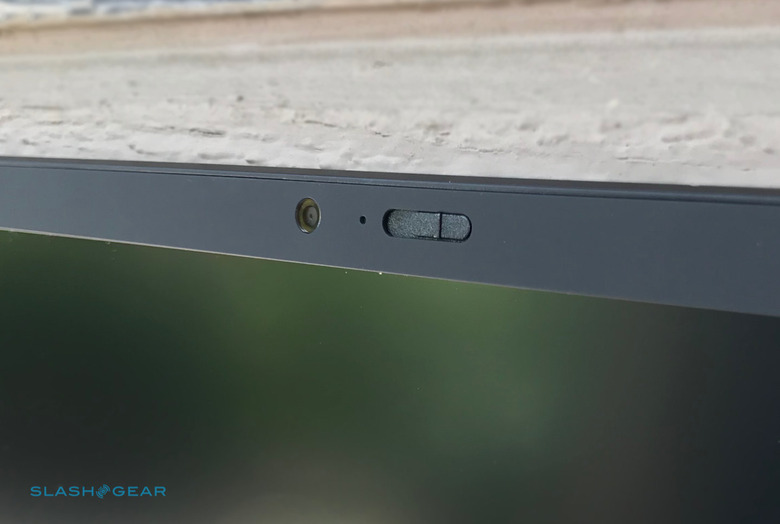 Speaking of audio, the 7th-gen X1 Carbon's Dolby Atmos speaker system has been improved to offer spatial sound that's more realistic than before. This system is compatible with streaming videos that feature Dolby Atmos content. Of note, the two tweeters are facing upward on this laptop model, while the two woofers are down-firing, enabling the audio to bounce off the surface upon which the laptop is placed.
Assuming buyers get the X1 Carbon model featuring the Ultra HD display option, they'll be able to fully enjoy Dolby Vision HDR videos from services like Netflix and Prime Video. The results are crisper, more saturated, and overall brighter images than what you'd get from one of the Full HD panel options.
Finally, as far as hardware changes are concerned, the 7th-gen X1 Carbon comes with a new carbon fiber weave finish option for the lid. This aesthetic is relatively subtle — it resembles the carbon fiber weave featured on Blackberry phones, for those familiar with them, only with a somewhat more muted contrast, making it more of an accent than a glaring element.
TECH SPECS:
Processor: Up to 8th Generation Intel Core i7-8665U (1.9 Ghz)
OS: Windows 10 ProGraphics: Intel UHD 620Memory: Up to 16GB (LPDDR3 2133MHz)Display: 14.0" FHD (1920x1080) 400nit 14.0" UHD (3840x2160) 500nit VESA400 HDR with Dolby VisionStorage: Up to 1TB NVMeWLAN & Bluetooth: Intel Wireless-AC 9560 + Bluetooth 5.0Ports: (2) Thunderbolt 3, Type-C (2) USB 3.1 Gen 1, Type-A (1) Ethernet Extension (1) HDMI (1) Microphone / Headphone Combo JackCamera: HD Camera w/ ThinkShutter camera privacyKeyboard: 6-row, spill-resistant, multimedia Fn keys, LED backlightNavigation: TrackPoint and buttonless Mylar surfaceAudio: Dolby Atmos 2W x 2 and 0.8W x 2Security: dTPM 2.0 and fingerprint readerBattery: 51Whr Li-ion w/ Rapid ChargeDimensions & Weight: 12.74" x 8.55" x 0.59" w/ weight starting at 2.4lbsCase Materials:

- Top: Carbon Fiber

- Bottom: Magnesium Alloy
Software & Performance
Lenovo offers the X1 Carbon with multiple configuration options, including a choice between the Intel Core i5 and Core i7 processors. The laptop used for this review features the Core i5-8265U processor option with 8GB of memory.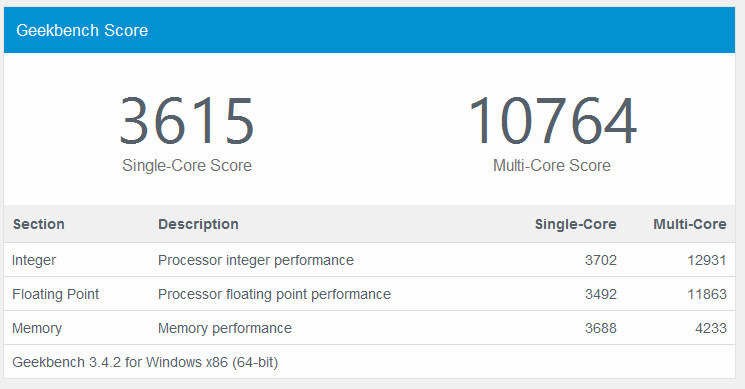 The performance was as expected, which is to say that the X1 Carbon is an excellent business laptop for the various tasks one is likely to perform with an ultrabook: Web browsing, streaming, messaging, toggling between multiple applications, keeping a dozen or more tabs open at once, video chatting, image editing, using office applications, and similar activities. The laptop ran smoothly at all times and never experienced any issues with any of the above activites, including multitasking between several applications.

Battery life with the new X1 Carbon is great, particularly for such a slim and light ultrabook. When used to stream a 1080p video at full brightness with sound on battery power, the model managed to last nearly 8 hours before it powered itself off. When used far more conservatively — lowered screen brightness, no streaming, etc — for daily work tasks like web browsing and messaging, the X1 Carbon hit nearly 17 hours on battery before turning off.
Rapid Charge can be used to rapidly replenish the laptop, meaning that for the vast majority of users, the X1 Carbon's battery life is more than capable of meeting their needs. Note: This test was performed with the Full HD version of the model. The 4K UHD model will experience lower battery life.
What we like
Looking for a primer on the best parts of the 7th-gen X1 Carbon? Here's a list of the things we like most about this model:
- The X1's carbon fiber chassis is extremely lightweight, complementing the laptop's slim build to offer ultra-portability. The laptop is very light in the hands and nearly imperceptible when in a backpack or laptop bag, making it a great option for users who are frequently on the road.
- The new carbon fiber weave style (available on the UHD model) gives buyers a welcome alternative to the traditional no-nonsense business aesthetic.
- Despite the slim frame and light weight, the X1 is packing a battery capable of getting users through a full workday. Battery life depends on usage and configuration — you'll sacrifice some battery life for the Ultra HD display option, mind — but is generally excellent for a high-performance ultrabook. The inclusion of Rapid Charge means users can top off the battery when they have a few minutes to spare.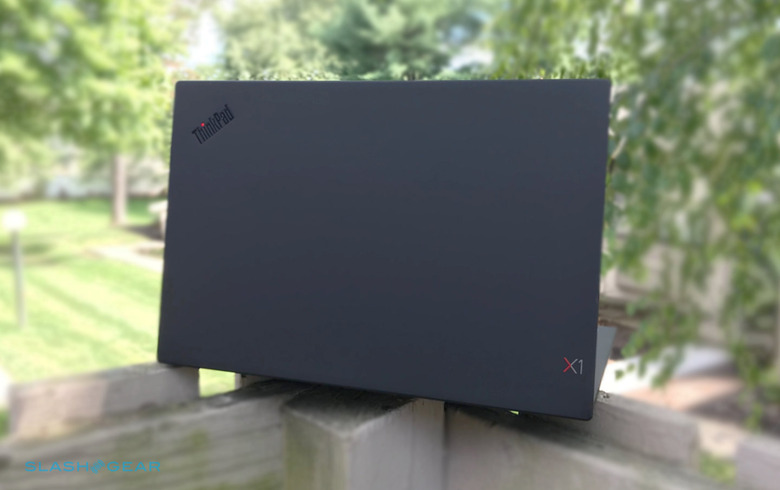 - Lenovo put a lot of thought into the small things, covering the bases users may not even realize they need until the time comes to use them. There's the ThinkShutter, for example, which covers the webcam when it's not in use. Less visible but just as welcome is the anti-fry technology, protecting the pricey laptop from poorly made USB devices and chargers.
- Hardware security solutions for business users. The X1 Carbon is, first and foremost, targeted at consumers who need a laptop to get work done. Whether you're carrying around confidential documentation or simply need to make sure your client's assets are protected, X1 has a number of security features to cover all the bases, including a match-on-sensor fingerprint reader, optional IR camera, and dTPM 2.0.
- Unlike many ultrabooks on the market, the X1 line continues to offer a generous selection of ports, enabling users to keep their dongles and other adapters at home. The 7th-gen X1 Carbon features two USB-A ports, two Thunderbolt 3 USB-C ports, Ethernet extension, and HDMI. That'll satisfy the needs of most users when they're away from the office.
- Another thing Lenovo gets right that many companies ignore is packing an excellent keyboard and trackpad into the X1 Carbon. Forget the excessively slim, bendy, and otherwise lackluster keyboards found on many ultrabooks. The X1 features the traditional ThinkPad keyboard design users have come to love, offering deep key travel, comfortable spacing, a bright backlight, and the iconic red TrackPoint nestled in the middle.
Wrap-up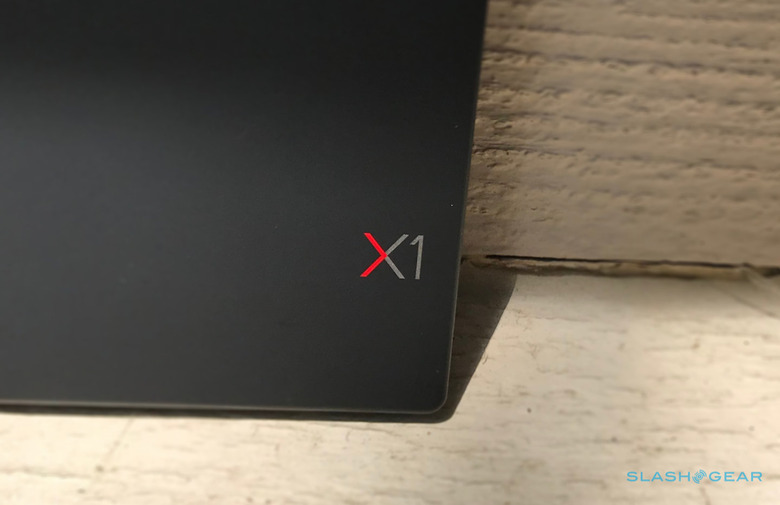 Lenovo's X1 Carbon remains a solid business ultrabook for users who need a mixture of portability, security, durability, and performance, all of it paired with a mature, modest design. Buyers will enjoy the model's excellent display and keyboard quality, long battery life, and new display and design options. The model is available from Lenovo now with a starting price of around $1,200 USD.