Lenovo ThinkPad W700ds get reviewed, bulky but powerful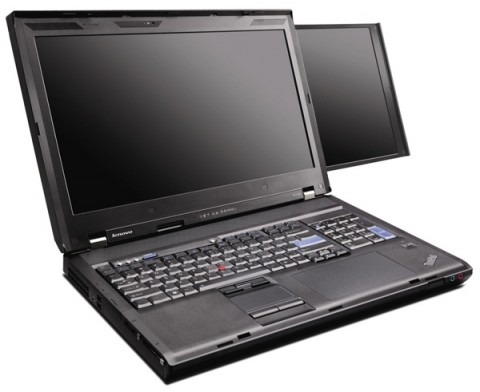 The groundbreaking dual-screen Lenovo ThinkPad W700ds is no doubt a creative and one-of-the-kind laptop replacement we've seen to date. Sized at 10.6-inch, the slide-out secondary screen is essentially a 2nd notebook built-in, and so does the weight and price. With retail tips over $4000, interested buyer might want to check out a few reviews before shelling out the hard dollars. Folks over at laptormag have jumped at the opportunity to get their hands on the ThinkPad, the full review is up, not wowed but managed to came away with the Editor Choice.
As you may expected from any ultra high performance notebook-brick, the ThinkPad W700ds is bulky and power hungry; it's super-sized at 11 pounds, and that's not including the power brick which scales at 2.2 pound, brings the overall weight to a sum of 13.2 pound! The worst of all, the nine-cell battery only lasted 103 minutes of continued use of web surfing with WIFI. Ouch!
The 17-inch, 16:10 aspect ratio display has a resolution of 1920x1200; while the secondary, portrait mode 10-inch slide-out LCD offers 1280x768 of extra viewing estate. The main screen is probably of the industry's best LCD panel with high color gamut output, it serves up 72 percent of NTSC color space.
The combination of both provide pretty of viewing real estate for internet surfing, gaming, emailing and should be valuable to Photoshop or any others designer apps that support dual-monitor; so one can place those extra panels and tool-set on the side. Nifty!
Nevertheless, despite the weight and size; ThinkPad W700ds is set to seriously surpass every other laptops out there – Beneath the 2-inch thickness chassis, there's a choice of Intel Core 2 Quad processors, together with NVIDIA's Quadro FX 3700M GPU and offers up to 8GB of RAM, 960GB of SSD or standard hard-drive based storage in an optional RAID array. It's massively powerful and staggeringly large machine to travel but do keep in mind what it has to offer: professional-grade display with twistable sub-screen, full keyboard, Wacom tablet and built-in color calibration tool; it's essential a complete professional-grade workstation on the go.