Lenovo ThinkPad T490s Review: Slimmer than ever, X1 Carbon aesthetic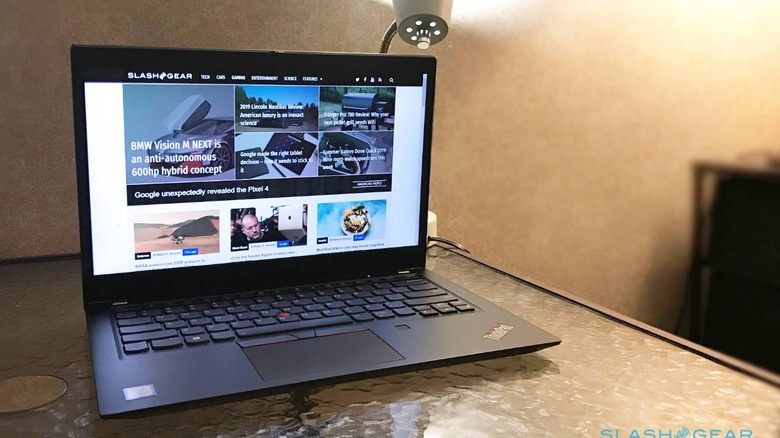 We may receive a commission on purchases made from links.
Lenovo's T-Series is back with a new update: the ThinkPad T490s. This model brings the classic ThinkPad design that has proven so popular over the years, combining it with an aesthetic similar to the older X1 Carbon models. The new T-Series offering falls between the T490 and T590, offering the slimmest and lightest design of all T-Series models. The T490s brings a number of improvements, enticing customers to update from their aging business notebooks.
Hardware
The ThinkPad T490s is a stylish business notebook offering the same general aesthetic as other present and past ThinkPad models. Consumers get a tapered base combined with slim bezels — they're 11-percent smaller than the bezels found on the T480s model. Overall, the T490s is 13-percent thinner than before with a starting weight at 2.8lbs.
The T490s is available with the 8th-generation Intel Core i5-8365U and i7-8665U processors, up to 32GB of RAM, and a 14-inch Full HD display with four options, including anti-glare coating and multi-touch. Consumers can choose up to a 1TB SSD, Windows 10 Home or Pro, and an optional hybrid IR webcam with ThinkShutter.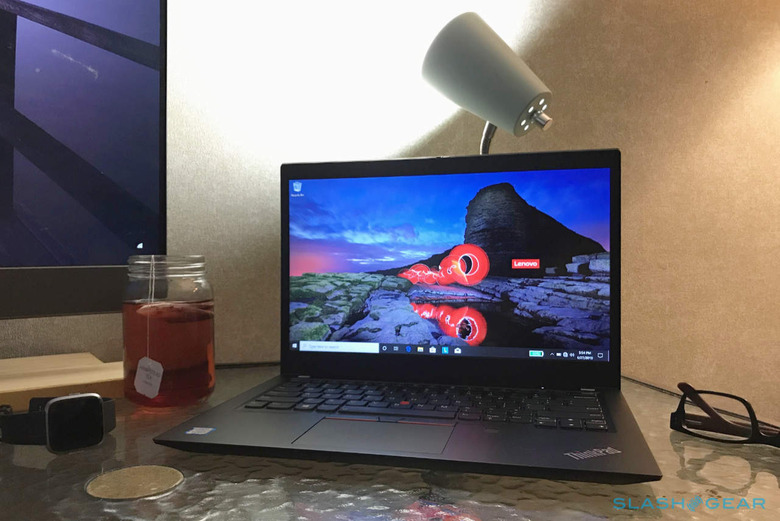 Consumers have new display options with the ThinkPad T490s: a 14-inch 500 nits HDR panel, as well as a 400 nits FHD display with Privacy Guard. The new model is rounded out with a match-in-sensor fingerprint reader, anti-fry protection, rapid charging, and a new side mechanical docking system for using the ThinkPad Pro Dock.
Lenovo has retained the bright red TrackPoint nestled in the keyboard, which, if nothing else, retains that iconic old school ThinkPad look. The company has also retained the triple-button trackpad with subtle red accents, the shiny ThinkPad logo on the palm rest, and another ThinkPad logo on the lid.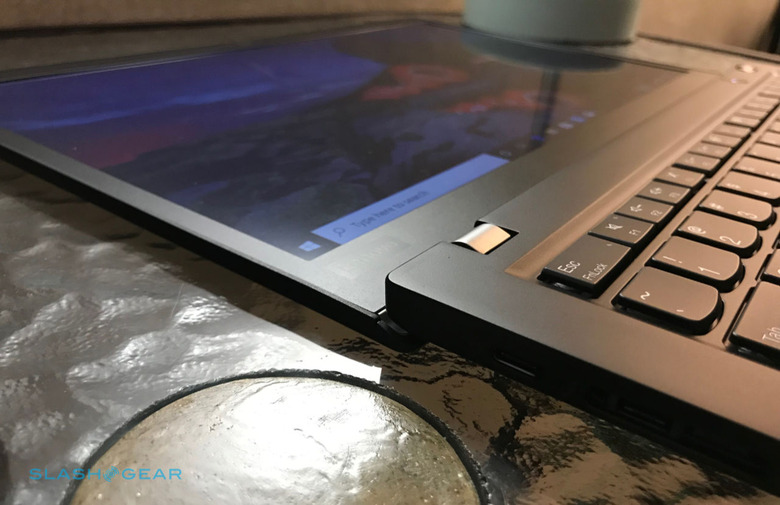 The laptop rests on small rubber feet. The majority of the model's ports are located along the laptop's left side with one USB port on the right side. When the lid is closed, there's no way to discern the T490s from the slew of other similarly sized ThinkPad models. That's a good thing if you aren't interested in sticking out in the board room or putting your system on display.
The T490s' screen can lie perfectly flat on a surface, meaning you have the freedom to use stands that elevate the keyboard/base without worrying about whether you'll still be able to see the display. The screen's viewing angles are excellent (and there's a privacy option to keep other's from taking a peek from the side if you need it), and the hinge holds its position at whatever angle you put it, even if you're carrying it around with the lid open.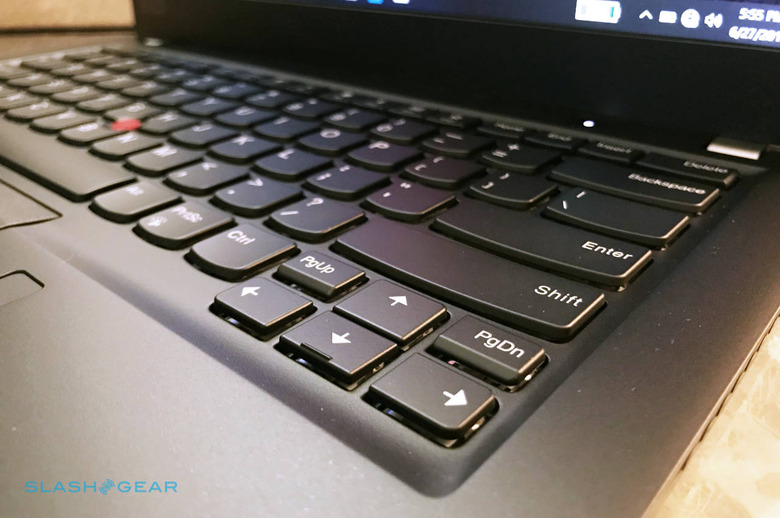 The T490s brings some additional perks to the table compared to the similar T490 model — you'll enjoy that sub-3lbs weight, meaning you'll hardly feel this notebook when it's in your travel bag, and it has the visual appeal of the X1 Carbon.
Though it's fairly slim and small, Lenovo reassures buyers that the T490s has undergone MIL-SPEC 810G certification tests across categories that include high humidity and temperature exposure, mechanical shocks, use at high altitude, temperature shocks, vibration tests, and sand tests.
The durability adds that special element of appeal for travelers who may worry about the longevity of lesser ultrabooks when frequently taken on the road or subjected to turbulence in an airplane bin.
TECH SPECS:Processor:

- Up to 8th Generation Intel Core i5-8365U with vPro (1.60GHz, up to 4.10GHz with Turbo Boost, 4 Cores, 6MB Cache)

- Up to 8th Generation Intel Core i7-8665U with vPro (1.90GHz, up to 4.80GHz with Turbo Boost, 4 Cores, 8MB Cache)

Operating System:

- Windows 10 Home

- Windows 10 Pro

Display:

- 14.0" FHD (1920 x 1080, 250 nits) IPS anti-glare

- 14.0" FHD (1920 x 1080, 300 nits) IPS anti-glare multi-touch

- 14.0" FHD (1920 x 1080, 400 nits) IPS Low-power

- 14.0" FHD (1920 x 1080, 400 nits) IPS with PrivacyGuard (Coming Soon)

Memory: Up to 32 GB DDR4 2400MHzBattery: Up to 20 hoursStorage: Up to 1 TB PCIe SSDGraphics: Integrated Intel UHD 620 graphicsAudio:

- Dolby Audio Premium

- Dual far-field microphones

Dimensions:

- Black: WQHD & low-power FHD: 12.94" x 8.85" x 0.63"

- Black: FHD, FHD Touchscreen, & FHD PrivacyGuard: 12.95" x 8.90" x 0.63"

- Silver: All panels: 12.96" x 8.90" x 0.67" / 329.15 x 226.45 x 17.2 (mm)

Weight Starting at:

- Black: FHD Touchscreen 2.98 lbs

- Black: FHD non-touch, low-power, PrivacyGuard, and WQHD 2.81 lbs

- Silver: 3.29 lbs

Camera:

- HD 720p with ThinkShutter privacy cover

- Optional: Hybrid Infrared (IR) with ThinkShutter

Keyboard:

- Spill resistant

- Bottom-load backlight with white LED lighting (Optional)

Color:

- Black

- Silver

Connectivity:

- WWAN: Fibocom L850-GL 4G LTE-A Cat9 (Optional)

- WLAN: Intel Dual-Band 9560 802.11 AC (2 x 2)

- Bluetooth 5.0

- Bluetooth 5.0 with vPro

Ports/Slots:

- 2 x USB 3.1 Gen 1 (one Always On)

- 1 x USB 3.1 Gen 1 Type-C

- 1 x USB 3.1 Gen 2 Type-C / Intel Thunderbolt 3

- Combo MicroSD card reader / Micro-Sim slot

- Smart card reader (Optional)

- Headphone / mic combo

- HDMI 1.4

- RJ45 Gigabit via Ethernet Extension Adapter (Optional)

Security:

- Fast Online Identity (FIDO) authentication capabilities

- dTPM 2.0

- Optional: Match-on-Chip touch fingerprint reader

- ThinkShutter

- Optional: PrivacyGuard (Coming Fall 2019)

- Optional: PrivacyAlert (requires PrivacyGuard)*

- Kensington lock slot
Software & Performance
SlashGear was provided with a T490s review unit that features the 8th-gen Intel Core i5-8265U processor, Intel UHD 620 graphics, 16GB of RAM, and the 14" FHD 400 nits anti-glare display. As we note in the tech specs above, Lenovo offers this model with different configuration options, including up to the Core i7-8665U and 32GB of RAM.
As expected given the specs, the T490s' performance is very similar to that of the T490 model we recently reviewed. The type of user Lenovo targets with this model will find the performance more than adequate for daily business work and life; there were no issues with multi-tasking, streaming, image editing, toggling multiple applications and 12+ browser tabs, etc.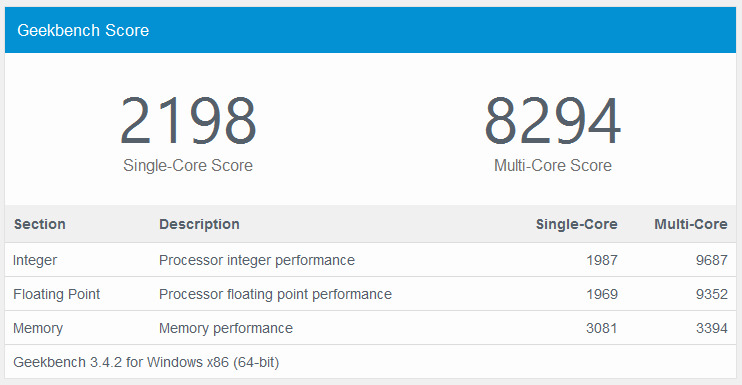 The big difference between the T490 and T490s — when it comes to daily performance and experiences — is longer battery life due to the inclusion of a larger battery. Whereas the T490 model features a 50Wh battery, the T490s packs a larger 57Wh unit, which Lenovo says users can squeeze to up to 20 hours of run time on a charge.
When used throughout the workday for typical work tasks, including streaming music in the background, running a couple messaging applications, semi-frequent image editing, keeping at least a dozen Chrome tabs open at any given time, and keeping the display brightness all the way up, we were consistently able to get through the full workday on a single charge, something we weren't able to do effortlessly with the T490 model.
It's important to note that battery performance will vary based on configuration and how the laptop is used. Cranking up the screen brightness and keeping the laptop under load will obviously have an impact that modest, lower brightness usage won't. As with the T490, the T490s brings rapid charging, so as long as you'll have access to an outlet at some point during the day, battery life isn't much of a concern for anyone but true road warriors.
Things We Like
There's a lot to like about the ThinkPad T490s, including:
- Rapid charging support. This model can recharge from 0 to 80-percent battery in 60 minutes, retaining the same rapid charging capability found in the 2018 model.
- Anti-fry protection. The market is filled with third-party USB-C accessories, but the quality isn't guaranteed. Poorly constructed accessories can potentially — and catastrophically — damage a laptop, something Lenovo has protected against with its anti-fry circuitry.
- Unlike competing models that use a match-on-host system, the T490s has match-in-sensor fingerprint reader for improved security. With this system, fingerprint matching is isolated to the SoC architecture.
- Extensive ports. Unlike many modern laptops, the T490s retains a number of ports, eliminating the need to carry around a dongle. Users get direct access to USB-A and USB-C, HDMI, an audio jack, Ethernet extension connector, and an always-on USB for charging with the display closed.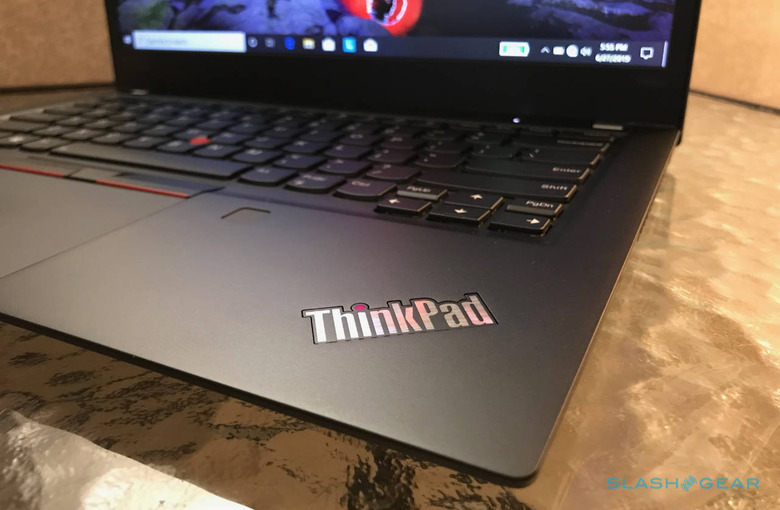 - Dual array microphones enable users to participate in conference calls, Skype chats, and use voice assistants without connecting an external microphone or headset.
- Ample security options. Lenovo is offering the T490s with a Privacy Guard Panel display option, which helps protect the screen from nosy strangers. The laptop also has a built-in ThinkShutter for blocking the webcam, Intel vPro, and dTPM 2.0.
- The keyboard is fantastic. As someone who spends hours typing every single day, I'm very particular when it comes to keyboards. The T490s strikes what I'd dare call the perfect balance, offering an excellent typing experience that you'll appreciate the longer spent typing.
- It's hard to understate how gorgeous the T490s' display is. You can stare at it for hours, only to close the laptop, come back the next day, and find yourself impressed once again at the screen quality. Colors are accurate, images are sharp, and you can crank up the brightness.
Wrap-up
If you're a fan of Lenovo's T-Series, you'll love the new T490s. The company boasts that this may be its best business laptop in the series to date, and that's a fair assessment. The new ThinkPad model offers a variety of features and packs them into a slim, lightweight shell, bringing the best of ultraportables and business notebooks combined.
Buyers get a lighter, slimmer design and better battery life compared to the T490 model but won't pay much of a difference for it. Add in the X1 Carbon-esque style, excellent display and keyboard, and expansive ports lineup, and the T490s is a true business laptop winner.
Available from Lenovo now starting around $1100 USD.