Lenovo ThinkPad T400s vs. 26,000lb DOW truck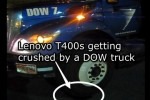 The first image and set of rumored specs for the ThinkPad T400s was leaked a few days ago. While Lenovo is still mum about the release date, price or specs come these two videos of the T400s. The first video demonstrates just how well built and tough this thing is. No worries, I won't spoil the ending for you – just make sure to click on over to watch it get run over by a 26,000 pound DOW truck. The second video shows the T400s getting physically abused by the "tornado chasing" team members. It's a crime treating such a great laptop this way!
According to the rumor mill, this new model is only 0.83-inches thick, bringing down the size considerably from the 1.12-inch thick original T400 model. It comes with a 2.4GHz or 2.53GHz Intel Core 2 Duo processor, an integrated 4500MHD graphics processor, 2GB of RAM and a 120GB hard drive. The display is 14.1-inch LED-backlit featuring a 1,440 x 900 resolution.
Expect the T400s to come preloaded with Windows Vista Business, has a DisplayPort, eSATA port, Ethernet, a 5-in-1-card reader, Bluetooth, a 3G radio and a fingerprint scanner. Pricing information or a release date is forthcoming.
Thanks for the tip Matt!
Lenovo T400s Run over by 26,000lb DOW truck!
[vms fa04aaf37f137a1d9d3e]
Lenovo ThinkPad T400s Goes Tornado Chasing
[vms 0cefee4967c67ccb099d]