Lenovo ThinkPad L Series is greenest to date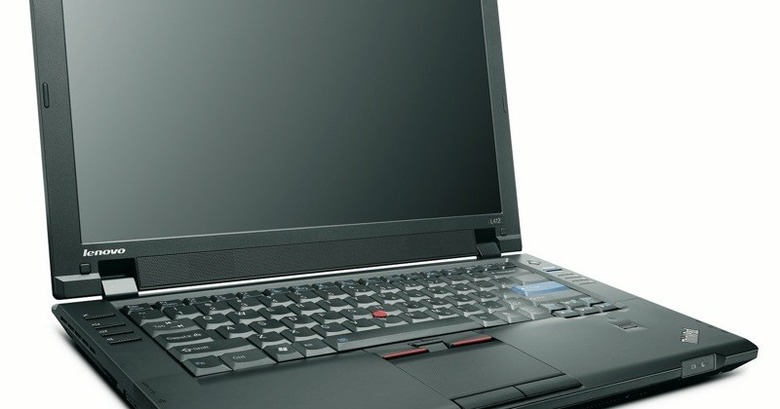 We may receive a commission on purchases made from links.
Lenovo has announced the newest entrants to its ThinkPad range, the L Series, and according to the company they're the greenest notebooks on the market.  Packing Intel Celeron, Core i3 and Core i5 processors together with either a 14-inch 16:9 display on the L412 or a 15-inch 16:9 display on the L512, the range kicks off at $649 but offers up to 8hrs of runtime.
Graphics are either courtesy of Intel's integrated chipset or an ATI Mobility Radeon chip, while there's also optional 3G/4G wireless thanks to a universal Gobi 2000 module (supporting Sprint, AT&T and Verizon).  Four USB 2.0 ports, a combo eSATA/USB, DisplayPort and VGA are standard, as is a multitouch-capable trackpad, and OS is Windows 7 with Lenovo's own tweaks for speedier booting and shut-down.
As for those earth-friendly claims, Lenovo say the new machines use up to 30-percent recycled content, such as old office water bottles, to make LCD covers, palm rests and other casing components.  They're also 40-percent more energy efficient than the generation of machines they replace.  On sale from mid-May 2010, $649 gets you a Celeron P4500 with 160GB HDD and 1GB of RAM.
Press Release:
New Lenovo ThinkPad L Series Laptops Help Businesses "Do More, Save More"

Highest Amounts of Recycled Content and Enhanced VoIP Web Conferencing

RESEARCH TRIANGLE PARK, NC – April 20, 2010: Lenovo (HKSE: 992) (ADR: LNVGY) today is introducing a new Series of ThinkPad – the L Series. Designed for business, government and education customers, the ThinkPad L412 and L512 laptops feature high performance with the latest Intel processing technologies, military tough durability and strong web conferencing features in an affordable laptop starting under $700. Additionally, the laptops are the greenest on the market by integrating the highest amounts of post consumer recycled content.

Business-Focused Performance

The laptops come with technologies students and employees need to be productive in their daily work, like:

• Choices of the latest Intel Core i3 and i5 processors with Turbo Boost and Hyperthreading technology

• 16:9 HD antiglare displays on the 14-inch L412 and 15-inch L512

• Choices of Intel integrated or ATI Mobility Radeon graphics

• 3G/4G wireless connectivity options with Gobi 2000 module support for AT&T, Sprint and Verizon

• Multitouch touchpads

• Up to 8 hours of battery life1

• Expansion with 4 USB ports/1 powered, combo eSATA/USB port, support for DisplayPort and VGA

• Windows 7 with Lenovo Enhanced Experience featuring up to 57% faster bootup and shutdown2

The laptops also have the enterprise features businesses and IT administrators require such as global availability, image stability, a three year battery warranty and docking. They also include ThinkVantage Technologies tools like Access Connections to make the computing experience more productive for users. The L Series laptops pass the tough test for withstanding the wear and tear of the office or the rigor of the field to give users long term value. They meet eight different military specification tests for high and low temperatures, vibration, altitude, dust and more.

"Today more than ever before, customers are looking to get more out of their PC technology," said Dilip Bhatia, executive director, ThinkPad Product Marketing, Lenovo. "We designed the new L Series to give users the most important features for being productive like cutting-edge processing performance, long battery life and a VoIP-optimized design without sacrificing the reliability and durability ThinkPad is known for."

Expanded Green Footprint

Lenovo continues to expand its emphasis on green design with the L Series. The laptops use up to 30 percent post consumer content from office water jugs and used IT equipment in parts like the LCD cover, palm rests and top/bottom case. The L512 laptop contains 18 percent post consumer content (PCC) total, making it the industry's highest amount of PCC in a laptop.3 Each L Series laptop saves the equivalent of 10 plastic water bottles. Overall, Lenovo has used 42 million gross pounds of PCC since 2005 in Think-branded products.

Also, as part of the lifecycle design process, the laptops meet Energy Star 5.0 for high energy efficiency and are rated EPEAT Gold in the U.S. for their environmental attributes. The laptops are 40 percent more energy efficient than previous ThinkPad laptops, and users can deploy Lenovo's Power Manager software tool to monitor and adjust their power settings. Additionally, the laptops are shipped in nearly 100 percent recycled packaging that can simply be thrown into a customer's recycling bin. Lenovo has committed to packaging reduction, recently reducing packaging material by 20 percent of yearly volume, saving an additional 10 paper coffee cups per box shipped.

Tailored for Web Conferencing

The L Series laptops are tailored for an excellent voice over Internet protocol (VoIP) experience. First, they offer the full range of connectivity options, from Ethernet and Bluetooth to WiFi, 3G and 4G. The laptops are equipped with a high resolution camera that works well in low lighting conditions, like for conferences in hotel rooms. The camera even white balances automatically so conferences are more life-like.

A digital-array microphone with echo cancellation let users conduct conferences even in noisy rooms. The speakers are placed directly underneath the screen and above the keyboard for rich sound quality. Hardware audio control keys – speaker mute and audio mute – are conveniently located to the left of the keyboard for easy access. And by pressing the shortcut Function + F6 hotkey combination, users can navigate a simple software interface to modify VoIP settings.

A Powerful Learning Platform

Built to withstand the heavy daily use in K12 and higher education, the ThinkPad L Series laptops are equipped with the technologies to get students through the school day.

Beyond providing education-focused PC technology, Lenovo is committed to improving learning and increasing operational efficiency at all levels of academia through the Education Research Initiative (ERI). ERI joins hundreds of thousands of students, teachers and researchers from schools across the world to evaluate and quantify how technology can systemically improve education. As part of this research, the ThinkPad L Series will be deployed at institutions for student learning while promoting instructional innovation and data-driven decision making for faculty and administrators.

Pricing and Availability4

The ThinkPad L412 and L512 laptops are available starting in mid-May through www.lenovo.com and business partners. Pricing for models starts at approximately $649.

For the latest Lenovo news, subscribe to Lenovo RSS feeds or follow Lenovo on Twitter and Facebook.

About Lenovo

Lenovo (HKSE: 992) (ADR: LNVGY) is dedicated to building exceptionally engineered personal computers. Lenovo's business model is built on innovation, operational efficiency and customer satisfaction as well as a focus on investment in emerging markets. Formed by Lenovo Group's acquisition of the former IBM Personal Computing Division, the company develops, manufactures and markets reliable, high-quality, secure and easy-to-use technology products and services worldwide. Lenovo has major research centers in Yamato, Japan; Beijing, Shanghai and Shenzhen, China; and Raleigh, North Carolina. For more information see www.lenovo.com.

1With 9 cell battery.

2Improvement claim is based on testing Windows® 7 L412 and L512 against non-configured system. The L Series laptops have been optimized. Actual times and their relative improvements vary by model, with an average boot and shutdown improvement of up to 57%. Improvements may vary according to the exact configuration of the system and may degrade over time depending on other software installed or changes made to system settings. Lenovo optimization does not impact any essential services or software features.

3According to the EPEAT registry as of 4/20/2010.

4Prices do not include tax or shipping and are subject to change without notice and is tied to specific terms and conditions. Reseller prices may vary. Price does not include all advertised features. All offers subject to availability. Lenovo reserves the right to alter product offerings and specifications at any time without notice.