Lenovo ThinkPad Helix Review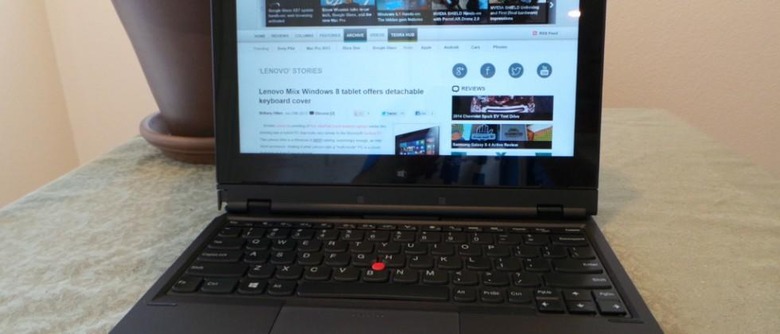 Lenovo has big plans with Windows 8, convertible laptops and Ultrabooks, and more but one that caught our eye at CES was the ThinkPad Helix. With a fancy design, versatility, and an 11.6-inch 1080p display it's quite the device. After a few delays the ThinkPad Helix is finally available today, so we're taking it for a full spin in its retail form. Is the nearly $1,700 base price tag worth it? Read on for our full thoughts and plenty of photos.
With anyone and everyone jumping on the Windows 8 touchscreen (and tablet) bandwagon, there's tons of options, but the Helix instantly stands out. Being a regular laptop, a convertible, a tablet, and even offering an extended tablet mode with longer battery life thanks to the keyboard dock. It's a full Windows 8 64-bit machine, a hybrid computing device with tons of power, packs two batteries, and is finally available. Only a few months late from the initial February launch plans.
Hardware
All you really need to know is Lenovo has a feature called "Rip n Flip" which transforms this laptop into a full tablet. If you're reading this however, you probably already know what it can do, you just want to know how well it does it and everything else. It's priced higher than similar devices like the Dell XPS 12 Convertible or Yoga 11S, so lets look at the hardware specs.
The ThinkPad Helix comes with some top-tier specs given the size and options being offered by Lenovo. Too bad it's already outdated. Read on to see why. With an 11.6-inch 1920 x 1080p full HD IPS display, Intel's Core i5 (3427U) processor, 4-8GB of DDR3 RAM and 256GB of SSD storage it is stacked. Add in a full copy of Windows 8 (no RT junk here) stylus support, dual 1080p front and rear cameras, NFC, and the option to make this Ultrabook into a full-out tablet, and you'll now see why they're asking over $1,679 for the base model. Oh and to get that i7 processor and 8GB of RAM you'll be spending a big $2,000 USD here. Sadly, it's already outdated. Haswell is here, and it doesn't have one. Let's take a peek at the hardware before we dig in.
We love the idea behind the hardware in theory, but in practice it's extremely impractical and clunky to say the least. Yes, we said clunky. It comes in around 1.8 lbs with the dock, and 2 lbs with the tablet bringing the entire package to almost 4 lbs. So while it isn't the heaviest, it certainly isn't light. Oh and it isn't too comfortable to carry either. Being a Lenovo the build quality is top-notch, but it's the extremely complicated docking system that has us using the word clunky. Take a look:
As we mentioned in the video it's extremely top heavy, to the point that taps on that beautiful touchscreen will cause it to tip and rock back and forth. Then don't even get us started on the docking system. It has about 6 different ways in connects. From ports, connectors, metal, and more all in a crazy fashion. Then some aren't even used, but once you flip it around out of laptop mode and into tablet mode (rip n flip) the rest get used.
Also, being top heavy makes it near impossible to open with one hand. You'll probably always require both hands to tear apart the two parts to open the Helix. And that's just a sad fact.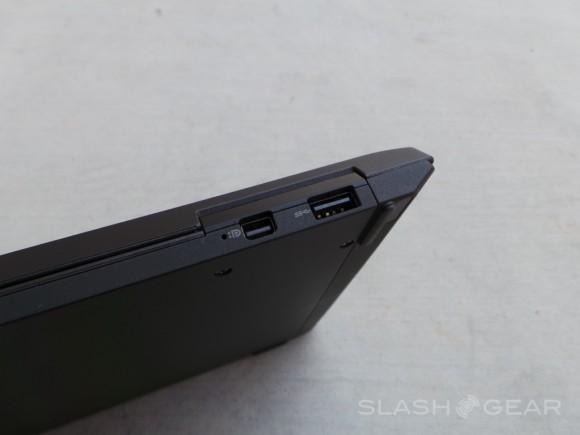 As for ports, buttons and such, it's loaded. While docked we have two USB 3.0 ports on the bottom back (which can power my 1TB external hard drive thankfully) display port, and the charging slot. When not docked and being used as a tablet we have a SIM slot for 3G connectivity, display port, charger, and a single USB port. As far as actual buttons the volume up/down and power button on the tablet are some of the most difficult to hit and interact with we've ever used. They're awful. Indented, tight, and tough to hit.
In closing we absolutely love the idea behind the Helix, as well as everything it can do. We can see Lenovo's ambition, but the design is poor, and just seems lazy. Something we're not used to seeing from or saying about Lenovo. Overall, the design and actual time doing these things are just a chore. It's heavier than we'd like, poorly balanced, and just not that comfortable to use. They didn't even get the viewing angle right. The entire hinge system needs serious help. Serious help.
Keyboard Dock
If you've ever owned a ThinkPad, there's nothing really to say here about the keyboard dock. We have that same design they've used for a long time, even if we're not fans of the trackpad. The familiar chicklet style concave keys, red trackpad nub and all is here, as expected. They keyboard is awesome, and the only complaint we have is it isn't backlit.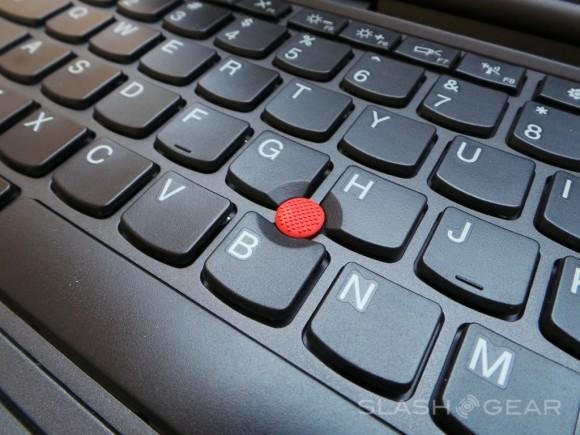 The trackpad is nice, but is only as good as Windows 8 of course. But we have everything we've always enjoyed from Lenovo. All four corners can be clicked, it's smooth, glossy, and works wonderfully well. We like having two USB 3.0 ports on the keyboard dock, which can power a mouse and external hard drive with ease. Even using display port was simple enough, even if the ports are hard to reach.
Windows 8 and performance
There really isn't much to talk about here with Windows 8. Here we're working with the full copy, no RT, and the Helix is offered with a 64-bit Pro package. So instead we'll just move right on to performance. An area where we have mixed feelings.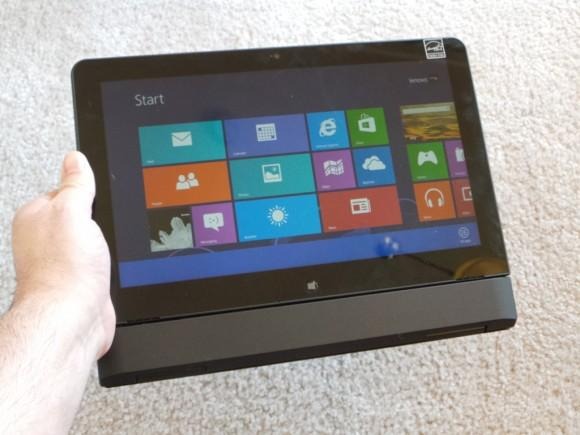 If this would have been released in February like initially planned, the Core i5 and i7 options would be great. So would the 7 hours of battery life. However, now that it was delayed until June and Haswell is already here. We're a bit torn. Haswell offers better performance, battery life, and graphics, and this unit doesn't have it. Maybe they'll offer one. We'll have to wait and see.
However, as usual we ran GeekBench just for good measure, as well as some battery rundown tests. We saw on average about 7 hours of usage while being docked, and under 5 hours if simply being used in tablet mode. However, holding the tablet for 5 hours might be a chore due to the weight and squared corners. Lenovo quotes 10 hours while docked, and 6 in tablet mode.
[sgbenchmark id=214 show=score]
[sgbenchmark id=214 show=system]
In case you didn't notice from the pictures, the awkward dock has a unique flap on the back that opens up to reveal some fans. While these were helpful during overclocking and some attempts at gaming, the entire metal flap was just odd. It caught on my bag while putting it away or removing it, and was just generally in the way and provides no support for the tablet. Which is what we originally thought it was there for. Instead it just covers up the fans and protects the multiple hinges for the docking system.
Tablet
As a tablet we actually had mixed feeling with the Helix. Having the option is awesome, and makes the expensive price a little easier to swallow, and it's even lighter than the Surface Pro. Being able to quickly remove it from the dock and take it into the living room in a more compact form was excellent. While waiting for things to install we could carry it around and multi-task. It's nice.
However, the squared edges were uncomfortable, as was the long 11.6-inch design making one-handed use a chore. The 5 megapixel rear camera took some decent shots, but we'll certainly be sticking to our smartphone or regular point and shoot camera at this point.
Wrap-Up
If you've been eying something like the Surface Pro, the Helix is a much better choice. It delivers tons of options, better battery life, and a keyboard that is actually useful in a way that you'll feel comfortable. The ThinkPad Helix really does a lot of things ok, but nothing extremely well. And that's the sad truth. In a way the device is in a league of its own simply for the fact that it's a laptop, tablet, extended tablet, and the keyboard delivers extra battery life.
However, the extremely high price, already outdated processor, and simply poor and tossed together design makes it hard for us to recommend. For $1700 you could get some pretty impressive top-tier Haswell laptops at the moment. Not to mention a Macbook Air and a tablet, and still come out about even.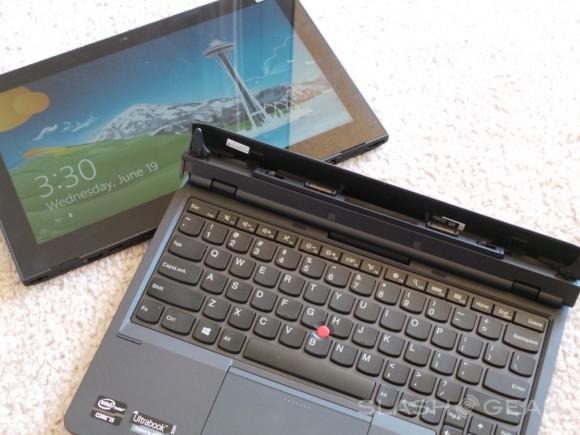 Lenovo has an awesome idea and product here, it just needs some more time in the design department. We have a feeling business execs that need a one device for all scenarios could see the price as being worth it, but general consumers might not feel the same. We'd recommend trying it at a nearby store before taking the plunge.