The Lenovo notebook lineup is vast here at the start of 2013 at the Consumer Electronics Show, and what with the ThinkPad Helix offering a whole new way to work with a convertible PC, the Windows 8 era appears to be in full swing. With the ThinkPad Helix you've got not just a new tablet, not just a new Ultrabook, but a machine that acts as both with a third way to utilize the Windows 8 touch universe in a whole new way. Then there's the IdeaPad Yoga 11S, an upgrade of the Yoga lineup from 2012, here bringing tiny lightning claps in a whole new set of colors, too, including Cotton Candy Pink.
ThinkPad Helix
With the ThinkPad Helix you'll be working with a high performance Ultrabook with a detachable 11.6-inch tablet creating what Lenovo assures is "the thinnest full-function Intel 3rd generation Core tablet with vPro" on the market today. This machine weighs in at just 835 grams and works with "Stand Mode" unique to any sort of device in this class – in this case it means that you've got the device connected to its keyboard dock like normal, looking like a laptop, then you "Rip and Flip". This means you detach the tablet from the base, turn it around, and attach it with the keyboard facing its back, standing it up like a pro, still able to use the ports along the keyboard dock's sides.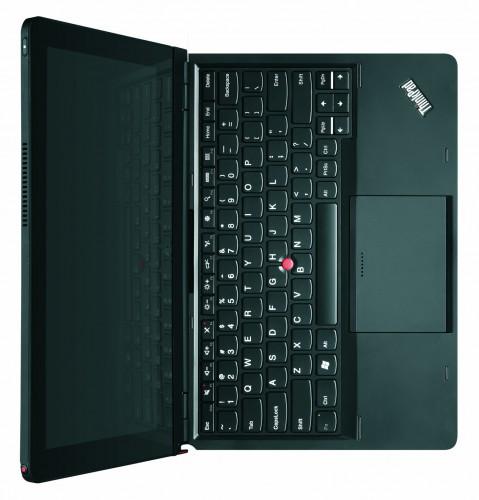 This machine also has a five button clickpad – 20 percent more than any ThinkPad that's come before it – as well as the brightest display in ThinkPad brand history. The ThinkPad Helix has a 1080p IPS display and works with optional 4G LTE connectivity, meaning your favorite mobile brands COULD be carrying it soon – we shall see! This unit also works with NFC – tap in! The ThinkPad Helix will be starting at $1,499 USD and will be available starting in late February 2013.
IdeaPad Yoga 11S
The IdeaPad Yoga 11S works with an 11.6-inch HD IPS display with 10-finger multi-touch capabilities as well as many abilities that've previously been available only on the larger Yoga 13. This machine has Motion Control abilities like a hand-swipe in front of its webcam to move through photos, videos, and documents. Using Lenovo Transition you can automatically open applications in full-screen mode when the device is in one of its three non-notebook modes.
These three modes outside the standard notebook mode are called tent, stand, or tablet – that's flat with the touchscreen out, folded up like a tent with the touchscreen out, and backward with the touchscreen out as well. The IdeaPad Yoga 11S comes with the same exterior build (casing-wise) as the Yoga 13, but now pushing forth with fabulous new color combinations including Cotton Candy Pink, Silver Grey, and Clementine Orange. The IdeaPad Yoga 11S will be available starting at $799 USD beginning in June 2013.