Lenovo ThinkPad Edge 13" Review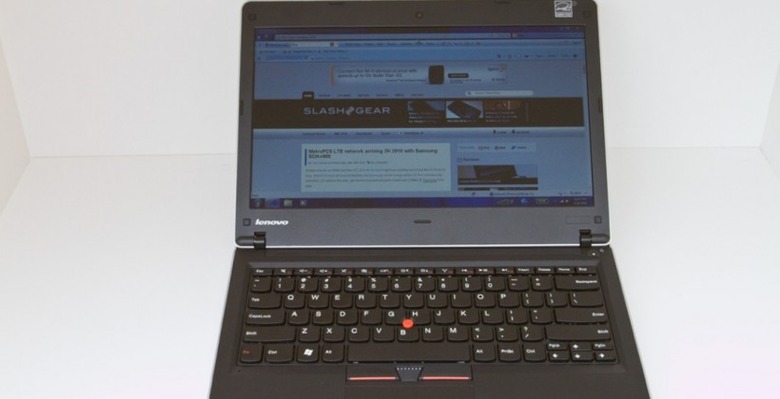 Having been reasonably surprised by the baby Lenovo ThinkPad X100e, it's the turn of its larger, Lenovo ThinkPad Edge 13 to hit the SlashGear test bench. As with the X100e, the Edge 13 trades some of Lenovo's traditional styling in favor of a cheaper price tag and the possibility of a few more mainstream consumer sales. Has it lost its way in the process? Check out the full SlashGear review to find out.System overview and design
To be fair, while Lenovo are pushing their high-gloss black or red lid colors, you can also get the ThinkPad Edge 13 in traditional matte black. Still, the notebook has more of a consumer style approach than the rest of the ThinkPad line, although build quality is still high. There's little flex in either the lid or the base, and the whole thing measures a decent 1.2-inches thick; that doesn't make it the slimmest ultraportable around, but the Edge 13 doesn't feel unduly chubby either.
[sgbenchmark id=88 show=system]
While the Edge 13 line kicks off at $579 with an AMD Athlon Neo X3 1.5GHz dual-core CPU, our review model steps up to Intel's Core 2 Duo SU7300 1.3GHz from their CULV range. That's paired with 4GB of DDR3 memory and a 320GB 7,200rpm hard-drive, along with Intel GMA 4500MHD graphics, WiFi and Bluetooth 2.1+EDR. The 13.3-inch display runs at 1366 x 768 – and floats in the midst of a reasonably chunky bezel – with a low-light capable webcam on top. Unfortunately it has a gloss finish, rather than the X100e's matte coating.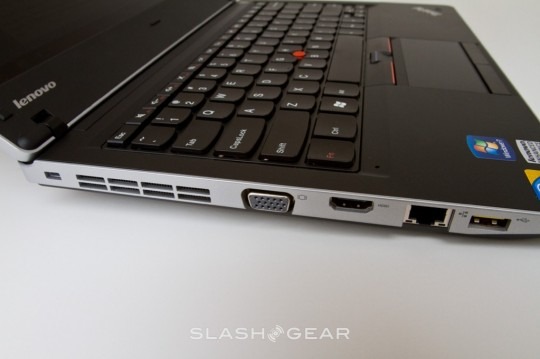 As for ports, there are three USB 2.0, both VGA and HDMI outputs, an ethernet port and a 5-in-1 memory card reader, along with a combined audio in/out socket. No optical drive, which isn't unusual for a machine of this size, though you don't get an ExpressCard slot either. The standard battery is a 6-cell 64Whr LiIon pack, and there's the traditional Lenovo TrackPoint nubbin in the center of the keyboard along with a broad, multitouch-capable trackpad underneath.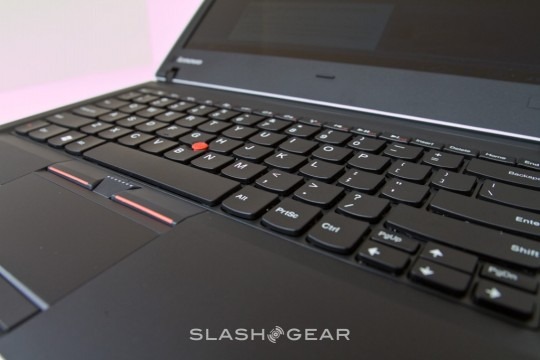 ThinkPads have a reputation for excellent keyboards, and happily the Edge 13 continues that tradition. Like the X100e, the keys themselves are "chiclet" style and slightly bowed to fit your fingertip; also like the X110e they're a great success. Resistance is perfectly balanced and there's no keyboard bow which you can often find on CULV machines made to a budget. The TrackPoint works as you'd expect it to, though the trackpad proved a little over-sensitive until we dialled it down in the Windows 7 Professional 64-bit settings. Still, if you do a lot of typing while mobile the Edge 13 should be high on your shortlist.
Performance and benchmark
A CULV notebook will always be a choice of mobile longevity over performance, but the ThinkPad Edge 13 manages to impress nonetheless. We ran it through Geekbench, a synthetic test of processor and memory performance, and it scored 2086 points overall. That's a little less than double the X100e's score, and more than twice what an Atom N450 processor can manage. In daily use, the Edge 13 was swift enough to handle reasonable multitasking, and while you wouldn't reach for it if hardcore gaming was intended, it's capable of playing streamed YouTube HD video back smoothly. Hooked up to our HDTV via HDMI, the ThinkPad was also content pumping out 1080p footage from locally-stored files, too.
[sgbenchmark id=88 show=score]
Battery life
Lenovo rate their standard battery as good for up to eight hours runtime, and that proved a reasonable estimate. In general use, browsing the internet over WiFi and occasionally playing audio, the Edge 13 managed just under seven hours, while solidly playing video cut that down to a little over five. We found the area underneath the hard-drive became particularly hot by the end of this latter test. Lenovo preload their own Power Manager app which promises extended battery life at the cost of scaled down performance, though we didn't find it made a vast difference to eventual runtimes.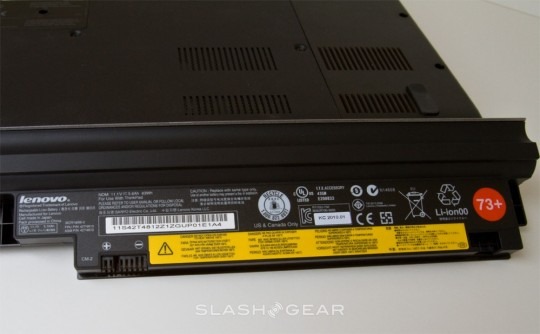 Verdict
Still, for its balance of performance and longevity, combined with excellent build quality and a brilliant keyboard, there's plenty to like about the ThinkPad Edge 13. The glossy display is a mild frustration, but otherwise this is a solid machine with plenty to offer both business and consumer buyers. The $799 sticker price can be undercut by around $100 if you shop around, and at that point the Edge 13 almost becomes something of a bargain. With its glossy lid the Edge 13 might stand out from the ThinkPad rank and file, but the family lineage is strong where it counts.
Gallery