Lenovo ThinkPad 10 Tablet Hands-On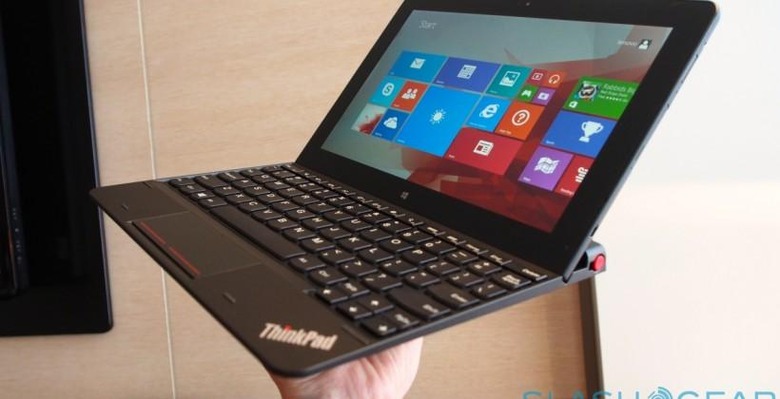 Lenovo has a new pen-enabled tablet, the ThinkPad 10, complete with a range of accessories including magnetically-attached keyboards and a handy desktop dock, for those who want some proper stylus support with their Windows 8.1. The Atom Z3795 quadcore powered slate has a 10.1-inch 1920 x 1200 touchscreen with 10-finger multitouch, and runs for up to ten hours on a single charge.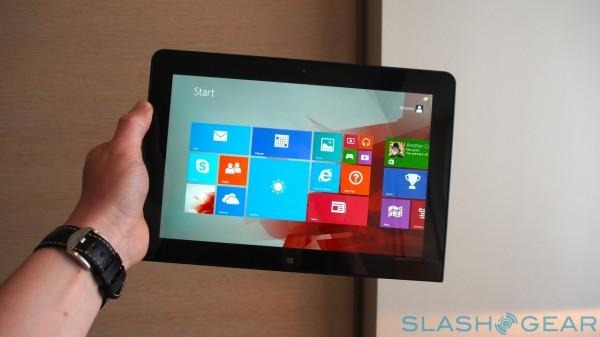 Paired with the Intel SoC are HD Graphics, a choice of 2GB or 4GB of memory, and up to 128GB of storage. On the front, above the IPS LCD panel, is a 2-megapixel webcam, while an 8-megapixel camera with autofocus and an LED flash is on the back; both support up to 1080p video recording.
Connectivity in the 8.95mm-thick tablet includes WiFi a/b/g/n, Bluetooth, and optional LTE/HSPA+. There's also a Micro HDMI port, full-sized USB 2.0, and a microSD card slot.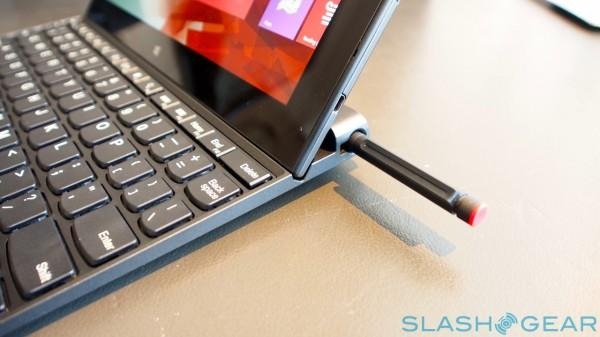 There's also an active digitizer, which works with Lenovo's stylus pen. Topped by a distinctive red nub, the stylus allows for sketching, signing digital documents, note-taking, and more; when we tried it out ourselves, it proved to be fast and accurate.
Although not specifically billed as ruggedized, the ThinkPad 10 does meet certain MIL-SPEC requirements for rough treatment. However, Lenovo will also offer a truly ruggedized case – complete with chunky rubber bumpers over an impact-resistant polycarbonate shell, and with sealed port covers – that has an adjustable carry-handle on the rear, too.
A large hatch in the back of the case will allow it to still be used with Lenovo's Tablet Dock without needing to be removed first, a desktop cradle with ethernet, USB, and display connectivity, in addition to a silo for the stylus.
Other accessories include a Quickshot cover, which clings magnetically to the ThinkPad 10 and acts as a protective cover and stand, in addition to having the same flip-down corner that exposes and boots up the camera.
There'll also be the Ultrabook Keyboard, with a trackpad and QWERTY layout; the ThinkPad 10 slots in (at a single angle) for typing, or clips into place magnetically for carrying. We were able to grab the tablet by the keyboard and shake it, too, without the slate falling free.

Finally, there's the Touch Case, which echoes Microsoft's Surface Touch Cover with a zero-profile QWERTY layout. Its touch-sensitive keys are slightly recessed to make finding them with the fingertips more straightforward.
The Lenovo ThinkPad 10 tablet will go on sale in June, priced from $599. Initially, the company will be offering systems with 64GB and 128GB in the US, with 32GB configurations, tablets with fingerprint readers and TPM chips, those with Smart Card readers, and non-pen variants following on in due course.
As for the accessories, the Ultrabook Keyboard will be $129 and the Tablet Dock will $119, while the Quickshot cover will be $59; they'll all land alongside the tablet in June. Following on in the summer will be the $69 Rugged Case and the $119 Touch Case.