Lenovo ThinkCentre X1 All-in-One Windows 10 PC Review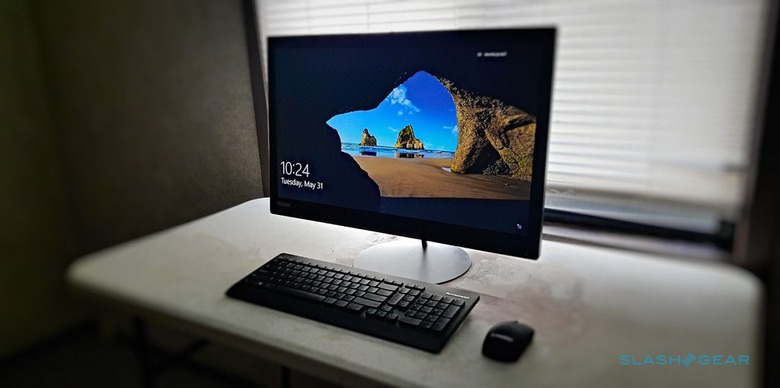 We may receive a commission on purchases made from links.
Lenovo's popular X1 lineup has grown substantially over the years, and one of the newest products to flesh out its wares is the ThinkCentre X1, an all-in-one Windows desktop PC comprised of a single thin, lightweight display. This monitor, despite its slim profile, packs a bunch of hardware, including a 6th-gen Intel processor and a pair of 5W stereo speakers. The model's quite attractive upon first look, but does it maintain its appeal over the long haul?
Hardware
The X1 lineup is known for its thin yet powerful laptops. It's no surprise, then, that the ThinkCentre X1 features an exceptionally thin profile, at least as far as all-in-one desktops are concerned, as well as a very light weight. Unlike many competing model, which are usually heavy and thick, the ThinkCentre X1 appears at first glance to merely be a thin monitor, one held up by an attractive but decidedly utilitarian silver pipe stand and a flat metal base.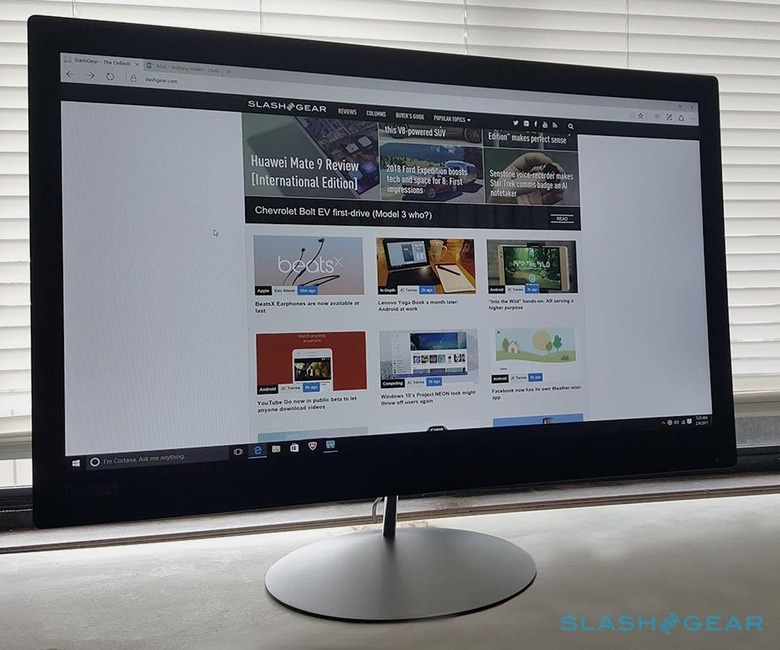 You can easily pick up the ThinkCentre X1 with a single hand, and despite its large 24-inch display, it doesn't take up much room on a desk. Rather than using a rounded or tapered rear design, Lenovo went with an angular, blocky construction. The computing hardware is packed into the lower, thicker portion of the display, while the rest of the monitor is very thin (0.4in), lending it a minimalist visage. The model is made with an aluminum-alloy chassis.
Most of the ports are located directly beneath the hinge, which allows the display to be tipped forward and backward a substantial degree. Thanks to the display's anti-glare treatment, the monitor has great visibility even with bright light shining directly onto it. The rear ports include the power and Ethernet offerings, meaning the cables that are likely to stay plugged in all the time are tucked away where you rarely have to see them.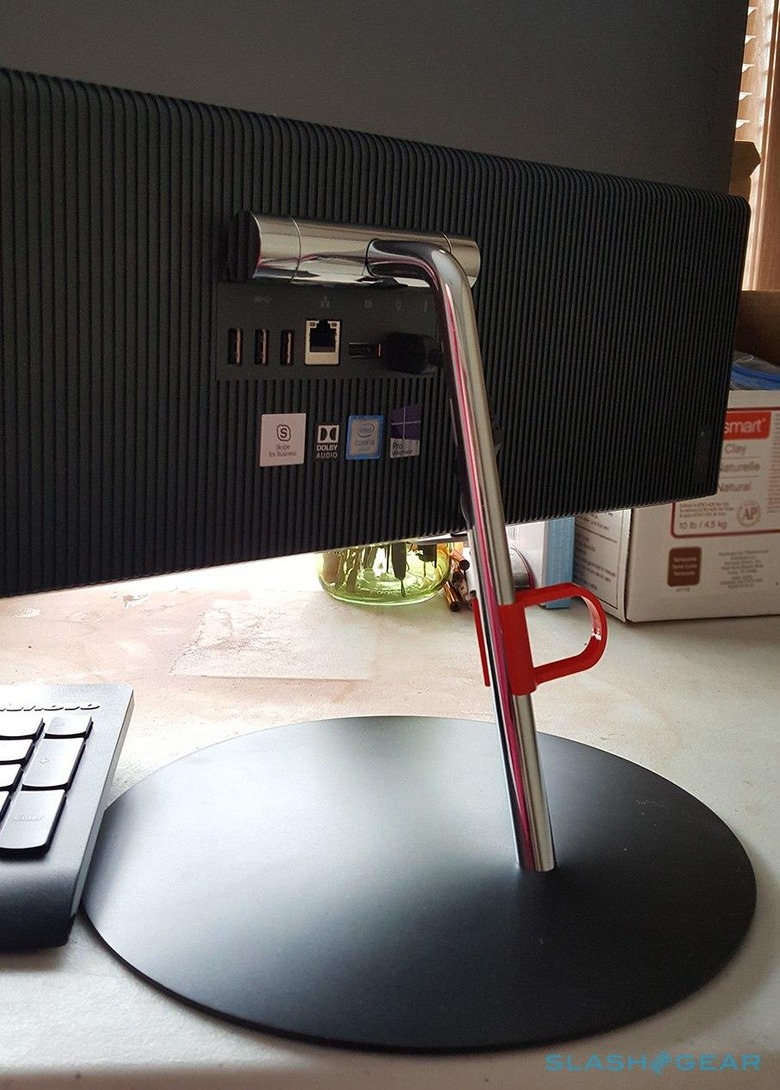 The rear ports are joined by a few on the left side of the display, including a pair of USB 3.0 ports for items you connect and disconnect frequently; one of the two ports supports rapid charging, as well. This side also holds an optional card reader and the audio jack, while the right side sports three buttons, including the very large power button.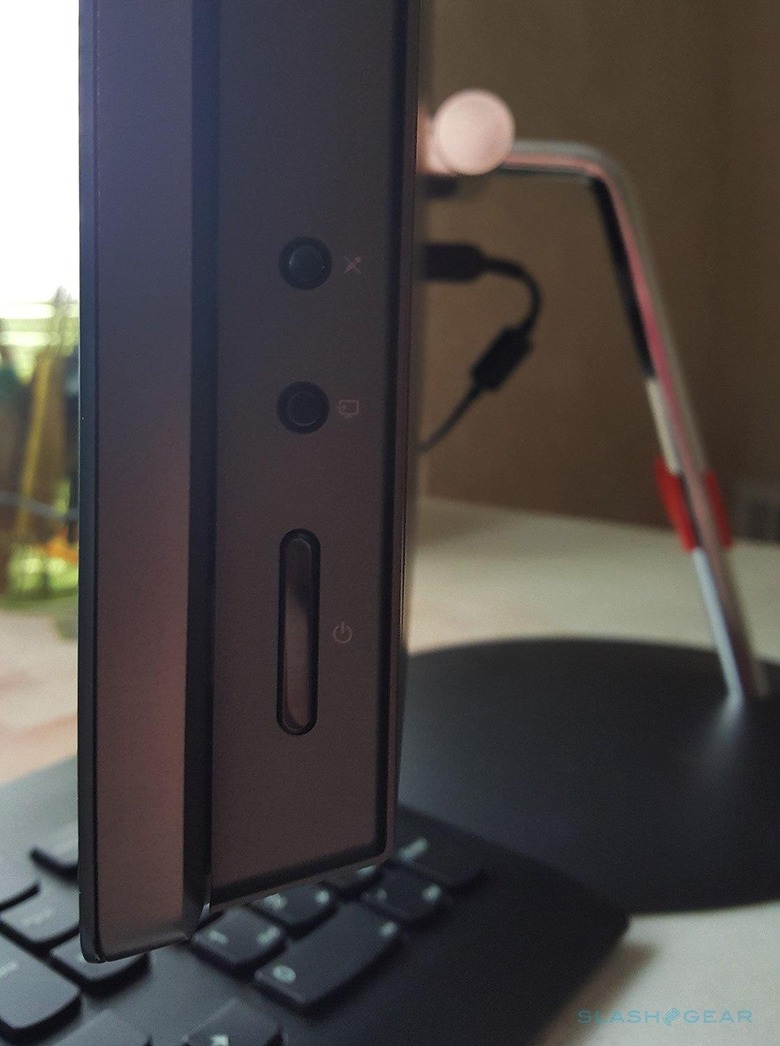 Tucked away neatly into this slim display are a pair of 5W stereo speakers, as previously mentioned, which include Dolby Audio, as well as dual-array microphones and a webcam with a built-in cover. This cover can be opened and closed easily via a small tab on the top of the display, addressing the privacy concerns some have regarding always-visible integrated cameras.
It's small attention to details like this that help win the ThinkCentre X1 points over some competing models. As we'd expect from an X1 product, the design is spot-on in all regardless, making this model quite attractive from a visual standpoint. The all-in-one wouldn't look out of place in a business environment, nor would it clash with a modern-style home office or classic wooden desk.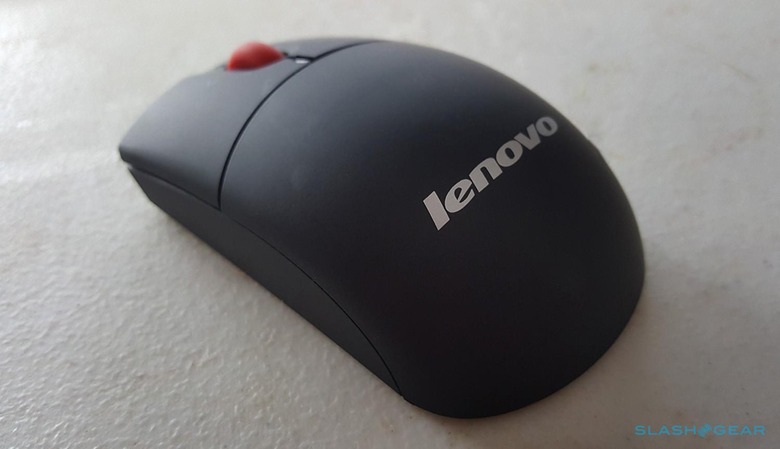 Arguably less attractive but no less functional is the included keyboard, a big black wireless offering with big keys and hinged rear feet to elevate the unit. The model is powered by a couple AAA batteries, and it works via a wireless receiver dongle plugged into one of the USB ports. There's nothing to dislike about the keyboard, it just visually falls flat compared to the angular, sleek beauty of the display.
The wireless mouse is similarly basic in design, itself also powered by a pair of batteries (AA, in this case), but with a rubber-like texture that's comfortable to grip. The mouse is black in its entirety save for the scroll wheel, which is crimson. There is a large white Lenovo brand stamped on the back of the mouse, however.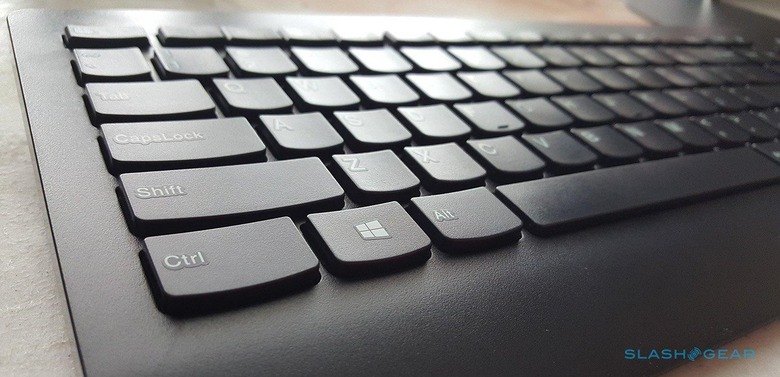 Finally, Lenovo promises that the ThinkCentre X1 is durable, a boasting point the company has for many of its products. In this case, we expect you won't be likely to drop the unit — durability comes in the form of withstanding pesky office dust, a whole ten years' worth of exposure. Lenovo says this ThinkCentre was able to operate without issue in the company's test chamber with up to 4.4lbs of dust.
TECH SPECSProcessor: Up to 6th Generation Intel® Core™ i5 ProcessorOperating System:

- Windows 10 Home

- Windows 10 Pro – Lenovo recommends Windows 10 Pro

- Windows 7 Professional 64-bit (pre-installed through downgrade rights in Windows 10 Pro 64-bit)

Graphics: Intel® HD Graphics 520Memory: Up to 16 GB, 2133 MHz, DDR4Storage:

- 2.5" HDD (500 GB)

- 2.5" SSD (128 GB / 192 GB / 512 GB)

- 2.5" OPAL SSD (256 GB)

Camera / Microphone / Speaker:

- 1080p / Dual Array Microphones

- 2 x 5W with Dolby® Audio

- Skype™ for Business Certified

Display: 23.8" FHD IPS Anti-Glare 250 nitsDimensions:

- Without Stand: 22.44" x 1.3" x 14.17"

- With Orchid Tilt Stand: 22.44" x 9.45" x 17.75"

Weight:

- Without Stand 8.8 lbs

- With Orchid Tilt Stand 11 lbs

Kensington LockPrivacy Camera LockStandOrchid Tilt Stand: Tilt Angle: -5° ~ 45°Ports:

- Side:

– 2 x USB 3.0 Ports (including 1 x USB rapid charge)

– 7-in-1 Card Reader(Optional)

– Headphone and Microphone Combo

– Power-on

- Rear:

– LAN-in

– Power DC-in

– 3 x USB 3.0 Ports

– 1 x Intelligent DP Port

WiFi: 2 x 2 WiFi 802.11ac + Bluetooth
Software & Performance
Lenovo offers the ThinkCentre X1 with both Windows 7 and Windows 10 options, and the preloaded software you get will depend somewhat on which of the two you choose. Our review unit features Windows 10, and per Lenovo, included things like the company's own REACHit, SHAREit, Solution Center, Companion 2.0, and Bluetooth Lock.
There are also some third-party offerings like CyberLink PowerDVD Create, Power Producer, and Power2GO, McAfee LiveSafe, a Microsoft Office trial, a LiveSafe trial, My Timeline, PC Device State, Rainbow, the ThinkVantage Password Manger, and more. You can uninstall these applications if you'd like, or just reinstall Windows yourself.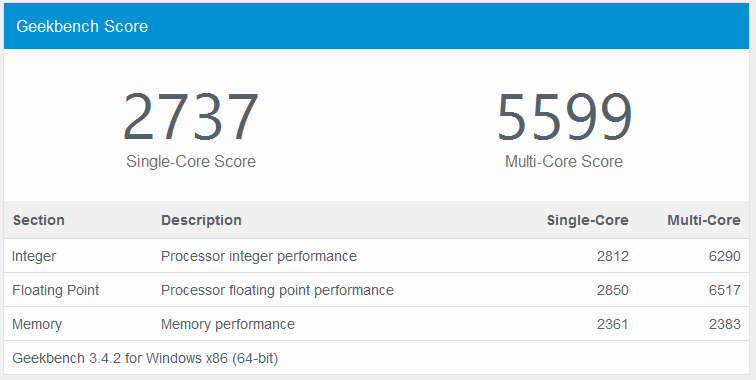 The ThinkCentre X1 was used for everyday business tasks, which included things like word processing, photo editing, uploading/downloading, ample Web browsing, and similar. I also streamed both music and videos, sometimes while doing the above tasks, and never ran into any performance troubles. The system is quite snappy, though no doubt your particular experience will vary depending on your model's hardware configuration. Our review unit featured the Intel Core i5-6200U processor option.
Things we like
There's a lot to like about the ThinkCentre X1, but areas in particular that stand out include the excellent hinge, stand and base, the combination of which is highly attractive, minimalist, and functional. The display is also excellent if your tastes skew toward the 'matte' side of the spectrum, as this X1 model can handle overhead light glares and direct sunlight without issue. Of course, the model also wins points for its lightweight and thin design.
Issues
We didn't encounter any issues when reviewing the ThinkCentre X1, but there are a couple things users should be aware of. The first 'issue' is the maximum brightness of 250 nits, which is perfectly fine for daily use, but may prove lackluster for graphic designers, photographers, or others who need a very bright display. The second potential downside is the lack of a touchscreen option.
Conclusion
The Lenovo ThinkCentre X1 is a well-rounded all-in-one PC that pays attention to details both big and small, and the end result is a model suitable for many users. There are some sticking points, such as the lack of touchscreen, but they largely come down to personal preference. This model is a great option for someone who needs an everyday PC or work system that won't take up much space on the desk while offering more display real estate and ports than the average laptop.
The ThinkCentre X1 is available from Lenovo's website starting at $824 USD.