Lenovo ThinkCentre M90z Review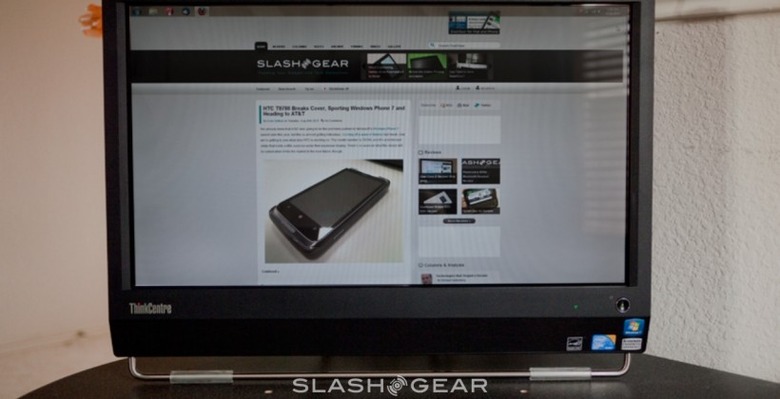 Lenovo might be best known for their ThinkPad notebooks and ominous black ThinkStation desktops, but the company continues to push ahead with its range of all-in-ones. The new Lenovo ThinkCentre M90z is aimed at both consumer and business users, and while the range kicks off at $929 with a mere Pentium CPU, the model on the SlashGear test bench today is the multitouch-capable touchscreen version complete with a 3.2GHz Intel Core i5 processor. Check out how it performs after the cut.
As well as the Core i5-650 (with 4MB L3 cache) there's 4GB of DDR3 memory (1GB of which is allocated to the Intel GMA HD graphics) and a 320GB 7,200rpm hard-drive (500GB is an option). Lenovo also fit a DVD burner and WiFi b/g/n, while a memory card reader and Bluetooth are optional. Above the 23-inch 1920 x 1080 display is a 2-megapixel webcam that can be physically covered up with a sliding hatch, useful for the particularly paranoid. Underneath the screen are the stereo speakers; there's also a microphone hidden in the bezel.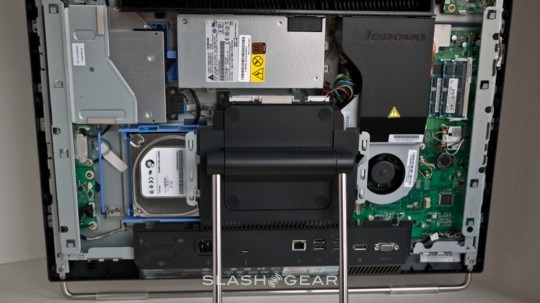 Connectivity, meanwhile, includes two USB 2.0 ports, audio in/out and – if specified – the card reader on the right hand edge, while there are a further four USB 2.0 ports, gigabit ethernet, a DisplayPort output and a VGA input on the back. The latter can be employed to turn the M90z into a regular 23-inch LCD monitor, useful if you want more screen space on your laptop.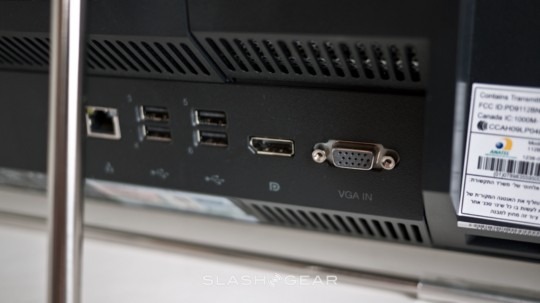 Lenovo's stark aesthetic is an acquired taste, for sure, but there are some elements which we wish rivals would adopt. The absence of an external power brick is one – you merely plug in a regular AC cord, as you would with a normal tower unit – as is the straightforward way the rear panel of the ThinkCentre hinges up and off, and gives access to the few user-changeable components inside. An integrated carry-handle is at the top of the M90z, though it's a heavy machine and we wouldn't want to make a habit of transferring it from room to room.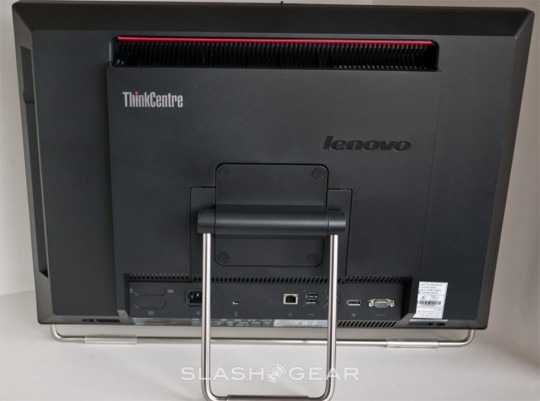 Our review model comes with the basic wire foot-stand, adjustable between 15- and 45-degrees, but you can also choose a height-adjustable stand that lifts the M90z over 4-inches. Alternatively Lenovo offer an Extend Arm stand, that mounts to a desk and then allows you to tilt, pivot and rotate the M90z to your heart's content.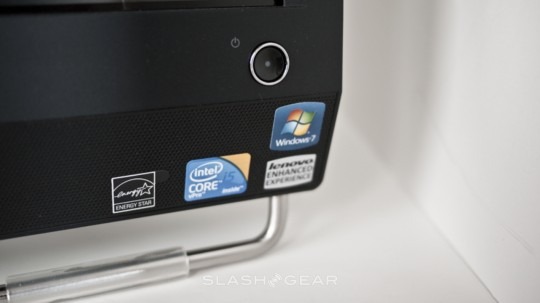 Turned on – using the single button on the M90z's front panel – and the screen shows itself to be bright and clear, with decent viewing angles and nicely saturated colors. Lenovo bundle a wired keyboard and mouse, so setup is straightforward, though of course you're also expected to take advantage of the multitouch control. Unfortunately, like other Windows 7 touchscreen PCs, the ThinkCentre M90z suffers by virtue of the Microsoft OS' mediocre finger friendliness.
Basic apps have some touch control, so you can pinch-zoom in the browser for instance, and Microsoft's Touch Pack for Windows 7 is installed, but underneath it's still a platform tailored to keyboard and mouse. Lenovo attempt to work around these shortcomings with their own SimpleTap app – as we used on the ThinkPad T400S – which basically offers larger, customisable shortcuts in a drop-down menu, but if you're expecting iPad levels of finger use then you'll be disappointed.
[sgbenchmark id=109]
Otherwise, the M90z shapes up to be a pretty regular desktop computer, albeit one held back by its Intel GMA HD graphics. We ran Geekbench, a synthetic test of processor and memory performance, and the M90z scored 5294 overall. That's actually less than Gateway's ZX6900, which has a Core i3-530 CPU, 4GB of RAM and scored 5313. In everyday use, the ThinkCentre was happy multitasking with several browser tabs open, media streaming in the background, and IM active, but gaming and anything more graphics intensive was beyond its abilities.
It's rivals like the ZX6900 that count the Lenovo ThinkCentre M90z out for the home market, frankly. With an MRSP of $1,019.99, the Gateway is cheaper than the $1,338 of our Lenovo review unit, but still manages to include Blu-ray, an HDMI output and eSATA. For businesses, the Lenovo's over-engineered build quality and three-year warranty might make more of a difference, but we can't help but think that most buyers would be better served saving their money and opting for the Core i3 version without the touchscreen. That's still slightly more expensive than the Gateway, but likely more palatable to enterprise tastes. The ThinkCentre M90z certainly isn't a bad all-in-one, but touch on Windows 7 isn't the sales guarantee Lenovo were looking for.