Lenovo ThinkCentre M75e giveaway coming up...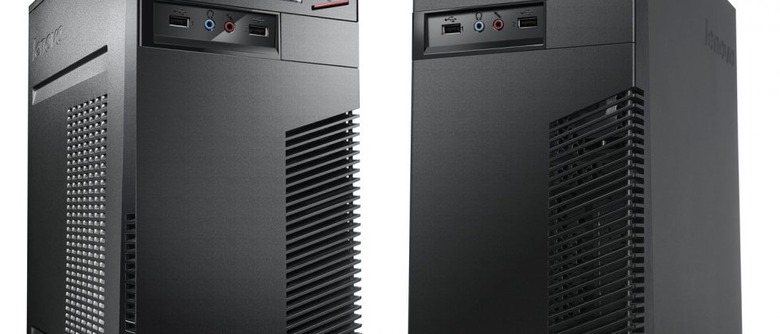 We're already running two giveaways – for a You Rock Guitar and a range of iPad cases – but we wanted to let you know there's yet another opportunity to win coming up, courtesy of Lenovo.  The company is giving us a brand new AMD-powered Lenovo ThinkCentre M75e to give away, and since they're particularly proud of the AMD 760G chipset's ability to drive two displays simultaneously, they're throwing in a pair of 19-inch Lenovo LCD monitors as well!
The ThinkCentre M75e is Lenovo's latest workstation – in fact it's so new you won't find a product listing on the company's site yet – with a range of AMD Semprom, Athlon II and Phenom II dual, triple and quadcore processors along with up to 16GB of DDR3 memory.  As standard there are VGA and DVI outputs, but you can also specify an optional Radeon HD 5450 graphics card which will add a further two outputs, all of which can be used simultaneously.
There are two cases to choose from, a regular tower and a SFF, with the former having two internal 3.5-inch HDD bays and the latter just one.  Both have a 5.25-inch optical drive bay, for either DVD or DVD burners.  Inside there are four SATA connectors, and several PCI Express slots – full height in the regular tower, and half-height in the SFF.
Up front there are two USB 2.0 ports and audio in/out, while on the back there are four further USB 2.0 ports, a serial port, PS/2, VGA, gigabit ethernet, audio in/out/headphones, and FireWire on select models.  Best news, though, is the price: the range will kick off at $299.
We're not sure on the specs of our review unit yet, since it's not expected to drop until early October.  Until then, make sure to enter our You Rock Guitar and iPad case giveaways, and standby for all the Lenovo details just as soon as we have them!