Lenovo ThinkCentre M57/M57P Eco ultra small PC - received lots of environmental awards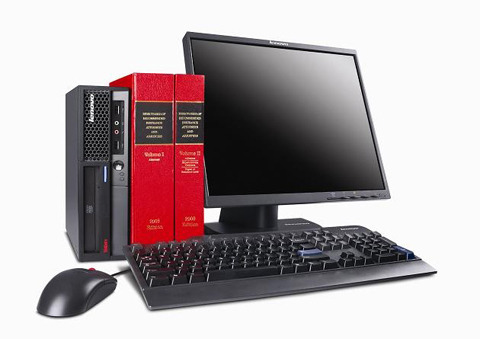 So far it has received GREENGUARD certification, an EPEAT Gold rating, and an Energy Star 4.0 rating. It is made, at least partly, from recycled materials and received the first GREENGUARD certification of any desktop only after undergoing stringent testing for up to 2000 different chemical emissions.
Not only is it eco friendly by being 25 percent smaller than other ThinkCentre products and being made from recycled materials, but it manages to cut down on the noise pollution. It puts out a maximum of 4 bels of noise regardless of what mode its in, so no more walking into a room and it sounding like its about to take off. Both pictures were sent to me as the M57P, but you'll notice, like I did, that they look different so I am assuming one of them is the M57 and the other is the M57P.
As far as professional/enterprise features you get the full set of ThinkVantage technologies, the Intel vPro technology, and the TPM or Trusted Platform Module. It comes configured with the Intel Celeron 440, one gig of RAM, a 160GB HDD, DVD drive, and Windows Vista Business for $699. The monitor is sold separately and they also already have a VESA stand that allows you to re-orientate the M57 as well as mount a monitor to the stand, its $70 extra.