Lenovo ThinkCentre A70z Review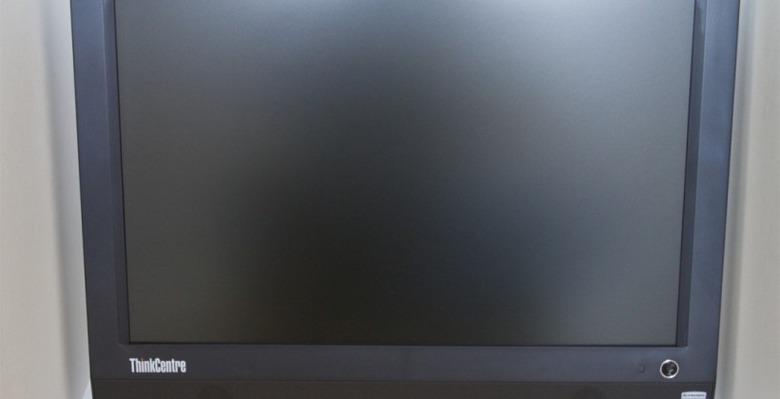 Lenovo's attempts at all-in-one PCs have so far been confined to their consumer-centric lines, but with the ThinkCentre A70z they're pushing for your office (or at least your home-office). A sober black monolith with a surprisingly affordable price tag, Lenovo have paired the A70z with ambitious boot-time promises; is that enough to score a place on your desk? Check out the full SlashGear review after the cut.System Overview and Features
Hidden behind the 19-inch 1,440 x 900 display is a 2.93GHz Intel Core 2 Duo E7500 processor together with 2GB of memory and a 320GB hard-drive. Graphics are courtesy of Intel's GMA 4500 chipset, and there's a side-mounted DVD burner, integrated stereo speakers, webcam and a total of six USB 2.0 ports. Network connectivity includes WiFi b/g/n and gigabit ethernet, though Lenovo don't offer either FireWire or eSATA for high-speed data connections.
[sgbenchmark id=92 show=system]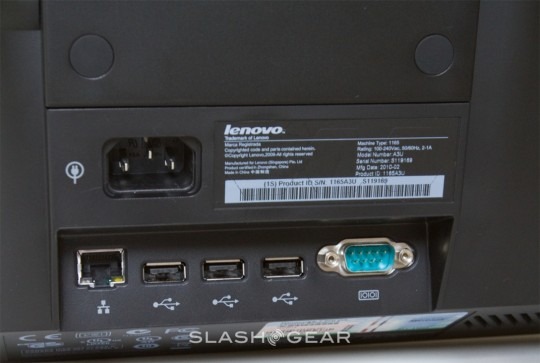 Design and Display
As for the physical design, it's hard to mistake the A70z's heritage. Sturdy matte black plastic together with a spring-loaded metal stand on the back add up to a solid machine, though not perhaps the most attractive all-in-one we've ever come across. Still, it's eminently stable on the desktop – though because of the design you can only adjust for display angle, not height – and there's a handle up top at the back for toting the machine around.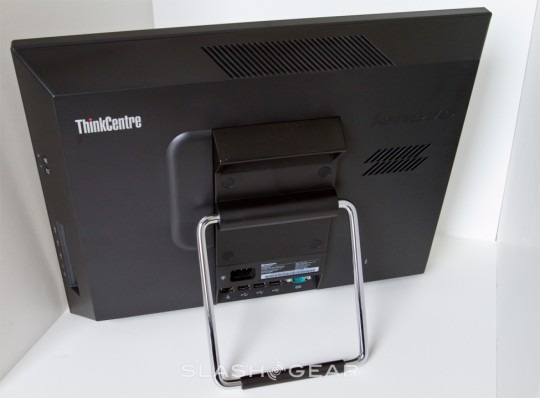 Doing so is helped by the fact that Lenovo bundle a wireless keyboard and mouse set with the ThinkCentre A70z, and if you avoid plugging in any of your own peripherals and hook up a WiFi network then you could feasibly narrow cables down to a single power cord. Slightly disappointing is the fact that the included peripherals come with a separate USB dongle, rather than using an internal connection. As for their own merit, the keyboard lacks the responsive feel we're used to from the Lenovo ThinkPad notebook range, and the mouse feels undersized, but they're still certainly better than you get with many other manufacturers.
You'll obviously be making heavy use of them, too, since the A70z lacks a touchscreen option. If anything, it's the 19-inch display that's the biggest bugbear about the ThinkCentre; while we understand a 22-inch panel would make lugging it around the home or office more tricky, given you spend more time looking at it than you do carrying it, it's a compromise we'd happily make if it meant we had Full HD resolution. While the A70z only has a DVD rather than a Blu-ray drive, the extra pixels would make working with multiple documents more straightforward, and of course there's downloaded media to think about.
Performance
Still, given the GMA 4500 graphics, Lenovo aren't expecting the A70z to replace your console. We ran Geekbench on the ThinkCentre, a synthetic test of processor and memory performance, and the system scored 3191 overall, its CPU stores held back by the RAM performance. Still, in its raw state Lenovo claim you can have the A70z go from cold to Windows 7 being ready for use in a little over 30 seconds, and we found that to be true.
[sgbenchmark id=92 show=score]
Verdict
The takeaway message is that, while the A70z is perfectly sufficient for Office applications, local and streaming media playback (even 1080p YouTube video and bandwidth-heavy Hulu) and even a little Photoshop meddling, this isn't a gaming PC and nor is it a media center. Admittedly, Lenovo don't bill it as such, but with the ThinkCentre's standard VESA mount on the back, we did have visions of a wall-mounted machine for a kid's room; similarly, with no video input, you can't use the A70z as a display for your console, as you can with all-in-ones from other manufacturers.
So, it's definitely for your desk then, but does it hold up its side of the Lenovo bargain? It's hard to specify a traditional Lenovo desktop – with a separate tower and display – for the same price as the ThinkCentre A70z is offered at, and the differing form-factors are either an issue (if you want ease of upgrades) or a boon (if you prioritise space and portability). With Lenovo build quality, a mercifully bloatware-free standard install and the sort of speedy start-up that won't force you into the kitchen to make a drink while you wait for your machine to be work-ready, the A70z fills its target niche pretty well. It's not the most attractive of all-in-ones, and you should definitely look elsewhere for media functionality or touchscreen novelty, but if you want a reliable, affordable and decently compact PC then the ThinkCentre A70z warrants consideration.
Gallery