Lenovo ThinkCenter M58e and A58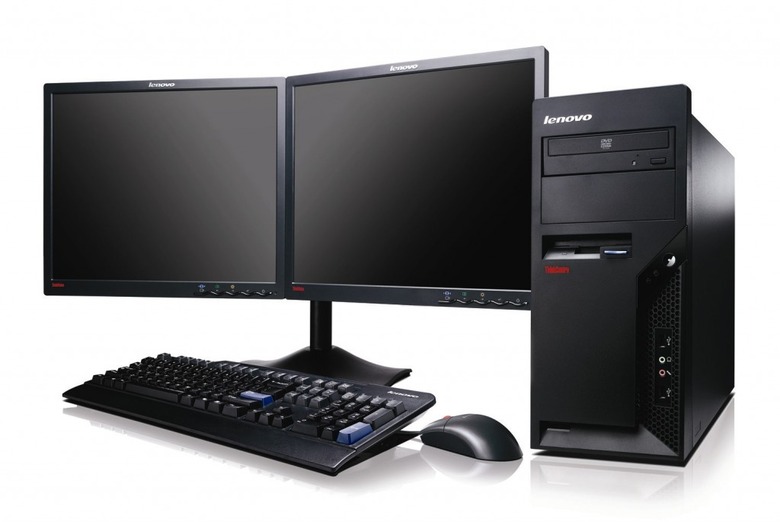 We may receive a commission on purchases made from links.
Lenovo have announced two new desktop PCs in their ThinkCentre range, aiming to be low-cost and environmentally-friendly options in response to the bleeding economy.  The Lenovo ThinkCenter M58e, shown here, is targeted at mid-market and larger businesses, while the ThinkCenter A58, shown after the cut, is aimed at small to medium business clients.  Each have a choice of Intel Core 2 Quad and Core 2 Duo processors and up to 1TB of storage.
Other specs include up to 4GB of memory, a choice of Blu-ray or DVD burners, and onboard graphics with Direct X10 support.   There are also Lenovo's usual Rescue and Recovery tools, together with optional fingerprint-reader equipped keyboards and Online Data Backup.
Both of the new Lenovo ThinkCentre desktops will be available from the beginning of April; they'll be priced from $399.  While the company may be targeting business customers, I reckon a lot of home buyers will quite like the sound of a cheap, reliable PC with 24/7 tech support and long business warranties.
Press Release:
Lenovo Retools ThinkCentre Business Desktops for Smaller, Lower Cost Options

RESEARCH TRIANGLE PARK, NC – March 10, 2009: Lenovo today announced that it is retooling its desktop PC portfolio to give customers two new, smaller, lower cost options. Lenovo's new ThinkCentre A58 brings small-to-medium-business customers reliable, secure and affordable desktop technology in a new design, while the ThinkCentre M58e provides the technologies and green features that mid-market and large companies need to stay productive and efficient. With more customers demanding smaller desktop PCs today, the desktops come in tower and small form factor models.

"Customers are feeling the pinch of the challenging economic times, and are demanding PC products that give them the most value for their dollar," said Dilip Bhatia, executive director, global desktop marketing, Lenovo. "We've crafted the latest Lenovo ThinkCentre desktops to give them the essential technologies they need to stay productive, reliability features and service plans to stretch their dollar further and security options to protect their business."

Security, Reliability and Efficiency

For two layers of protection, users can combine Lenovo's Rescue and Recovery tool included with the desktops to help in recovering and restoring lost files along with Lenovo's Online Data Backup service to keep data backed-up in a secure, off-site location. Preloaded on both desktops, customers can try the service free with up to 5 GB of storage for 90 days.

The new desktops provide the security businesses require with features such as a fingerprint reader on several optional Lenovo keyboards for easy password management, I/O port disablement to help protect against external threats and a chassis intrusion switch to help detect tampering in the PC.

With select EPEAT Gold-rated models and models that already meet the Energy Star 5.0 criteria, which take effect in July, the ThinkCentre M58e desktop helps large enterprise customers ensure their PC technology is among the most energy-efficient and environmentally responsible on the market. For companies with large fleets of PCs, the savings can quickly add up. A ThinkCentre M58e desktop combined with a ThinkVision L1940pW monitor can save organizations approximately $40 a year over previous Lenovo desktop and monitor solutions.1 Additionally, both the ThinkCentre M58e and the ThinkCentre A58 desktops are GREENGUARD certified, meaning they have been tested for up to 2,000 different chemical emissions.

Value-Added Tools Help Manage PC Investment

Most businesses purchase PC technology as an investment to be managed over several years. However, Gartner reports that only 13 to 16 percent of the total cost of PC ownership over the lifecycle of the PC comes from initial hardware costs, and the rest are software and ongoing management costs.2 The new ThinkCentre A58 and M58e desktops help organizations manage both upfront hardware costs and ongoing management costs in several ways.

Lenovo has engineered unique, ThinkVantage Technologies on the ThinkCentre M58e and Lenovo Care tools on the ThinkCentre A58 that are included in the cost of the PC. These tools help companies avoid IT costs and lost productivity associated with individual PC usage in SMB environments, such as data recovery, as well as issues IT managers in large corporations face such as IT help desk calls, password resets, asset management and more.

Lenovo includes a variety of tools on the desktops such as Rescue and Recovery to help recover and restore files and Power Manager to easily manage and remotely control a PC's energy usage even when it is turned off. They also include Client Security Solution, Client Security Password Manager and more.

"All of our customers have different computing requirements, but with Lenovo's ThinkVantage Technologies (TVTs) we have the tools to service their varying needs," said Andrew Shannon, regional vice president of sales, MCPc. "We use the TVTs with almost every customer to help build and deploy images. We have over 40 customers that we've helped deploy TVTs in the last several months with an emphasis on ImageUltra, Rescue and Recovery, Access Connections (laptop only) and Power Manager. It continues to be our underlying goal to help them and us save time and money."

IT administrators can deploy and manage Lenovo ThinkVantage Technologies across a fleet of PCs through purchasing LANDesk software. Additionally, the ThinkCentre M58e desktop offers platform stability of up to 15 months for corporate customers who may deploy technology over an extended period of time.

Essential Technologies

The desktops feature technologies including choices of:

Intel Core2Quad and Core2Duo processors

Onboard Direct X10 graphics support

Support for up to 1TB of storage

Up to 4 GB memory

Blu-Ray or DVD burners

Ongoing Service and Support

Lenovo offers a variety of warranty options as well as its ThinkPlus Priority support service plans

which give customers 24x7 technical support and priority call routing, among a host of other features and tools. For those in-the-middle-of-the-night scenarios, ThinkPlus Priority support can help support critical business needs while helping businesses reduce or eliminate the need for around the clock IT staff, which can translate into significant cost savings.

For complete lifecycle management, Lenovo offers custom imaging and deployment, as well as Asset Recovery Services, a solution that provides for computer take-back, data destruction, refurbishment and recycling. Customers can also recover value from their old PCs which can then be used toward the purchase of new ones.

Pricing and Availability3

The ThinkCentre A58 and M58e desktops will be available at the beginning of April with models starting at $399. They will be available through business partners and www.lenovo.com.