Lenovo ThinkBook Plus packs a 10-inch e-ink display in the lid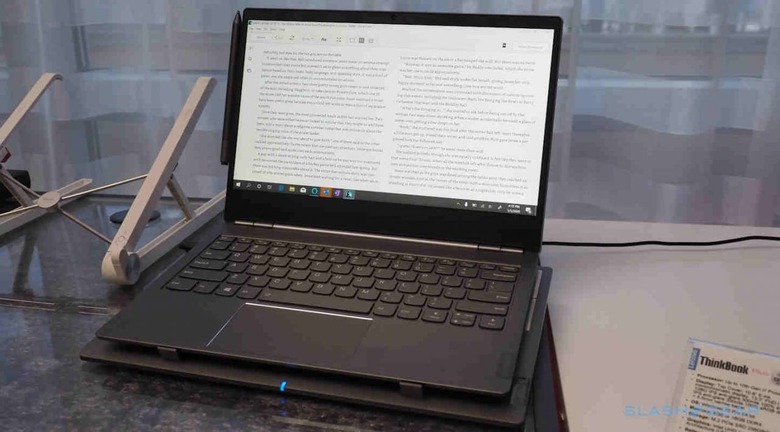 Lenovo is back with another ThinkBook model designed for use in the workplace with its new ThinkBook Plus. The 13.3-inch Full HD laptop packs a 10.8-inch electronic ink display on the lid that supports the Lenovo Precision Pen for drawing illustrations and diagrams, as well as for viewing notifications without opening the laptop. As with previous ThinkBook models, the ThinkBook Plus is designed specifically for the millennials and Gen Z users in the workplace.
Lenovo's ThinkBook line isn't to be confused with its ThinkPads. Unlike the consumer laptops, the ThinkBook line is made specifically for small/medium businesses and is suitable for everyone from workers who are located in a warehouse to on-site managers and more. The laptops feature the same general Lenovo aesthetic as the company's other models.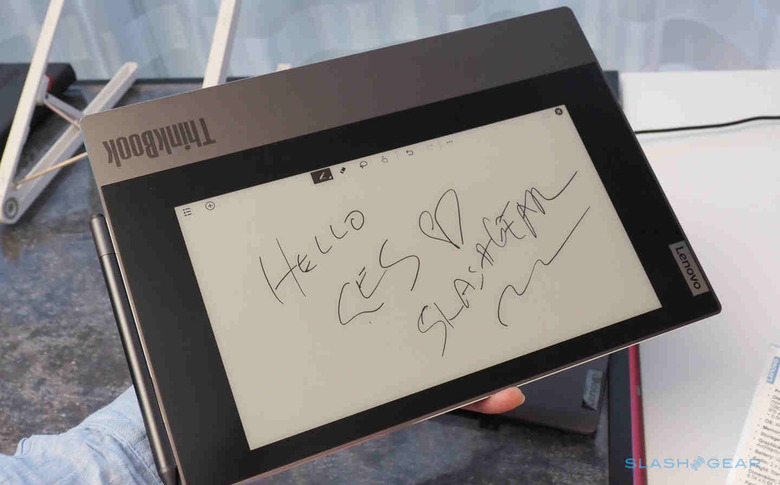 The ThinkBook Plus's design is based on a combination of 'customer insights' and the company's own research, according to Lenovo. The model is available with up to 10th-generation Intel Core i7 processors, Intel UHD integrated graphics, and either 8GB or 16GB of RAM, depending on the configuration. Users also have multiple storage options, including up to a 512GB SSD.
In addition to the regular 13.3-inch FHD anti-glare display, the ThinkBook Plus as a 10.8-inch e-ink monochromatic display in the lid. Users can expect up to 10 hours of run time per charge, according to the company, which includes Rapid Charge support for quickly replenishing the laptop's battery.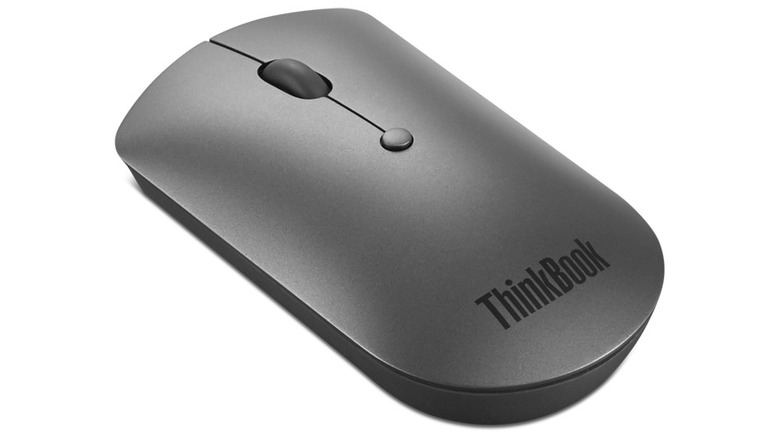 Connectivity includes WiFi 6, Bluetooth 5, a pair of USB-A ports and one USB-C port, an HDMI 1.4b port, and a combo audio jack. As well, Lenovo has packed a pair of Harman brand 2-watt speakers into this model with Dolby Audio certification and near-field dual array digital microphones. The laptop's fingerprint reader is built into the model's power button for rapidly signing into the system.
Lenovo has also unveiled a laptop sleeve and a Bluetooth mouse designed for use with the new ThinkBook model. The ThinkBook Bluetooth Silent Mouse is compact and designed for silent operation with what Lenovo describes as 'distraction-free' buttons. The mouse features Bluetooth 5.0 and support for Microsoft SwiftPair, as well as on-the-fly two-way DPI adjustment and support for use on glass.
The ThinkBook 13.3" Plus Sleeve, meanwhile, is gray-colored and features an interior foam padding that Lenovo says is specifically intended to protect the electronic ink display on the laptop's lid. Features include welded TPU accents, microfiber interior, magnetic overlay enclosure, and gray melange material.
The Lenovo ThinkBook Plus will be available in March with a starting price of $1,199 USD; the ThinkBook Bluetooth Mouse will be available in April for $39.99 USD and the laptop sleeve will be available in April for $44.99 USD.