Lenovo T Series laptops unveiled: thinner, lighter, and better than ever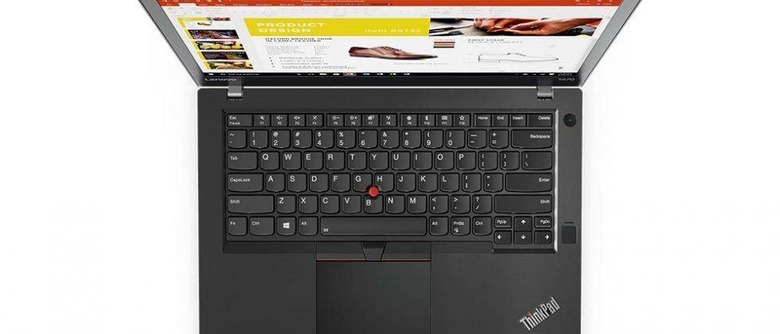 Lenovo has unveiled its new T Series laptops, the ThinkPad T470, ThinkPad T470p, ThinkPad T470s, and the ThinkPad T570. This particular series of notebooks is targeted at businesses and business users, those who need a mixture of durability, expansive connectivity, biometric security, and lightweight designs. These four laptops comprising the refreshed line are thinner and lighter than past T Series models, and cover all the bases most users need.
ThinkPad T470
The Lenovo ThinkPad T470 is a 14-inch Windows 10 laptop designed for business users and anyone who wants a thin, light notebook for getting down to work. This model features a 14-inch IPS Full HD 1920 x 1080 display complemented by a slim 19.95mm profile and starting weight of only 3.49lbs.
There's a lot to like about this model, including the latest Intel Core i processors, GeForce 940MX with 2GB of GDDR5, 32GB of DDR4 memory, and a slew of ports including USB-C and USB 3.0. This model will be available in February 2017 starting at $919 USD.
ThinkPad T470p
Similar to the above laptop is the ThinkPad T470p, a business laptop Lenovo says is designed for 'performance driven users.' This laptop likewise comes in a 14-inch form factor with both Full HD 250 nits and WQHD 300 nits options. There's up to 32GB of memory, both HDD and SSD options, NVIDIA GeForce 940MX with 2GB GDDR5, and a pair of stereo speakers.
This laptop has a bunch of ports and connectivity features that'll appeal to business users, including 802.11ac WiFi and Bluetooth 4.2, a trio of USB 3.0 ports, a four-in-one card reader, Ethernet, mini DisplayPort, HDMI, and more. This model will be available in March 2017 starting at $1,049 USD.
ThinkPad T470s
Yet another 470 model in the bunch is the ThinkPad T470s, a lightweight option at less than 3lbs and with a thinness of less than 19mm. Despite the small size, this laptop boasts more than 10 hours of battery life, according to Lenovo, as well as a 14-inch IPS display with both Full HD and WQHD resolution options (including a touchscreen FHD option).
As with the above model, the T470s features HDMI, an audio combo jack, USB-C, three USB 3.0 ports, a four-in-one media card reader, mini DisplayPort, and Ethernet. There's also 802.11ac WiFi, NFC, and Bluetooth 4.2. Unlike the previous two models, this laptop is available in both Black and Silver color options. The ThinkPad T470s will be available in February 2017 starting at $1,099 USD.
ThinkPad T570
Finally, as far as the T Series goes at least, we have the ThinkPad T570. This model is 10-percent thinner and 8-percent lighter, according to Lenovo, boasting a larger 15.6-inch Full HD touch display or Ultra HD non-touch display, depending on configuration.
Users can customize the storage and discrete graphics, and will enjoy a bunch of high-end features: MIL-SPEC certified durability, front and rear batteries for 16+ hours of battery life, and a fingerprint reader, for example.
While this model is a bit heftier than the other three at 4.4lbs (starting weight), you get much better battery life, and could likely go a couple days without charging if you're modest with usage. Other features including a trio of USB 3.0 ports, WiGig, USB-C, NFC, a combo audio jack, 802.11ac WiFi, Bluetooth 4.2, and more
This model arrives in March 2017 starting at $909 USD.