Lenovo Star Wars AR headset The Last Jedi release details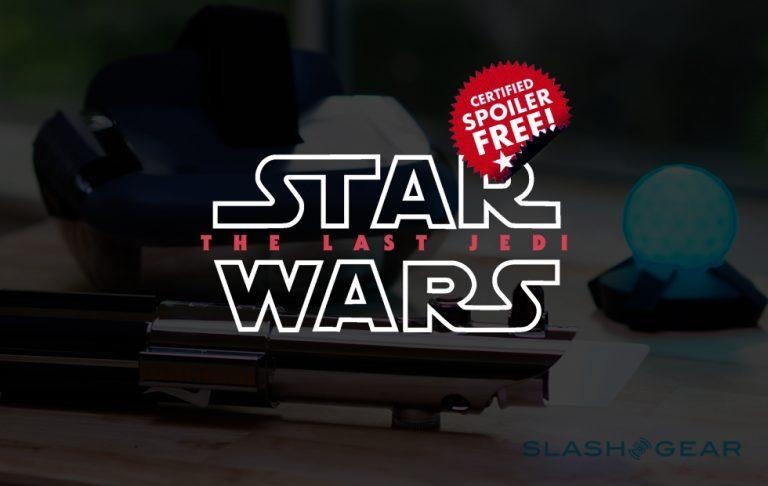 This week the folks behind Star Wars: Jedi Challenges – a Lenovo-made AR headset with lightsaber controller – are bringing The Last Jedi to augmented reality. To use the app that'll be updated, users will need to own the Star Wars Jedi Challenges AR headset and lightsaber package – that's available from Lenovo or at Best Buy for right around $200 USD. The update for The Last Jedi content will come just a bit later – January of 2018.
To begin, you'll want to know what this headset and lightsaber business is all about. I'll direct you to our full review, but I'll also give you a rundown here, first. This headset works with projected images and your smartphone to create an augmented reality experience with Star Wars Content, and the lightsaber controller it rode in on.
SEE: Our full Star Wars: Jedi Challenges Review
With this headset, you'll be able to see images of Star Wars characters in the room with you. This experience includes lightsaber battles with various characters, a Strategic Combat game where you control miniature troops on a gameboard on your floor, and a game of Holochess. That's the Djarik Hologameboard that you've seen in Star Wars: A New Hope and Star Wars: The Force Awakens with tiny claymation characters battling on a chess circle.
With the update, the user will be given several new bits of content, including a new lightsaber dual with Praetorian Guards, a new planet for Strategic Combat, and new content in assault mode. There'll also be PORGS.
The new planet you'll get for Strategic Combat is Crait, the planet with all that red dust you've seen in The Last Jedi trailers. On this planet you'll find the First Order AT-M6 walker as well as other new warriors. Assault mode will include new First Order Stormtrooper Executioners and a Riot Control Stormtrooper.
This new The Last Jedi content pack will be available as an update to the Star Wars: Jedi Challenges mobile app in January of 2018. So no spoilers here! No worries!
The Star Wars: Jedi Challenges package includes a Lenovo Mirage AR headset, Lightsaber controller, and a Tracking Beacon. Users will need to download the official Star Wars: Jedi Challenges mobile app on an Android or iOS device to make the experience complete. Star Wars: Jedi Challenges will cost users approximately $200 through Lenovo or Best Buy, and is already available right this minute.