Lenovo S12 NVIDIA Ion Netbook 1080p Video Demo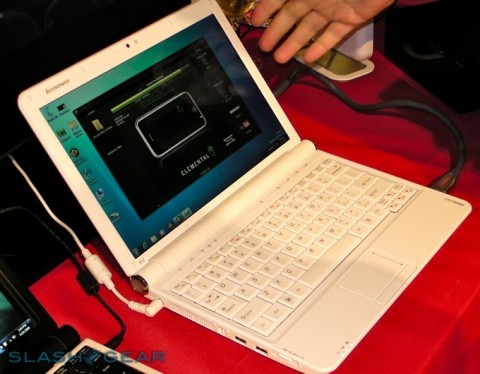 SlashGear stopped by the Pepcom Digital Experience in New York this week, and caught up with one of the more interesting netbooks on the horizon: Lenovo's S12.  While it may physically resemble one of the company's previous models, albeit with a larger 12.1-inch display, what makes the S12 really special is the NVIDIA Ion chipset inside.  The demonstration – which you can see after the cut – showed silky-smooth simultaneous HD encoding and playback.
Video demo of the S12 after the cut
In fact, the Lenovo S12 was using its HDMI port to output 1080p content onto a big-screen HDTV while also re-encoding a 1080p clip into an iPhone-friendly format.  Both moved on at a fair clip, and the playback was completely smooth and unaffected by the encoding process.
When you consider that the S12 is otherwise pretty much identical to a mainstream netbook today, it's all the more impressive.  As well as Ion there's a 1.6GHz Intel Atom N270 processor, 1GB of RAM and up to 320GB hard-drive, together with WiFi, Bluetooth and an ExpressCard slot.  Full specifications are here.  The Lenovo S12 with NVIDIA Ion is expected to go on sale this month, priced at $499.99; cheaper models, lacking Ion, will start at $449.99.
[vms 45e339f35a30c8f65edc]