Lenovo roadmap leaks Ivy Bridge laptops on June 5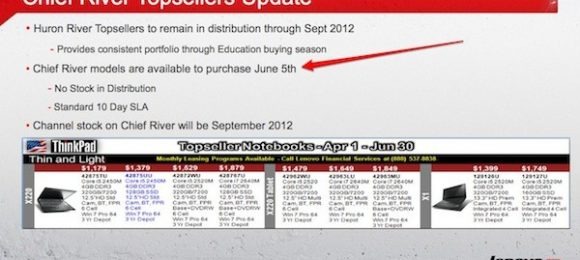 Although Intel hasn't announced yet when exactly it's next-gen 22nm Ivy Bridge-based processors will be hitting the market, rumors suggest the release is just around the corner. Now a leaked Lenovo product roadmap further pinpoints that the laptop implementation called Chief River will be available by at least June 5, when Lenovo is expecting to see its first Ivy Bridge laptops go on sale.
The leaked Lenovo roadmap clearly indicates that its new Chief River Ivy Bridge notebooks will be available for purchase starting June 5. They will continue sales of their top-selling Huron River models through September. However, the wording does seem to suggest that although distributors may start purchasing the new Ivy Bridge laptops in June that channel stock may not be available until September.
The Lenovo devices due to get the Chief River refresh include the X220, the X220T, and the X1. So if you're considering getting a new Lenovo ThinkPad notebook and can wait till at least September, you might want to hold on so you don't miss out on the chipset upgrade.
Intel's Ivy Bridge has so far been tipped for an official launch on April 23 or possibly April 29 with some reports of a delay until June. Apple is believed to be launching refreshed MacBook Pros with new Ivy Bridge chips later this month, likely having priority on the first batch of Intel's new chips.
[via Engadget]