Lenovo Phab 2 Pro powers "Into the Wild" AR adventure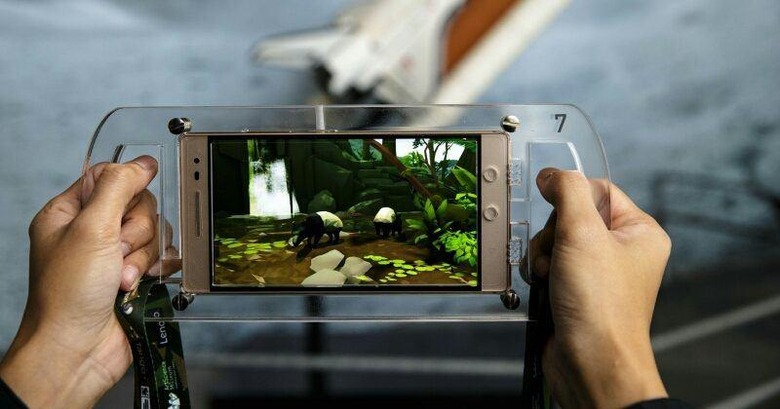 One of the great things about new technologies like virtual reality and augmented reality is how they enable us to experience things that would have otherwise been impossible to obtain. Either because of the cost or the danger both to ourselves as well as to those around us. There are, however, some experiences that really have to be seen with your very own eyes in order to appreciate the gravity of the situation. That is why Lenovo, Qualcomm, Google, and the World Wildlife Fund (WWF) got together to create "Into the Wild", which is both a showcase of AR technology as well as a call to social action.
"Into the Wild" embodies the benefits that AR can bring, especially in contrast to VR. Visitors to Singapore's ArtScience Museum need only pick up a Lenovo Phab 2 Pro, the world's first commercially available Tango-powered smartphone, to begin the adventure. They can follow trails of grass overlaid on top of the real-world indoors floor, move around the virtual forest as they move around the museum, and see precious rare and endangered animals in their "natural" habitats.
The last bit is something that most people will never get to experience in their lifetimes. The mousedeer, for example, is ever so elusive while the endangered Sumatran tiger is too dangerous to observe up close. With augmented reality, made accessible thanks to Google's Project Tango and the Phab 2 Pro, that becomes not only a reality, no pun intended, but also a medium for a more serious message.
"Into the Wild" isn't just an educational virtual field trip, it is also way to raise awareness about the plight of flora and fauna in Southeast Asia. Situations inside the AR world call attention to the dangers, mostly caused by humans, threatening these animals. Some of them even invite interactivity with simple taps and gestures.
The experience also includes actions that actually have an effect in the real world. Planting a virtual tree in the AR forest, which involves a pledge to WWF, will also cause a real world tree to be planted in a rainforest in Indonesia.