Lenovo Mobile Vault Is Super Secure Hard Drive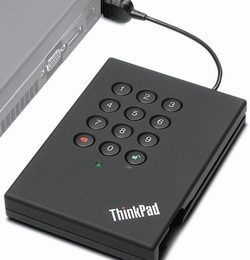 If you are genuinely concerned about the security of your computer's hard drive, then you might be interested in the Mobile Vault, which was introduced by Lenovo. This USB Portable Secure Hard Drive, comes with a keypad and lets you safeguard your drive with a super secret password.
It might seem excessive, but amping up security with a passcode is a great way to keep your information protected. Plus, up to ten users and one administrator can use the drive with their own user IDs.
With 128-bit advanced encryption and a small form factor, you can rest assured this device will be unobtrusive and very safe. Available in 160GB and 320GB versions, this hard drive will be available soon and is expected to cost $179 and $219, respectively.