Lenovo Miix 720 with Active Pen 2 is a 'work from anywhere' 2-in-1 PC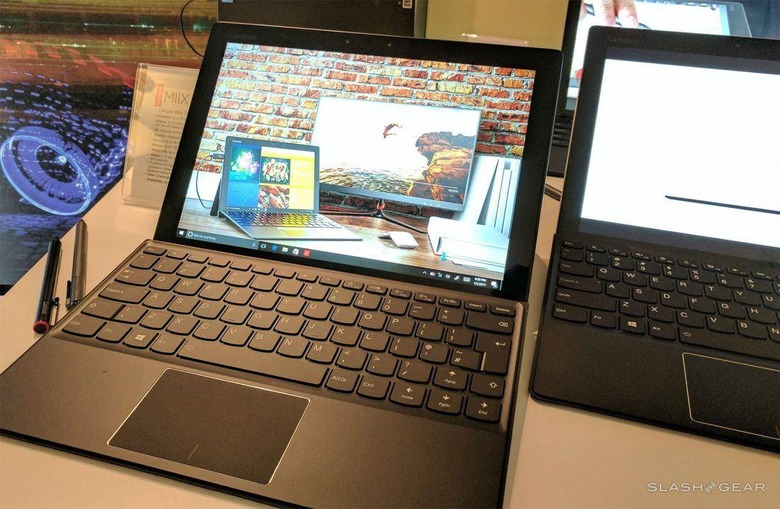 Lenovo has updated its Miix model with the new Miix 720, a Windows 10 detachable PC that comes with the Lenovo Active Pen 2. This model, like the ones before it, are designed to easily transition from a 'laptop' design to a tablet design, both of them having the convenience of a lightweight design alongside the stylus for hands-on creations. Lenovo describes this model as an 'all-purpose digital vehicle.'
The Lenovo Miix 720 features a detachable keyboard that can be removed with a simple tug. Remove it and you'll be left with a large Windows 10 tablet; attach it and you'll be able to sit down and use the PC as you would a laptop, though with less than ideal hinges if you try to use it in your lap.
This model weighs 2.4lbs and measures in at 14.6mm in thickness, making it suitable for frequent travelers. The tablet portion is propped up via a kickstand, as with the previous model, and features a QHD+ 2880 x 1920 resolution 12-inch touchscreen display. Lenovo says the display is 'ultra-crisp' with 'graphics-rich pitch.'
Other features include facial recognition, up to 8 hours of battery life, an always-on USB port, Thunderbolt 3, rear camera, and a 150-degree kickstand. The Lenovo Active Pen 2, meanwhile, is ultra-sensitive with 4,096 levels of pressure sensitivity. The keyboard is backlit, full size, and has 1.5mm of key travel.
The Lenovo Miix 720 2-in-1 Windows PC will be available in April starting at $999.99 USD. The Active Pen 2 will be available in February for $59.99 USD.