Lenovo Legion Y720 Review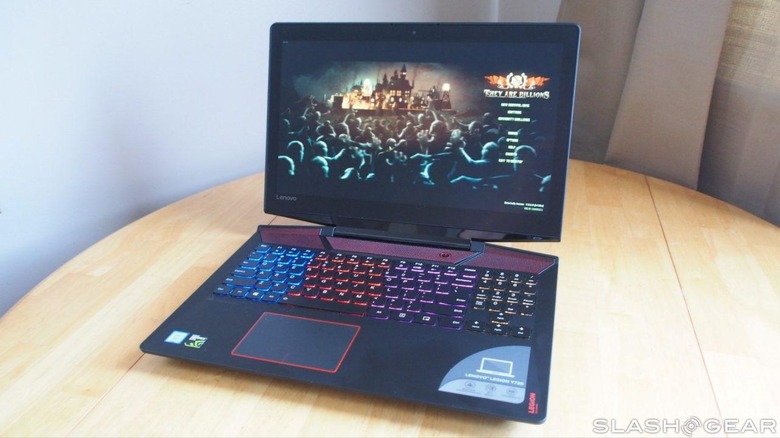 EDITORS' RATING: 8/10
As someone who primarily games on PC, my advice to anyone who's looking to get into PC gaming is usually going to be to build their own. Up until recently, I would have written that my advice would be to always go the custom build route, but thanks to that thorn in the side of the gaming enthusiast known as cryptocurrency mining, that may not be entirely realistic for a while. In turn, this makes buying pre-built PCs a better proposition than it usually is, and there are plenty of manufacturers ready and waiting to fill the gaps. Lenovo is once such manufacturer, with its Y720 offering solid mid-to-high-range hardware in a mobile package.
Design
The Y720 looks much like the array of gaming-centric PCs from Lenovo, sporting a black color scheme accented by red. If you've seen a Legion-branded machine before, you know what to expect: something a little more subtle than your average gaming notebook, but still decidedly a laptop made for gamers.
There isn't much in the way of external lighting on the Legion Y720. The Legion logo on the reverse side of the display lights up, but other than that, you're left with an all black machine (save for another patch of red on the underside of the device that no one is ever going to see). I like the look of it overall, but one thing that's become an annoyance for me is that the smooth and glossy finish on the outside of the laptop seems to be particularly good at attracting fingerprints and oils from your skin.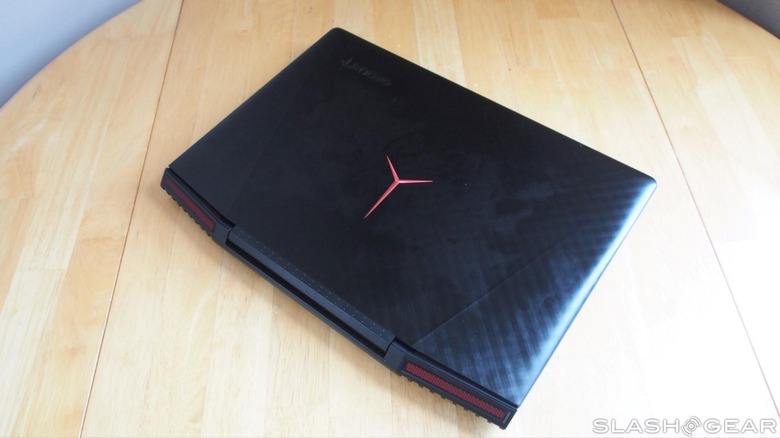 Obviously, even though this is an endlessly frustrating thing for me, it's not a deal breaker. If I judged a laptop's value by such a small annoyance, no machine would ever get a passing grade. Still, this might be something worth keeping in mind if you share this particular irrationality with me.
In the end, the Legion Y720 has a fairly unremarkable design, but that's honestly the way I prefer it. If I'm going to carry a gaming laptop with me, I don't need it to act as some kind of shining beacon that lets everyone know I'm using the computer. The black and red color scheme looks nice, and the limited external lights give this laptop a fairly mainstream look that doesn't overdo it. If I had my way, more gaming laptops would practice subtlety in the way Lenovo has here.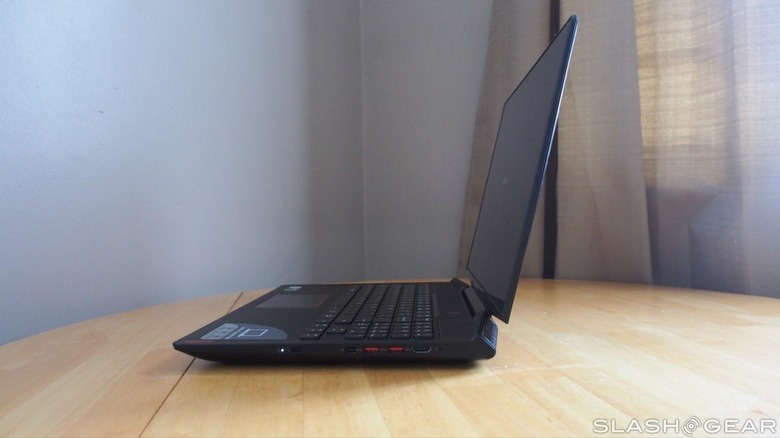 Like every other gaming notebook out there, the Legion Y720 weighs a fair bit more than your standard notebook. There's good reason for this, of course, as it's packing more serious hardware than your standard notebook as well. With a weight that starts as 7.05 pounds (and goes up depending on your configuration), this isn't exactly a light machine. Nor is it small – its 15.6 inch display and full-sized keyboard see to that. You'll need to make extra consideration for space if you're going to lug the Y720 around with you, but such is the life of a PC gamer with a preference for laptops.
Performance
Obviously, if you're buying the Legion Y720 for anything, it's not for looks, but to play games (or do other graphics-intensive projects like 3D rendering). For this, hardware obviously counts more than anything, and a gaming notebook that is lacking in suitable hardware will quickly be left behind and forgotten as manufacturers move to cram their machines with better and better parts.
In terms of power, the Legion Y720 is no slouch. The model I was sent for review is Lenovo's top-of-the-line Y720, with a Core i7 7700HQ CPU clocked at 2.80GHz and a NVIDIA GeForce GTX 1060 6GB. This model also boasts 16GB of RAM, a 1TB 5400RPM Hard Drive, and a 512GB SSD.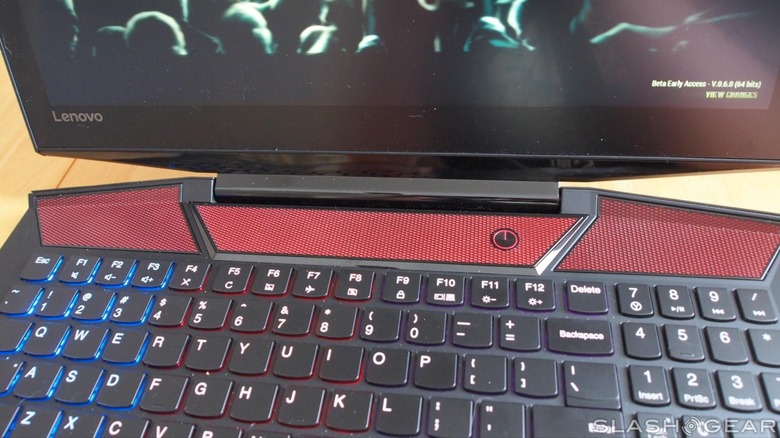 The result of all of this hardware is a speedy little machine that's fast to boot up and manages to avoid lag when doing most tasks. While the GTX 1060 isn't NVIDIA's best 10-series card (far from it, in fact), it's more than likely going to be capable enough for whatever modern games you want to play on a laptop.
Does this mean that you'll be able to max out graphics settings in each and every game for years to come? No, but for now, the GTX 1060 is a solid card that should allow for some very pretty games. For instance, the GTX 1060 is enough to meet the recommended requirements for the upcoming Final Fantasy XV Windows Edition, and I imagine that'll be the case for a lot of graphics-intensive PC games for another year or two. In short: While the GTX 1060 may not offer as much power as its big brothers within the 10-series, it's probably going to be a while before you begin to feel that rift in capability.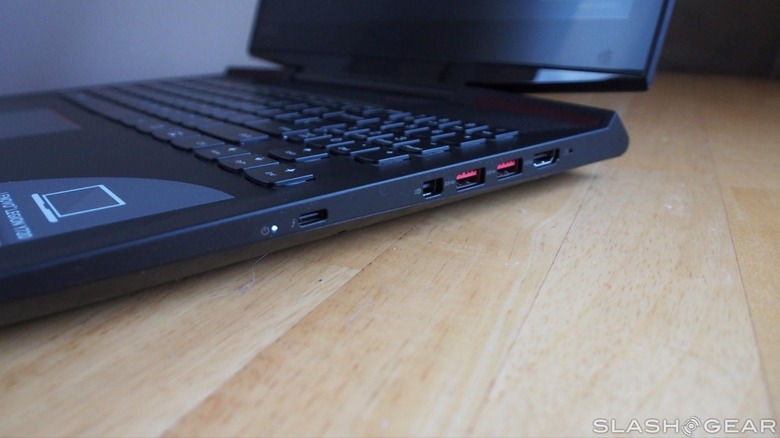 Indeed, for the time being, the GTX 1060 is a solid graphics card. In Divinity: Original Sin 2 – a game with no lack of impressive (and intensive) graphics – I found that cranking everything up to Ultra settings gave me a framerate that topped out around 100 in indoor environments without much on screen and bottoming out in the mid 70s during times when the PC had to render a bunch of objects and characters or when Original Sin 2's wonderful particle effects filled the screen. The Ultra profile in D:OS 2 includes the highest settings for textures, lighting, and shadow quality; settings like ambient occlusion, god rays, and bloom turned on; and finally, 16x anisotropic texture filtering and SMAA.
So, the GTX 1060 certainly isn't a slouch, though it won't melt your face to the degree that the GTX 1080 can. Obviously, you're going to want to keep the Y720 plugged into a power source as you're playing, as trying to run a game while the laptop is running on battery will cause a significant drop in frame rate.
You can, of course, drop your graphics settings to compensate for this, but even then it still isn't the most efficient way to play games on the Y720, as I only made it about an hour and 40 minutes from a full charge to the point where I was getting 10% battery life warnings while playing They Are Billions. Don't let that give you anxiety about a potentially short battery life, as I got about 4 hours of life on a full charge when I was streaming video with the display at half brightness.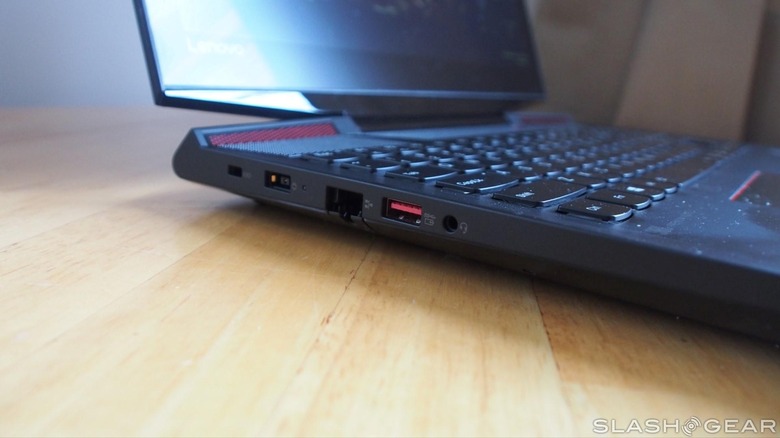 As an aside, it's a bit confusing that Lenovo chose not to offer a Legion Y720 variant with a GTX 1070, even just for those who don't mind paying extra as a means of future-proofing their notebook a little more. Regardless of which configuration you go with, you only ever have the option of a GTX 1060 with this notebook.
The review unit's Intel Core i7-7700HQ and 16GB of RAM both help keep things going smoothly. With a Core i7, you're not really going to have to worry about your CPU acting a bottleneck to gaming performance at any point in the near future, and unless you're going to be doing things like video processing on this laptop in addition to gaming, you can honestly go for the base model, which ships with a Core i5-7300HQ.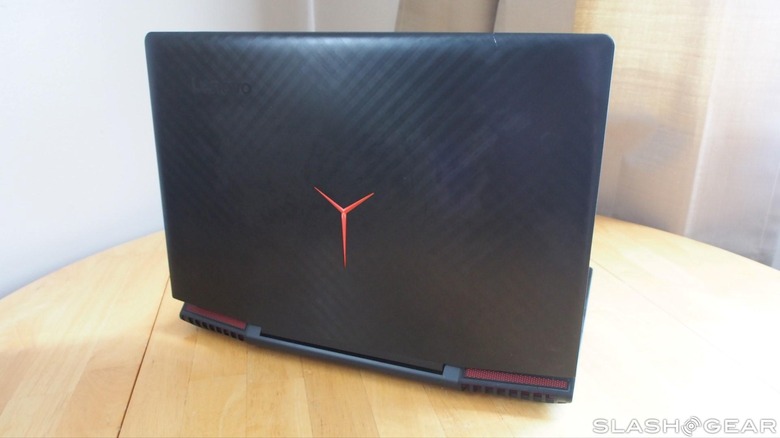 While the base model only comes with 8GB of RAM, the good news there is that it's also customizable, meaning that you can upgrade to 16GB for $100 more. This, I think, is worth the extra money – there was a point not too long ago where 8GB of RAM was suitable for a gaming rig, but we're quickly approaching the point where 16GB will be considered standard. With many new and upcoming games suggesting 16GB in their recommended specifications, it'll be much easier to pay a little extra than it will be to deal with the frustrations of hitting that ceiling later on.
The 15.6-inch IPS display Lenovo has outfitted the Y720 with is fairly solid as well. Though it isn't matte like I would prefer with a gaming laptop, glare is not nearly the problem it is with other glossy finishes. Lenovo has treated the display with an anti-glare coating, and while it doesn't stop glare from being an issue entirely, it does still cut down on it significantly. If I can't have a matte display (which I understand doesn't look all that great on a gaming laptop that is otherwise supposed to look sleek), I'll definitely take something like this instead.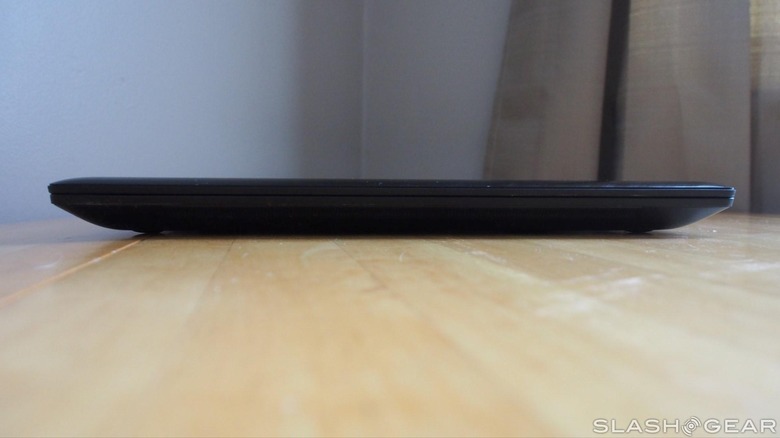 The 1080p LED display probably won't blow your mind like a 4K desktop monitor will, but it's perfectly suitable for this machine. Colors look rich and visuals are sharp, which is all you can really ask for at the end of the day, isn't it? Anything else is just icing on the cake and borders on unnecessary when we also have to make concessions for battery life.
The trackpad and the keyboard are similarly "good enough." Lenovo managed to resist going all-in on the RGB craze, and while the chiclet-style keyboard does have RGB backlighting, it's zoned so you can't make each individual key a different color or set up these crazy lighting patterns. You backlight is managed through Lenovo Sense, and even though the keyboard is zoned you still have plenty of options when it comes to customization, so I honestly can't really say I miss having a backlight for each individual key.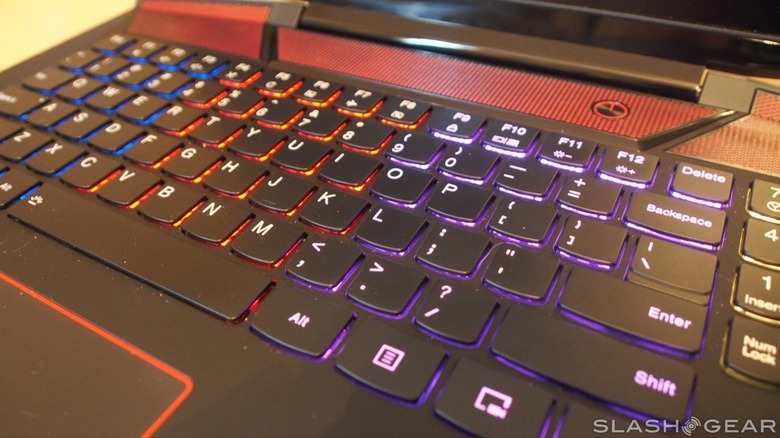 The two-button trackpad does fine when it comes to browsing, but if you're using this laptop for gaming (as is its stated purpose), you're almost never going to use it. Get yourself a decent Bluetooth mouse and use that instead, because trying to play games with a trackpad – especially ones that require quick reactions – is really just inviting frustration.
Finally, we come to the Y720's JBL speakers. These are something of an anomaly within the word of laptops, gaming or otherwise. The speakers seem to provide somewhat fuller sound than most laptops can (though bass is still lacking, unsurprisingly), but one interesting thing to note is that these bad boys can get loud. I think you should still get a nice pair of headphones or a headset to use while you're playing games, but if that's not an option after dropping the cash required for the Y720, the included speakers at least do a serviceable job.
Wrap-Up
In the end, the Lenovo Legion Y720 is a fine laptop, though it doesn't really have much that makes it stand out from the crowd. As I said earlier, that isn't necessarily a bad thing, because hardware – not software or design – is most important when it comes to gaming, and the stuff that's packed inside this laptop is enough to ensure most games run well.
So, while I'm not about to sing the Y720's praises from the mountaintop, I don't have a problem suggesting that you at least consider the Y720 if you're looking for a gaming notebook. This, of course, would normally be the time where I recommend that you build your own gaming PC instead of buying a pre-built, but there are two problems with that.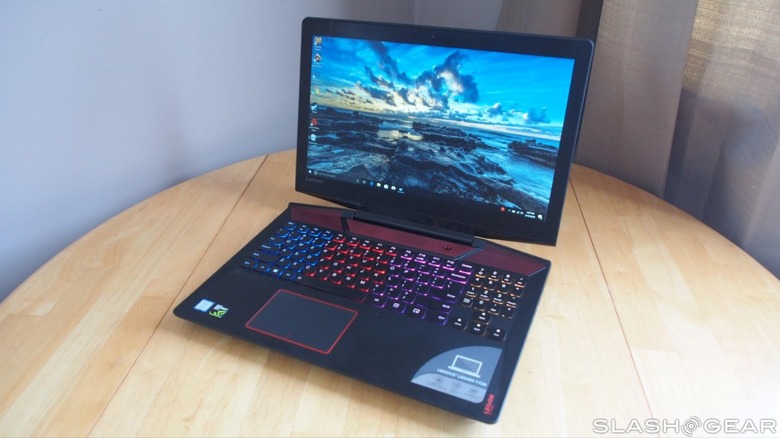 This first is obvious in that if you're specifically looking to buy a gaming laptop for the portability factor, suggesting that you build a desktop instead is silly. Even if I could convince you to build a desktop instead, though, the second problem is that PC hardware is ridiculously overpriced at the moment. This means that pre-builts have a rare moment in the spotlight among enthusiast PC gamers, and the Y720 benefits from that.
Even though laptops aren't my preferred form factor when we're talking about PC gaming, those seeking one out should consider the Y720. Assuming you start with Lenovo's base model – which is currently $1099 on Lenovo's store – and make some tweaks from there, you should walk away with a solid gaming machine without ever having given the absurd prices of PC parts a second thought. Personally, I think that's worth a lot at the moment.