Lenovo Legion Y720 And Y520 Laptops Launch For Your Gaming And VR Needs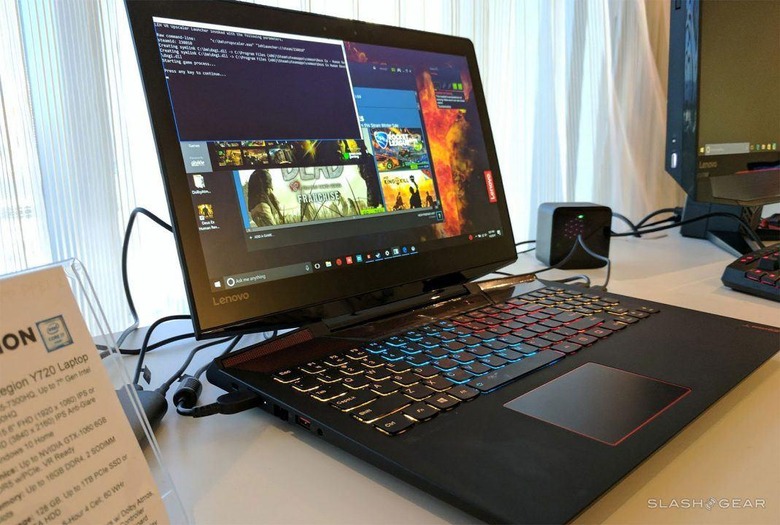 Lenovo has introduced a pair of new gaming laptops for the new year, the Legion Y520 and the Legion Y720. Both models sport designs similar to the Lenovo gaming laptops we've previous reviewed, but with updated hardware to meet gamers' latest needs. One of those needs is virtual reality, which the Y720 model specifically is poised to support — this model was built from the ground up and is fully VR-ready, says Lenovo.
Legion Y520
The Lenovo Legion Y520 features a 15.6-inch Full HD 1920 x 1080 IPS anti-glare display, up to a 7th-generation Intel Core i7 processor, up to an NVIDIA GeForce GTX 1050 Ti, up to 16GB of RAM, and up to 2TB of storage. The model also features a pair of 2 watt Harman-certified speakers alongside Dolby Audio Premium.
The battery life, as you'd expect from a laptop like this, ranges up to 4 hours per charge. The model has a starting weight of 5.3lbs and is available in black. Other features include a USB-C port, a pair of USB 3.0 and 1 USB 2.0 port, HDMI, and audio jack, microphone jack, Ethernet, and a four-in-one card reader.
Legion Y720
The Lenovo Y720 brings some extra perks over the other model, namely gaming in 4K via the optional 15.6-inch Ultra HD 3850 x 2160 IPS display. There's also VR-ready hardware thanks to the 7th-generation Intel Core i7 processor, NVIDIA GeForce GTX 1060 6GB, up to 16GB of memory, and up to 2TB of storage.
The Y720 offers up to 5 hours of run time per charge, and includes a pair of 2 watt JBL Speakers as well as a 3 watt subwoofer with Dolby Atmos. Those who listen to Atmos content with headphones will hear audio in 3D. Other features include Thunderbolt, audio and microphone jacks, a trio of USB 3.0 ports, one HDMI, DisplayPort, and Ethernet.
Below you'll see a gallery of photos we took during our first hands-on with the Legion Y720. Here you'll see the HTC Vive connected to the machine with its two lightboxes to the left and right of the notebook. Light-up keyboard abound, as well.
You'll be able to get the Lenovo Legion Y520 in February with a starting price of $899.99 USD, and the Legion Y20 in April starting at $1,399.99 USD.