Lenovo L2363d 3D monitor plays & records 3D with dual-webcams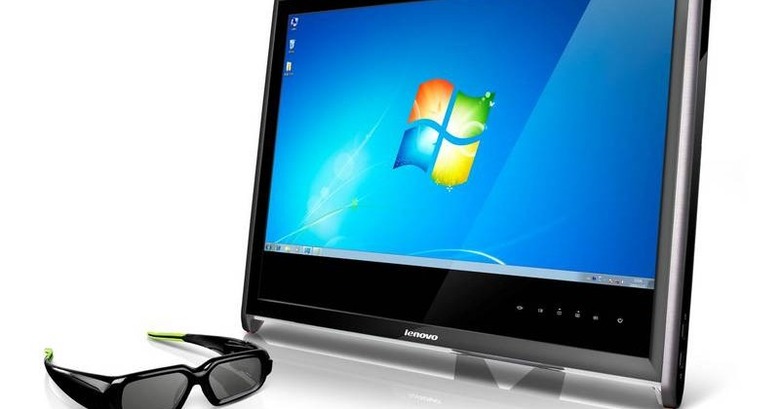 NVIDIA has outed Lenovo's latest 3D capable display, the L2363d, running at Full HD 1920 x 1080 resolution and capable not only of playing back 3D but recording it thanks to dual webcams. The Lenovo L2363d supports 3D photos and 3D web-conferencing, as long as you have NVIDIA's 3D Vision specs.
There's also the Lenovo IdeaCentre K330 PC, a 3D-capable desktop using NVIDIA's GeForce GTX460 GPU. Lenovo is, unsurprisingly, hoping you buy them both together. No word on full specifications as yet, since NVIDIA is only gloating about the 3D Vision tech, but we're guessing it's a similar – albeit updated – version to the K330 Lenovo outed back in December.
Press Release:
NVIDIA Showcases New Lenovo 3D Gaming Monitor With NVIDIA 3D Vision Technology at CES

Lenovo IdeaCentre PCs and Monitors With Built-In Stereoscopic 3D Webcam Expand NVIDIA's 3D Vision Ecosystem to More Than 1,000 Supported Products

LAS VEGAS, NV — (Marketwire) — 01/06/2011 — CES 2011 — NVIDIA today announced the expansion of its NVIDIA® 3D Vision™ ecosystem with the addition of new 3D-enabled PCs and monitors by Lenovo.

NVIDIA is demonstrating the new Lenovo 3D monitor, as well as a number of new 3D Vision systems and 3D content, at CES this week (Booth # 31431 — Las Vegas Convention Center, South Hall 3).

Award-winning NVIDIA 3D Vision technology delivers a breathtaking stereoscopic 3D experience for gamers, movie-lovers and photo enthusiasts on their PCs and notebook computers. The 3D Vision ecosystem now exceeds 1,000 notebook and desktop PCs, displays, TVs, projectors, NVIDA GPUs, video applications, cameras, and games, with more devices and 3D content being steadily added.

The Lenovo IdeaCentre K330 PC, a high-performance 3D gaming PC tower that features the powerful NVIDIA GeForce® GTX460 GPU, now joins the extensive list of 3D Vision technology-supported PCs. In addition, the new Lenovo L2363d 23-inch 3D monitor, one of the first full-HD (1920 x 1080) monitors to feature dual webcam lenses, enables users to take 3D photos or participate in stereoscopic 3D web conferencing using NVIDIA 3D Vision glasses and technology.

"NVIDIA's 3D Vision delivers superior quality, performance and compatibility required to our consumers to enjoy an immersive 3D entertainment experience," said Wei Jin, director of Lenovo Idea product group. "The IdeaCentre K330 PC and L2363d monitor were designed with this in mind, providing new levels of power, performance and high-quality visuals to shift consumers' 3D gaming and multimedia experiences into overdrive."

NVIDIA 3D Vision technology supports the richest array of 3D content available, including 500 3D games, Blu-ray 3D movies, 3D photos and streaming Web video. It also enables users to upload, share and view full-resolution 3D photos, as well as enjoy 3D movies at NVIDIA's 3DVisionLive.com, the world's first 3D Vision online community. In addition, NVIDIA's new 3DTV Play™ software enables consumers to attach their PC or notebook to 3D HDTVs and HDMI 1.4-capable audio/video receivers and enjoy all the latest 3D content in the comfort of their living rooms in full HD 3D, and with HD surround sound audio. 3DTV Play software is bundled free with 3D Vision notebooks and PCs, and is available now at NVIDIA's online store for $39.99.

"By joining the growing list of OEMs selling 3D Vision PCs, Lenovo will enable more consumers throughout the world to experience high-quality 3D entertainment on their PCs," said Phil Eisler, general manager of 3D Vision at NVIDIA. "And, with the new Lenovo monitor, consumers for the first time can experience high-quality stereoscopic 3D web conferencing on a desktop PC system."

For more information on the Lenovo IdeaCentre K330 PC and 3D L2363d monitor, please visit: www.lenovo.com