Lenovo has been showing off a lot of devices here at CES, but one of the devices I've personally been most interested in is the IdeaPad Yoga 11S. After Windows 8 launched last year, I reviewed the IdeaPad Yoga 13, a computer that I ultimately liked a lot. A big reason why I liked the Yoga 13 was because of its 360-degree hinge, which allowed for four different configurations – laptop mode, stand mode, tent mode and tablet mode. It was incredibly cool, and I'm glad to see the same hinge present in the smaller Yoga 11S.
In fact, at first glance, the only noticeable difference between the Yoga 13 and the Yoga 11S is size. The 11S is quite a bit smaller thaan the Yoga 13, but both are running Windows 8 (remember that – this isn't Windows RT you'll be dealing with. The fact that the Yoga series is running Windows 8 is definitely appreciated, and I'm sure it might just end up convincing a few people who are on the fence.
One thing I want to point out is that I think the Yoga 11S might make a better tablet. That isn't to say that the Yoga 13 didn't make a good tablet (it did), it was just a little on the large side as far as slates go. The Yoga 11S fits very well in your hand, so I wouldn't be surprised to see many people opting for tablet mode over the other configurations.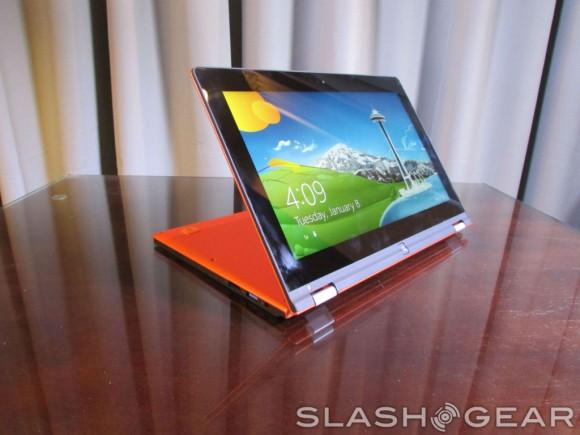 Featuring an 11.6-inch touchscreen and you choice of up to a 3rd-gen Intel Core i5, the IdeaPad Yoga 11S should make a pretty capable ultrabook for a lot of different people. Despite the smaller screen, resolution hasn't taken a hit, with the IdeaPad Yoga 11S sporting 1600×900, just like its predecessor. It'll be available in Silver or Clementine like the Yoga 13 is, but unfortunately, Lenovo won't start offering it until sometime in June 2013. When it finally does arrive, it will have a starting price of $799.