Lenovo ideapad Y700 Review: a powerful (and heavy) gaming laptop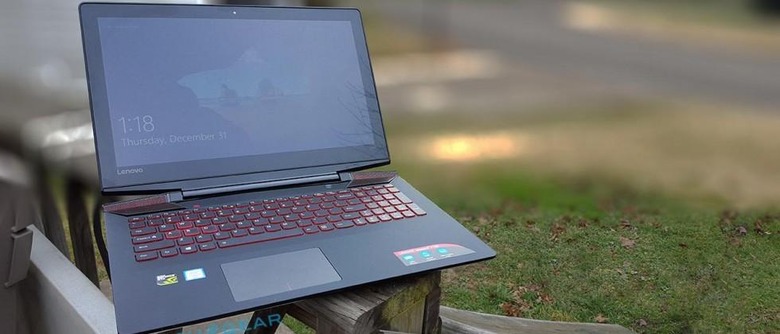 Lenovo has a new gaming laptop that obviously follows in the footsteps of its Y50 and other past gaming machines, but with updated features and hardware to tackle the industry's most demanding games. The Lenovo ideapad Y700 gaming laptop features the same red-on-black design and angular mean-looking design elements as the maker's past gaming PCs, not to mention quite a heavy weight. We recently took the Y700 for a spin to see what all it can take; read our full review to see our results!
Hardware
Lenovo has two versions of the ideapad Y700, a 15-inch version and a 17-inch version. Both feature the same 1920 x 1080 resolution, however, and largely the same hardware, making the most notable different the weight and size. As is common with gaming laptops, the ideapad Y700 has an angular, mean design with an angled rear edge, creased lid, and tapered edges. The lid features a brushed metal design and the system is overall smooth to the touch, save for the inside which has a soft rubber-like coating over the palm rest and keyboard keys.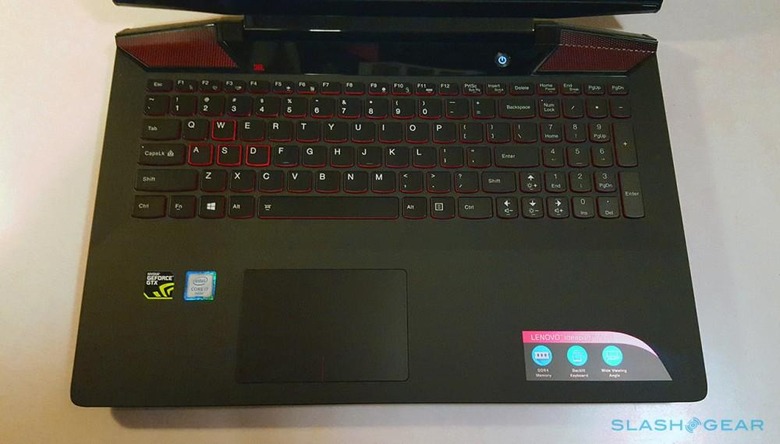 The low-profile keyboard is quite the beauty; opaque red edges give it a sporty high-contrast look during the day, but light up exceptionally bright when the backlight is turned up all the way. This makes gaming in dim settings especially comfortable, and has the added benefit of eradicating sleep-disrupting blue light — perhaps unintentionally so, but it's a benefit regardless. As the images show, the ASDW keys are highlighted with a bright, more saturated red, making it easier to get your fingers back in place during a gaming session.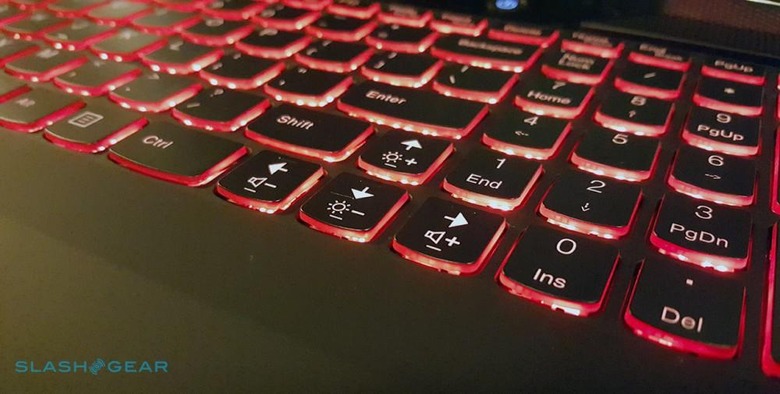 The trackpad is flush with the palm rests, meanwhile, and is a bit off-center due to the inclusion of a keypad in the keyboard. The trackpad has just the right amount of click and is very sensitive, providing an overall pleasant usage experience.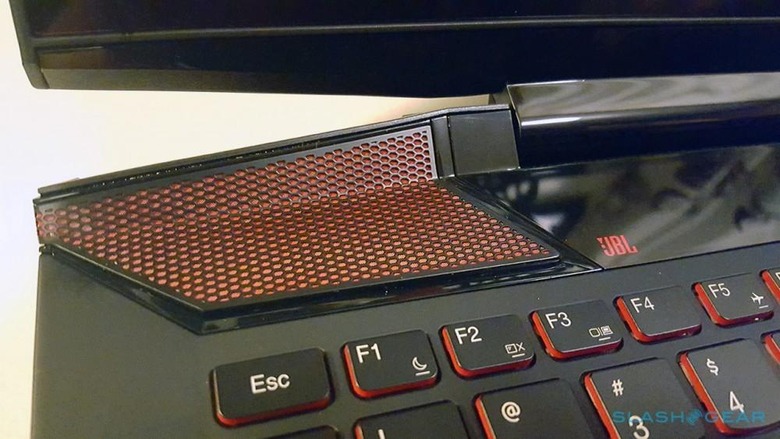 As far as ports go, there's a pretty even mixture on both side edges. The right side (assuming you're facing the display) has the audio jack, media card slot, and a USB port, as well as the power port. The opposite side has a couple more USB ports, Ethernet, and HDMI. There are no ports on the front and rear edges, which is to be expected given the laptop's atypical design flavor. A couple of LED status indicators adorn the left front edge, however.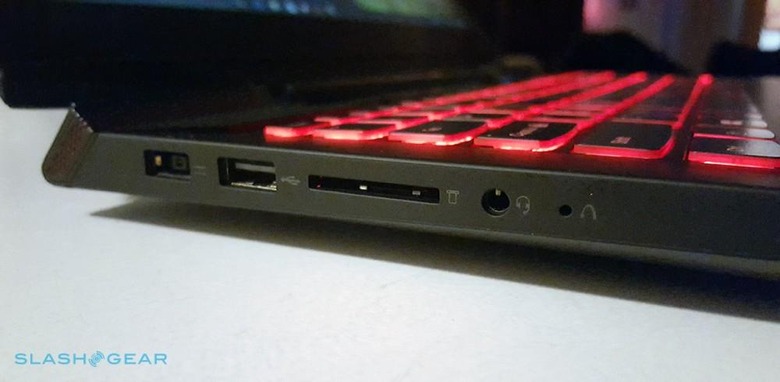 From there one will note the display, in our case a large 15-inch FHD glossy screen with the slightest yellow tinge (it's a warmer display color rather than a cooler one). A modest bezel surrounds the display, though relative to the rest of the laptop it is in no way intrusive or overly large.
The design is very distinctly that of a 'gaming' laptop, though it's not so in-your-face that you'd feel embarrassed using this as a non-business workstation. Of course, you're not going to be using this away from a desk, at least not for very long — the laptop is very heavy, being heavier than some of Lenovo's workstation machines we've reviewed. With a starting weight of 7.7lbs, you'll definitely feel it lugging this laptop around.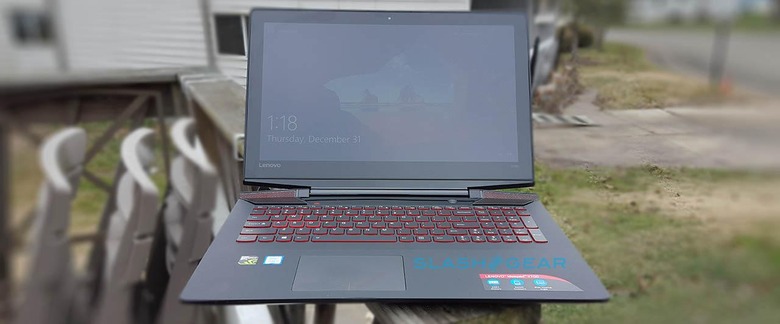 TECH SPECS

Processor: Up to 6th Generation Intel® Quad-Core i7 Processor
Operating System: Windows 10 Home
Discrete Graphics: Up to NVIDIA® GeForce GTX 960M 4GB
Memory: Up to 16 GB DDR4
Webcam: HD 720p, 2 x Internal Digital Array Microphone
Storage: Up to 1 TB HDD + 128 GB SSD
Audio: 2 x 2W JBL Speakers with Chamber + 3.0 W Subwoofer and Dolby® Home Theater
Battery: Up to 4 Cell 60Wh
Keyboard: Red LED Backlit with 2 Level Brightness Control
Display: Frameless Full HD (1920 x 1080) 16:9 IPS Anti-Glare
Dimensions (inches): 16.65" x 12.00" x 1.10" (mm) : 423 x 305 x 27.95
Weight: Starting at 7.7 lbs (3.5 kg)
ODD: Optional External USB 2.0 DVD/BD Tray-In
Security: Kensington® Lock
WLAN: LAN 1000 M, Up to WiFi 2 x 2 a/c + Bluetooth® 4.0
Ports: 2 x USB 3.0, 1 x USB 2.0 + Always-on, DC-in, 2-in-1 Audio Combo Jack, 1 x HDMI, 1 x 4-in-1 Media Card Reader (SD, SDHC, SDXC, MMC)
Software & Performance
The ideapad Y700 comes preloaded with a bunch of software, most of which is Lenovo's own — things like Lenovo Settings, SHAREit, Photo Master, ID, Companion, and Solution Centre. There's also a 30-day trial of McAfee, though, and a 30-day trial of Microsoft Office 2013.
As far as performance goes, the benchmarks are appreciable, but make it hard to gauge how the laptop handles things in the real world. To get a better idea of how this gaming laptop works for, you know, gaming, we installed a game and put the machine through the paces. In this case, we loaded up Urban Terror and maxed out the settings. Gameplay consistently hovered around the 128fps mark, and overall the game ran very smoothly and looked great.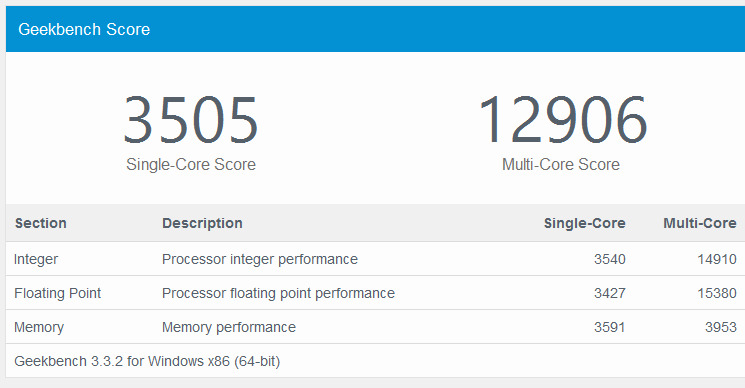 Battery life, meanwhile, is modest but surprising given the size and nature of the laptop. With a full charge you can squeeze something like 8 hours out of the battery, at least in our experience, though the moment you fire up some games you'll see that number start to decrease rapidly. Obviously when it comes to gaming PCs, you'll want to remain plugged into a power source while you're gaming.

Conclusion
The Lenovo ideapad Y700 is quite the capable laptop, though it limits its audience with its gamey design. Given that Lenovo makes no bones about the audience it is targeting — PC gamers — there's nothing wrong with that, and if you're in the market for a gaming machine, you're likely used to such flashy designs. Even if such designs are not your cup of tea, there's nothing about the ideapad Y700's design that'll sour your impression — when using it, the Y700 simply looks like a large laptop with a red-instead-of-white keyboard backlight.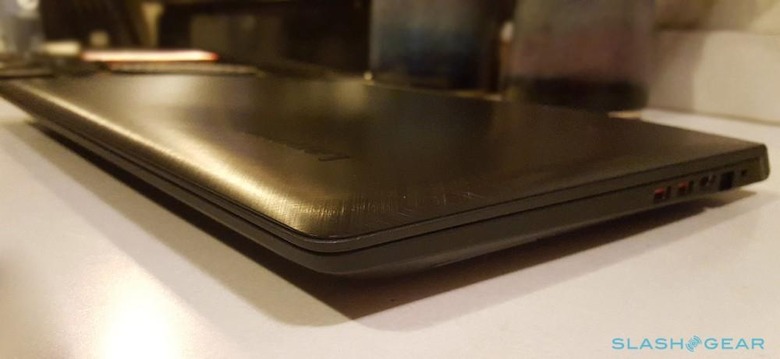 As far as performance goes, the laptop is top notch and you'll find it handles your gameplay well. In fact, the laptop's downside doesn't come from its design or performance, but rather its hefty, bulky design. This is by no means a lightweight laptop and it is chunky. For gamers who play at the desk and rarely find reason to pick up their machine, this won't be an issue. If you enjoy portability, though, the Y700 might prove too cumbersome.
Price starts at $1,149.99 USD.