Lenovo IdeaPad U410 (Intel Core i5, Ivy Bridge) Review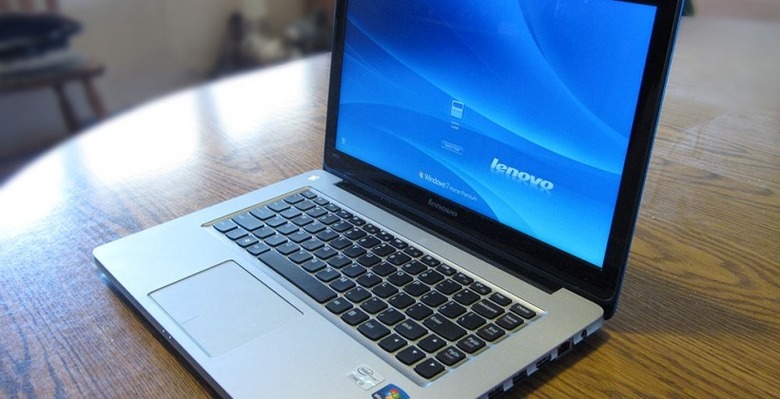 Lenovo has launched its latest line of IdeaPads, and they're targeted directly at the mainstream consumer. The Lenovo IdeaPad U410 comes with an eye-catching colored aluminum chassis – we received one in Sapphire Blue, but the U410 is also available in Graphite Grey and Ruby Red – but is this laptop all about looks, or does it have the power under the hood to still get stuff done? Read on to find out.
Hardware
Lenovo's new IdeaPad line comes with a variety of hardware that's meant to appeal with a broad range of consumers. The model we received is equipped with an Intel Core i5-3317U clocked at 1.7 Ghz, but other models that make use of a Core i3 or a Core i7 are available as well. Complete with Intel's freshly-launched Ivy Bridge microarchitecture, the Core i5 will be able to handle most anything the mainstream consumer will need to do with the U410, and when coupled with the 8 gigs of RAM that comes installed, you have a laptop that's capable of running surprisingly fast.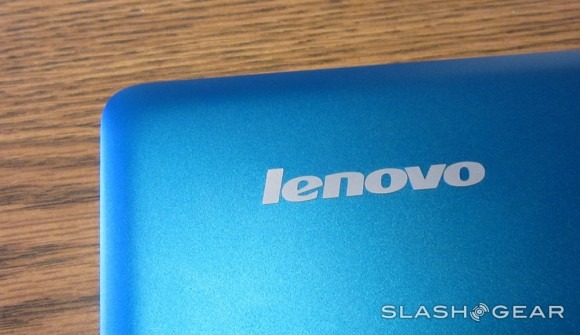 The HDD/SSD hybrid setup does its part to keep things moving along at a fast pace, allowing for shorter boot and wake up times than you're probably used to with other laptops. The model we received came with a 500GB HDD, but the U410 has options up to 1TB. It also comes with a 32GB SSD, which is definitely appreciated, but a setup like this really shines when more software has been installed. It's pretty fast out of the box, but the key is that it will be faster than most other laptops after being weighed down by additional installs.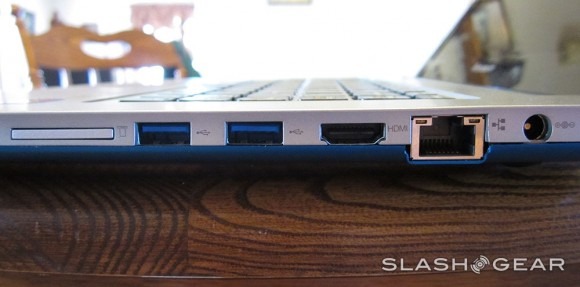 The glossy 14.1-inch LCD screen nice, but it can be rather reflective. It's capable of resolutions up to the laptop-friendly 1366x768 and features and adjustable brightness setting, so as long as you're fine with no support for 1080p, you'll probably find the screen to be satisfactory. Here's something that came as a bit of a surprise: the 2.0 stereo speakers on this bad boy (complete with Dolby certification) actually give pretty good sound quality. Obviously, they may not be as good as the speakers you use on your desktop or that expensive pair of headphones you have lying around, but they're not too bad when compared to other laptop speakers.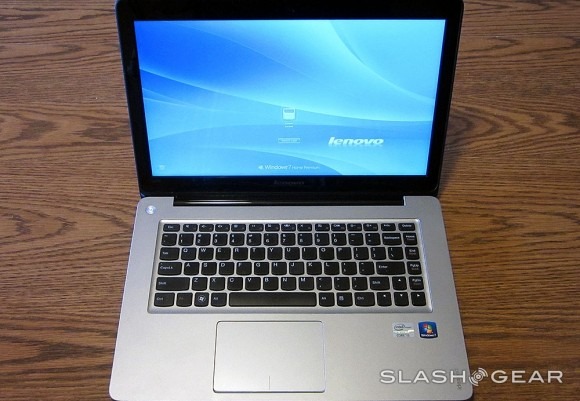 In many ways, the U410 is nearly identical to the IdeaPad U400, which we saw earlier this year [see our full review of the IdeaPad U400 here]. For instance, there aren't any noticeable differences between the keyboards found on both. The chiclet-style keys of the U400 return with the U410, and overall there aren't any complaints about the keyboard – the layout and the feel of the keys makes for a pleasant typing experience. There aren't any major complaints about the track pad either, though there are times where it proves to be a bit too sensitive. Usually this isn't a problem, but occasionally you'll end up clicking something you didn't mean to click. It's a rare event, but it can be pretty frustrating when it happens.
Sadly, the U410's 59Wh battery doesn't quite meet expectations. Lenovo says that it provides up to 9 hours of productive use, but in reality, you can expect around 6 hours of battery life. When using programs that are more labor-intensive or running the screen at max brightness, that 6-hour time frame will likely decrease even more. Thankfully, the battery doesn't take too terribly long to fully charge, as you can expect a charging time that's in the area of an hour-and-a-half.
The IdeaPad comes equipped with Intel GMA HD 4000 graphics, but there's also a NVIDIA GeFore 610M 1GB card there to pick up the slack. This setup takes advantage of NVIDIA's Optimus technology, which switches between the two when you need a boost in graphics power. You're not working with the best around, but mainstream consumers don't need the best; they need functional. This setup is definitely functional, as it will undoubtedly be able to meet the needs of most, and it also works to keep prices competitive.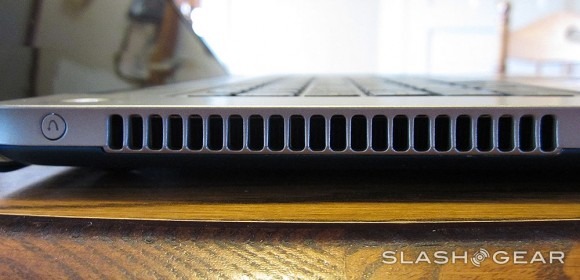 On the outside, we've got a full HDMI port, an Ethernet port, two USB 3.0 and two USB 2.0 jacks, a headphone jack, a 2-in-1 card slot that supports SD and MMC, and a microphone. The whole unit is about 0.8" thick and weighs in just south of 4.2 pounds, so while this isn't the lightest laptop we've seen, it's still very portable. More importantly, it feels quite sturdy, so with the IdeaPad U410, you're getting a laptop that doesn't feel like it will shatter if you look at it the wrong way.
Software
Surprisingly enough, the IdeaPad U410 doesn't come with a ton of software pre-installed, and you might actually end up using what it does come installed with. Google Chrome is installed right from the get go, so you won't ever need to touch Internet Explorer if you don't want to. Like every other PC running Windows 7 (Home Premium 64-bit in this case ) out of the box, Microsoft Office Starter 2010 comes standard, but you'll need to shell out additional cash if you want access to the full Office 2010 suite.
Lenovo YouCam lets you put 1-megapixel integrated camera to work, allowing you to capture and edit pictures and video, along with granting the ability to record what's happening on your desktop. The app is easy to use and easy to learn, so it shouldn't be too hard for most consumers to just pick it up and go. The camera isn't just meant for recording, however, as the U410 also comes with VeriFace 4.0 installed. Using VeriFace and the VeriFace password manager, users can set up facial recognition for all of their various Internet logins, which helps to add an extra layer of security in the event that your IdeaPad gets stolen by one of the more unfavorable people walking this planet.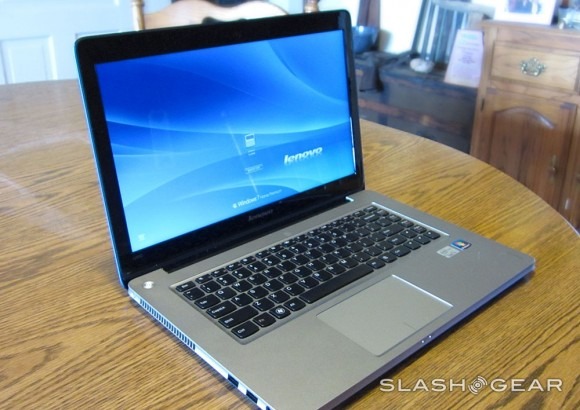 Dolby Home Theater v4 is onboard with the IdeaPad U410, giving users full control over the computer's audio settings. Remember how we told you earlier that the IdeaPad's speakers aren't too bad as far as laptop speakers go? Dolby Home Theater lets you do more with them, allowing you to set up different profiles for audio, video, and games, along with more specific profiles should the need arise. It's a handy little program, and those who take their audio quality seriously will probably appreciate the fact that it's around.
[sgbenchmark id=171 show=system]
Other than those programs, the IdeaPad U410 comes with a trial version of Absolute Data Protect, the standard McAfee security center (in this case we're working with McAfee Emerald 11.0), Adobe Reader X, and OneKey Recovery, which will help you backup your data and restore the system if anything ever goes awry. The fact that the IdeaPad U410 doesn't come bogged down with a lot of pre-installed software is a big plus, and Lenovo earns extra points for including some programs that are actually worthwhile.
Wrap-Up
Okay, so the technophiles of the world probably won't find much to get excited about with the IdeaPad U410, but this laptop will prove to be a good value for those who are more concerned with functionality than amazing specs. There are a few flaws, such as the shorter-than-expected battery life, but for the most part, average consumers who want a quality laptop will find a lot to love about the IdeaPad U410. The laptop's Geekbench results reflect this – it definitely isn't anywhere near the best, but it's a solid computer that will meet the needs of most mainstream computers.
[sgbenchmark id=171 show=score]
Additionally, you're paying a fair price for what you're getting. Prices range depending on what you want under the hood, but the model we received – which is by no means a slouch – has a price tag of $799. That'll prove to be a pretty attractive price for most consumers, and with the IdeaPad U410, Lenovo has a laptop that will have no problem gaining the mainstream crowd's attention.