Lenovo IdeaPad Flex 14 (2019) Review: Budget laptop with premium design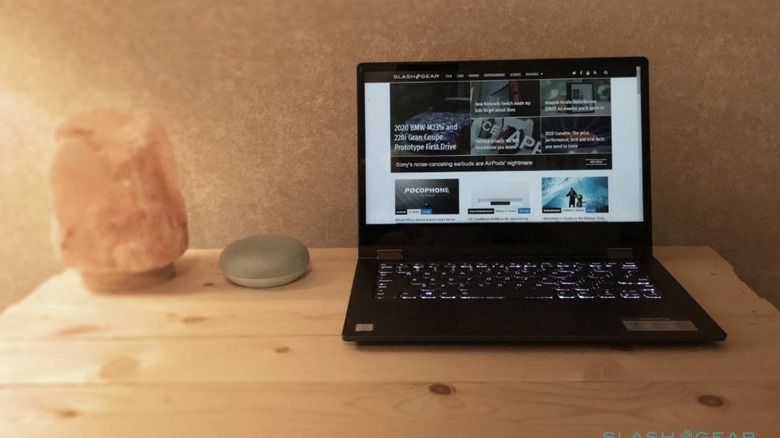 EDITORS' RATING: 7/10
Lenovo is best known for its legendary business notebooks, but the company also offers a number of more casual devices for consumers with modest needs and budgets. One of the newest models among these more modest offerings is the Lenovo IdeaPad Flex 14 (2019), a budget laptop with a starting price of $450 USD and the flexibility of a Yoga notebook.
Design
In terms of design, the Lenovo IdeaPad Flex 14 has a similar look and feel as the Dell Chromebook 13 released in 2016 — the lid has a soft, almost rubber-like cover, the interior has a smooth dark silver color, and large rubber feet keep it from sliding on a desk. That's where the comparison ends, though, as the IdeaPad Flex 14 is a much newer machine with a far more appealing display.
A glossy screen is surrounded by medium thickness bezels hidden beneath broad, shiny glass. The laptop's overall aesthetic is sophisticated for such an inexpensive laptop; if you were handle it without knowing anything about it, you'd be fair in assuming — based on the design — that this model cost double its actual price.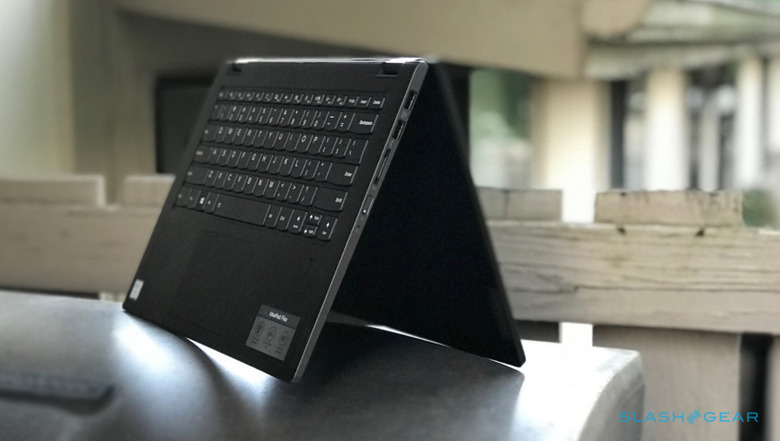 Buyers are getting the familiar matte black look of the company's premium ThinkPad offerings, though the Lenovo logo placement on the lid and silver body gives away the Flex 14's IdeaPad nature. The body tapers nicely toward the front edge, ports are divided between the right and left edges, and the laptop feels very sturdy when both opened and closed.
Though the Flex 14 isn't a Yoga model, it gives users the best of that product line with its highly flexible hinges. Users can rotate the display fully back onto the laptop's base, putting it into 'tablet' mode (though it's quite chunky compared to an actual tablet). Users can also put the laptop in 'tent' mode, which is where the display faces forward and the keyboard is out of sight on the rear.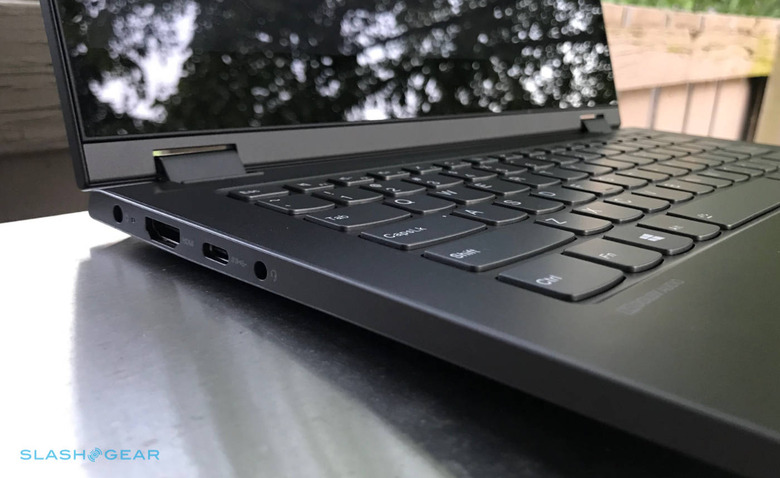 This IdeaPad features two speakers on the base facing downward, though they aren't muffled due to the large rubber feet that elevate the laptop. The speakers aren't exceptional, but they are capable and loud, which is fair for a laptop in this price range. There isn't really any bass response to note of, but the speakers aren't tinny, either, offering a mostly neutral sound that is adequate for most purposes.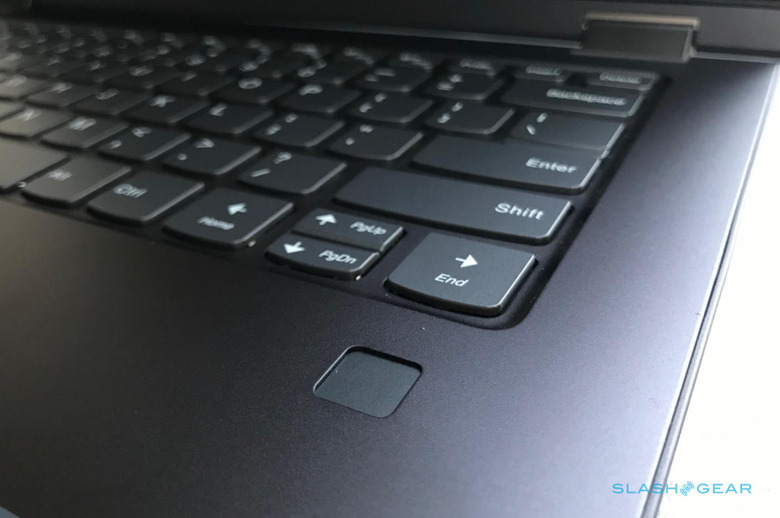 The IdeaPad Flex 14's design is thoughtful, which is, sadly, a rarity among laptops that reside so close to the budget tier. Users aren't forced to accept an 'okay' design as an inevitable sacrifice for a lower price tag. Consumers aren't faced with awkwardly-placed ports, smothered speakers, or creaky cheap plastics, issues that are far too common on inexpensive laptops.
With that said, the Flex 14 is a tad heavier (starting at 3.65lbs) than some consumers may prefer — though we're talking an excess of ounces, not pounds. The laptop won't feel like a burden in most cases, but if you're frequently on the go, you'll likely notice the extra weight in your bag.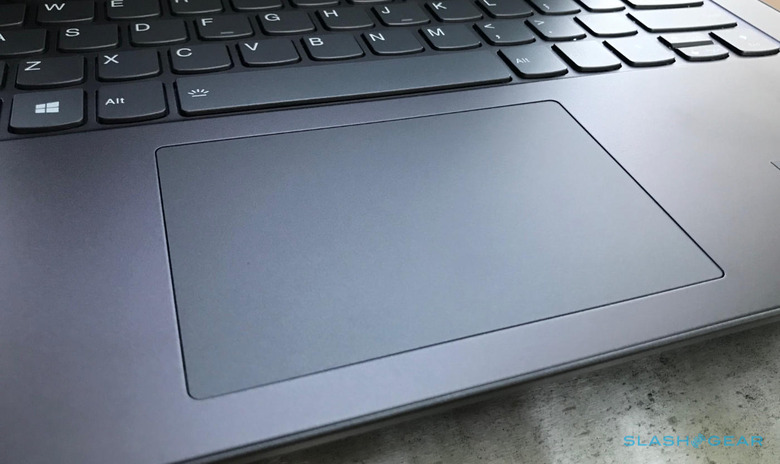 The company does offer multiple ultra-light laptops, but you'll pay several hundred additional dollars for them. The Flex 14 doesn't require many compromises from buyers, but there are some limitations in exchange for the model's $450 starting price.
TECH SPECS

Processor:

- Intel Pentium Gold 5405U (2.30GHz, 2 cores, 2MB Cache)

- 8th-gen Intel Core i3-8145U Processor (2.10GHz, up to 3.90GHz with Turbo Boost, 4MB Cache)

OS: Windows 10 Home in S mode

Display: 14" HD (1366 x 768) 220 nits

Memory: 4GB DDR4 2400 MHz

Battery: Up to 8 hours, Rapid Charge

Storage: 128GB SSD

Graphics: Up to Integrated Intel UHD 620 Graphics

Audio: 2x2W speakers with Dolby Audio

Dimensions: 12.9" x 9.0" x 0.7"

Weight: Starting at 3.65lbs

Color: Onyx Black

Webcam: 720p HD webcam with microphone

Connectivity:

- 802.11 AC (1 x 1)

- Bluetooth 4.1

Ports/Slots:

- (2) USB 3.1 (1 x always on)

- USB-C

- Card reader

- HDMI

- Audio jack

Security:

- Fingerprint Reader (select models)

- Webcam shutter

Keyboard: Backlit Keyboard
Software & Performance
SlashGear received a Flex 14 review unit featuring the Intel Core i5-8265U 1.6GHz processor, 16GB of RAM, and Intel UHD Graphics 620. Lenovo offers this IdeaPad model in lesser, cheaper configurations with Pentium Gold and Core i3 options, both featuring only 4GB of RAM. The cheaper prices for those two configurations will come with the obvious trade-off of lower performance.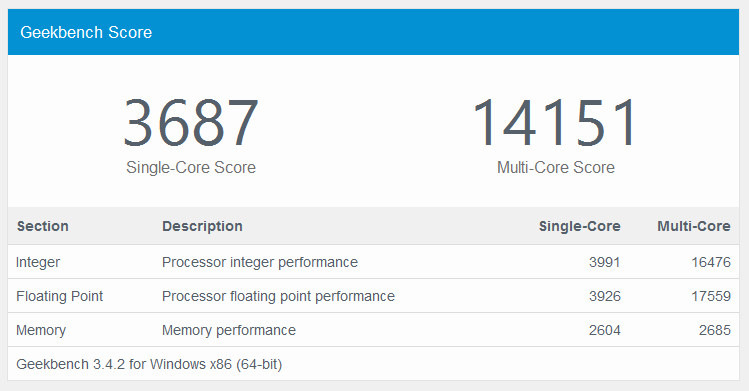 Don't expect to perform any gaming (unless it's something simple like Candy Crush) with the Flex 14, but otherwise our experience with the Core i5 model was as expected, which is to say that the laptop performed without issue during ordinary office tasks: web browsing, image editing, streaming, messaging, and other similar tasks. Of note, we found the laptop's boot time to be consistently slow at over half a minute, but the laptop was snappy and smooth beyond that.

Lenovo estimates the Flex 14's battery life at 8 hours, which was around what we experienced during testing. When left running at max screen brightness on battery power while streaming a video, the Flex 14 ran for almost 7 hours before the battery life dropped low enough for the laptop to put itself to sleep. Rapid charging support helps offset the lackluster battery performance, but that may not be adequate enough for some users.
What we like
Getting straight to the point, what are the things we like most about the Flex 14?
- Mature design. Too many laptops under the $500 price point come with tacky, cheap, or otherwise embarrassing, garish designs. The IdeaPad Flex 14 isn't one of them. This laptop fits in nicely among the more expensive ThinkPad notebooks; you won't be embarrassed to pull this model out during a business meeting, consultation, or in a class lecture.
- Fast-charging support. Though the Flex 14's battery life firmly resides in the 'fair' category, the model supports fast charging. With this, users can get the battery from 0- to 80-percent in around an hour (assuming the lid is closed while charging), making it possible to go a full workday or longer simply by charging the laptop during one's layover or lunch break.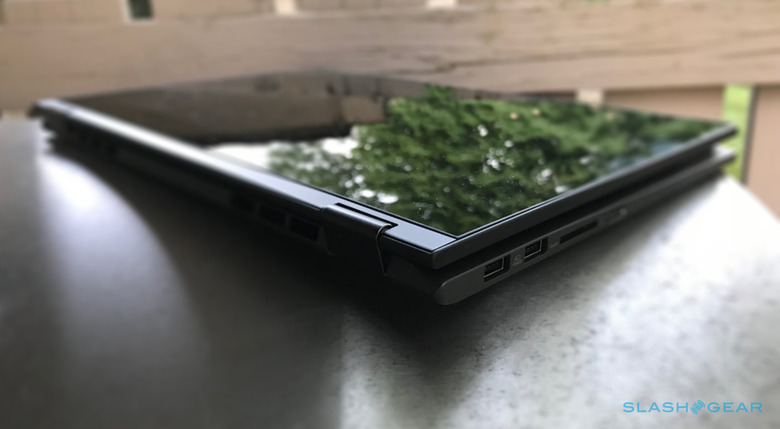 - Webcam shutter. This privacy feature, which enables users to block the laptop's webcam when not in use, is typically reserved for higher-end models. It's a welcome addition for a modestly priced IdeaPad, giving the average consumer access to what should arguably be a standard privacy feature on all notebooks.
- Flexible hinge. Though the Flex 14 isn't a Yoga, it offers the same kind of flexibility, enabling users to easily write and draw with a digital pen (sold separately). This enables users to leave their tablet at home, reducing the backpack load while still getting work done.
- Decent port options. The Flex 14 doesn't take the simple route of offering two USB-C ports and tossing a dongle into the mix. Consumers have access to USB-C (though not Thunderbolt 3), as well as HDMI, a full-size SD card slot, 3.5mm audio jack, and two USB-A 3.1 ports (one always-on), covering most of the needs of the average consumer.
- Fingerprint sensor. Though you can't unlock this laptop using your face, the inclusion of a fingerprint sensor is a surprising and appreciated security feature included with this IdeaPad model.
Wrap-up
The Lenovo IdeaPad Flex 14 is a middle tier laptop arriving amid the company's latest and greater business notebooks. With a 14-inch display, appealing design, and a variety of notable features (USB-C, webcam shutter, etc.), the Flex 14 holds a special appeal among other mid-tier notebooks. Some users may find the screen brightness too low for their tastes and the weight a bit too high, but those matters aside, the IdeaPad Flex 14 is an excellent option for consumers in need of a well-rounded notebook for simple daily work.
Available from Lenovo now starting at $449.99 USD.