Lenovo IdeaPad 710S Plus Review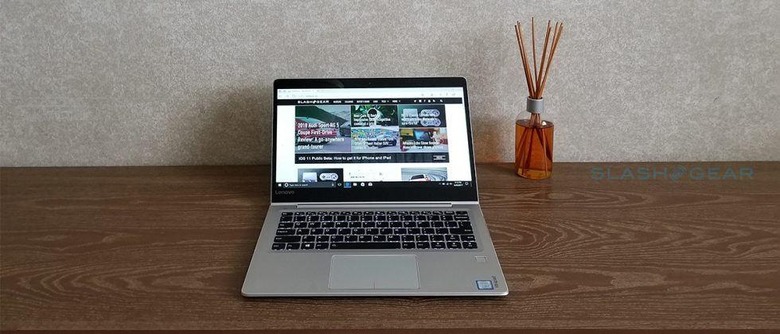 EDITORS' RATING: 8/10
Lenovo is back with another stylish and slim laptop, this one being the Yoga IdeaPad 710S Plus. There's a lot to like about this model, not the least of which is its crisp display and slim bezels, multiple processor options, and fingerprint reader. The laptop, at first glance, greatly resembles some other Lenovo products, but in what way does it make itself unique? Read our full review to find out!
The Lenovo IdeaPad 710S Plus comes in a bright silver color, and it sports a stylish, yet very clean and modest, design. If it weren't for the slimmer, darker bezels, one may mistake the 710S Plus for a MacBook Air at first glance — the size and keyboard are quite similar, though the Lenovo model has some obvious improvements, including the small fingerprint sensor located beneath the keyboard.
The trackpad is large and smooth, while the hinge is long and ordinary — that is, it's not the fancy watchband hinge you'll find on some Lenovo products. Keeping with the MacBook Air comparison for just a moment, the 710S Plus is a bit chunkier when closed, but that is one of the greatest deviations (visually, that is).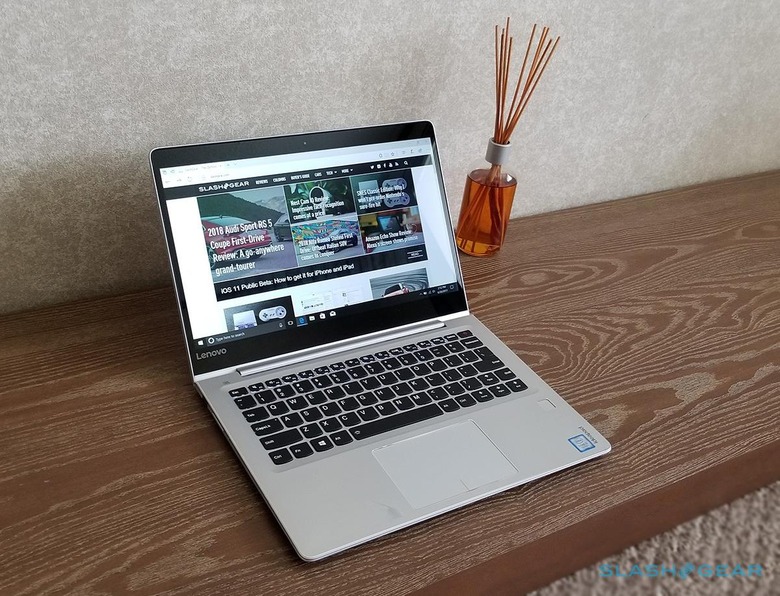 A welcomed inclusion with this model is the JBL stereo sound alongside Dolby Audio Premium — as far as laptop audio quality goes, music and movies sound pretty great. This IdeaPad model sports a 13.3-inch display, a sweet-spot size that is neither too small or large. This Full HD IPS offering has an anti-glare coating to keep reflections down (it is quite effective), and there's a small webcam integrated into the bezel above it. Our model doesn't feature a touchscreen.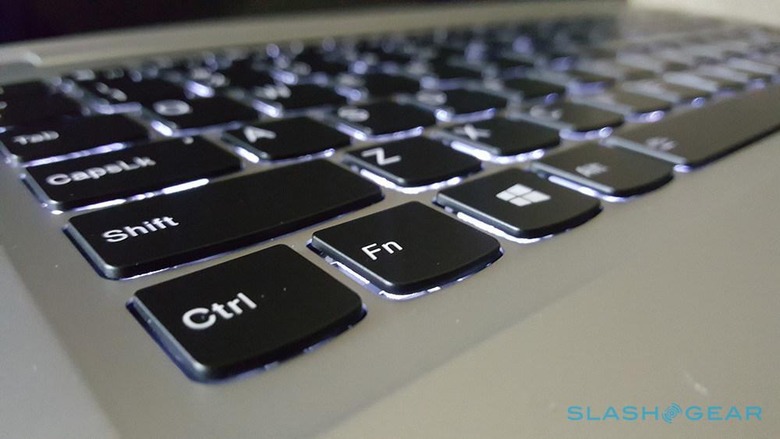 That webcam is decent quality, pushing out a 720p resolution, and it is joined by a single built-in microphone; I was able to take video calls using just the built-in hardware without any problems, though as with most laptops, the camera angle is less than ideal. Other features include PCIe SSD for faster drive speeds, as well as 802.11ac WiFi for fast network speeds. There is one USB-C (DisplayPort) offering, but you're going to be charging the laptop with a dedicated, non-USB power cable. There's also a single USB 2.0 port and a single USB 3.0 always-on port for charging devices even if the lid is closed.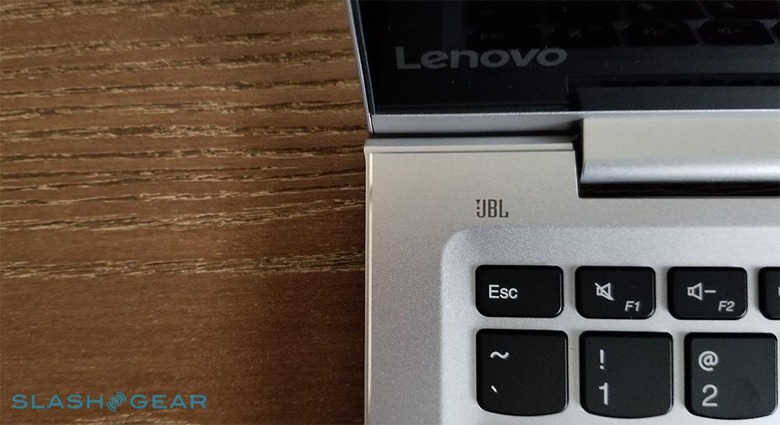 Other ports include a combination audio jack and a 4-in-1 media card reader with support for SD/SDHC/SDXC/MMC. It's a solid series of ports for an ultrabook of this nature — you're not going to be relegated to dongle hell in most cases, though you may at times need to utilize an adapter.
Overall, the design is quite pleasant. It's easy to appreciate the clean and premium quality of the construction and aesthetic choices, and there are no design compromises to shoehorn in gimmicks or unnecessary features. The 710S Plus is a solid, well-made, attractive ultrabook that covers all the bases and then builds nicely upon them.
TECH SPECS:

Processor: Up to 7th Generation Intel Core i7-7500U Processor (2.70GHz 4MB)

Operating System: Windows 10 Home

Graphics: Up to Intel® HD Graphics 620

Webcam / Microphone: 720p with Single Microphone

Memory: Up to 16GB DDR4 2400 MHz (Onboard)

Storage: Up to 512GB PCIe SSD

Audio:

- 2 x JBL® Certified Stereo Speakers

- Dolby Audio™ Premium

Battery: Up to 7 Hours

Display: 13.3" FHD (1920 x 1080) IPS Anti-Glare with integrated camera

Dimensions: 12.16" x 8.66" x 0.58" / 309 x 220 x 14.8 mm

Weight: Starting at 2.6 lbs (1.18 kg)

Colors: Silver

WiFi: 802.11 AC (2x2) WiFi

Bluetooth 4.1

Ports:

- 1 x USB-C (DisplayPort™)

- 1 x USB 3.0 (always-on charging)

- 1 x USB 2.0

- Audio Combo Jack

- 4-in-1 Card Reader (SD, SDHC, SDXC, MMC)
Software & Performance
Lenovo offers more than one configuration for this IdeaPad model, so your performance will vary. Our particular model sports an Intel i5 processor, whereas you can get up to an Intel i7, as noted in the tech specs above, so the benchmarks shown below are just one example of the model's capabilities.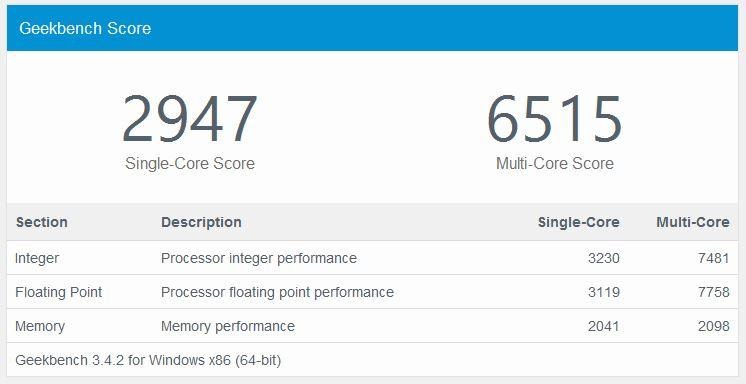 The 710S Plus runs Windows 10 and does feature a bunch of applications pre-installed, most of which are Lenovo's own software, such as Companion. The laptop's product page also lists trials of McAfee LiveSafe and Office 365, plus there's the Windows 10 inclusion of Candy Crush and more.
Things that we like
There's a lot to like about this model, including some design considerations like speakers placed on the underside curvature, something that prevents the audio from being muffled under the laptop while enabling it to bounce off the desk surface, naturally amplifying the audio a bit. The all-metal chassis is great, too, as are the slim display bezels.
Performance is great, and I appreciate the inclusion of multiple types of ports, striking the right mix between portability and usability.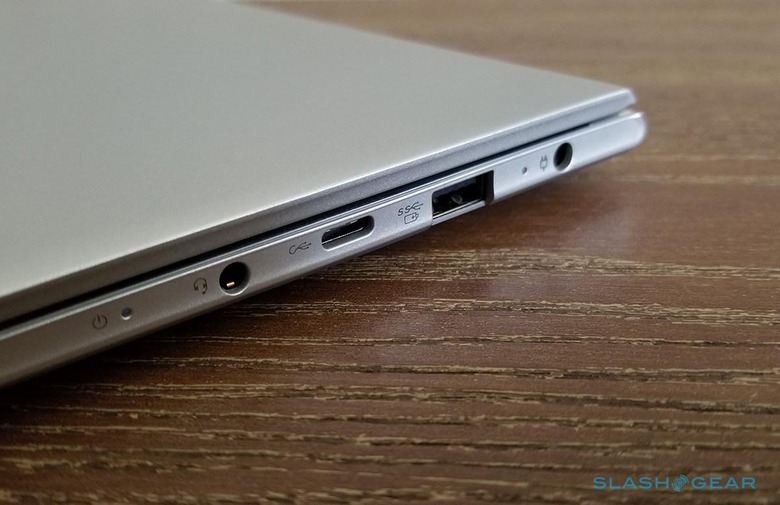 Issues
I can't find anything to dislike about this laptop. Keyboards are often a stumbling point for some models, but typing on the 710S Plus felt as natural as typing on my own laptop — the keys offer just the right mixture of resistance and height while the layout is mostly traditional. Some may feel this model has a bit more girth than an ultrabook should — it's definitely not going to compete with the new MacBooks, for example — but that's a small sacrifice.
If there's anything to grump about, it would be all the preinstalled software; reload the laptop with a fresh Windows installation if you don't need the apps and you'll be off to a great start.
Wrap-up
The Lenovo IdeaPad 710S Plus is proof that great laptops don't have to come with a massive price tag. With a starting price of $639 USD on Lenovo's website, this ultrabook falls within the affordability range of many consumers, and no doubt will find favor in most of the people who use it. There's a lot to like about this model, and it spans everything from a great design to a good port lineup, crisp display, and fingerprint sensor.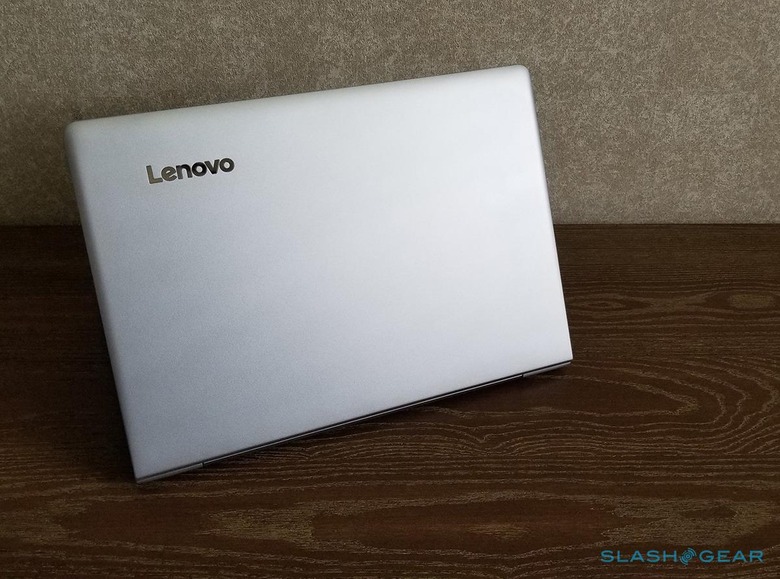 If you're in the market for a solid home, academic, work, or travel laptop, the 710S Plus can fit the bill all around.