Lenovo IdeaPad 510S Windows 10 Laptop Review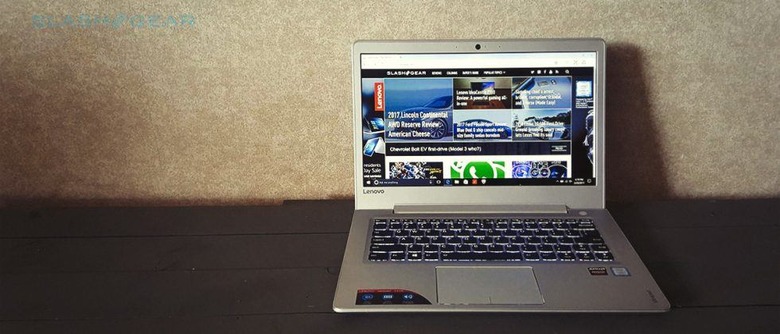 The spring semester is well underway, and perhaps you're realizing it's time for a new laptop. The market is full of general purpose laptops, the kind you can use for school, work, and fun and not feel like you're making a sacrifice in any of those categories. One of the newest among them is Lenovo's IdeaPad 510S, a portable 14-inch notebook with a bunch of configuration options and an attractive, if not modest, design. How does it compete against other models in its price range? Read our review to find out!
Hardware
Lenovo describes its 510S as 'ultraportable yet very powerful,' and while very powerful is a somewhat subjective statement, the assessment of the model is overall fair. The laptop is fairly light at about 3.7lbs, and it measures in at less than 20mm (about three-quarters of an inch) in thickness, a winning combination for travelers and anyone else who frequently totes their laptop around. According to Lenovo, these measurements make the 510S "up to 20% thinner and 30% lighter than most laptops in its class."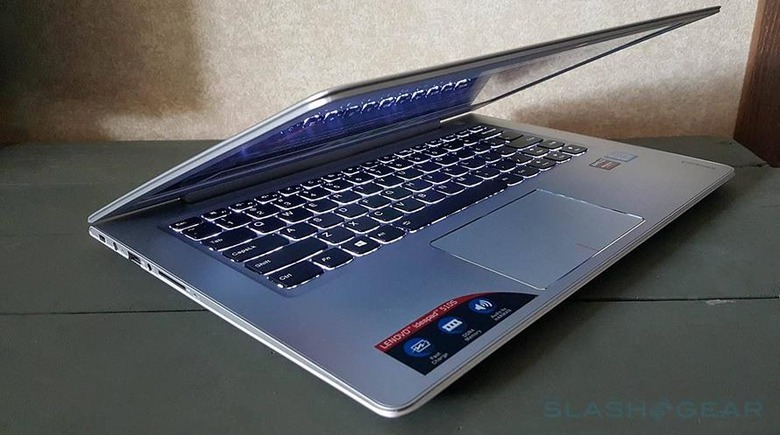 The design is both modern and modest — you're not going to find a flashy watchband hinge or faux leather materials on the 510S, though that's not a criticism. This IdeaPad is made with an aluminum cover with an aluminum palm rest, and it sports both a diamond-cut touchpad and a nickel-plated logo. The design brings with it both rounded and angular edges, the mixture of which lends a premium feel to the laptop.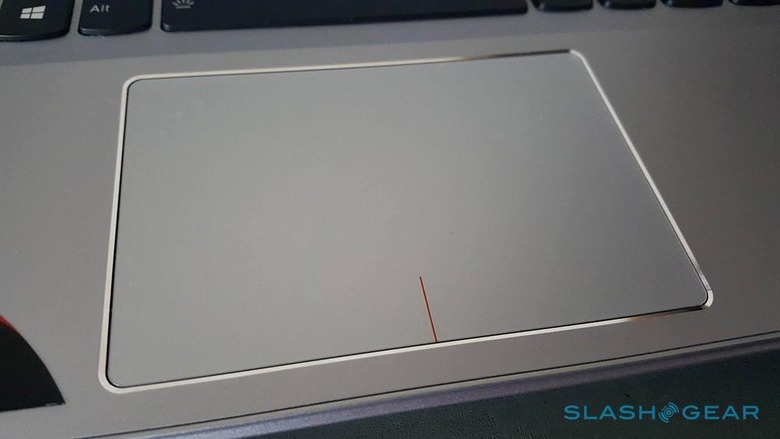 Upon opening the laptop, you're presented with a very clean, very classic design, including notable display bezels that are nicely slim on the side edges, a centrally-placed trackpad, and a low-profile keyboard. It's all very pleasant, both visually and in use, though there is a small downside: Lenovo has elected to offer a small-sized right SHIFT key that is placed to the right side of the "Up" arrow key, and you're likely to hit that "Up" arrow key until you adjust to typing on this particular keyboard design (assuming you're not already familiar with it, of course).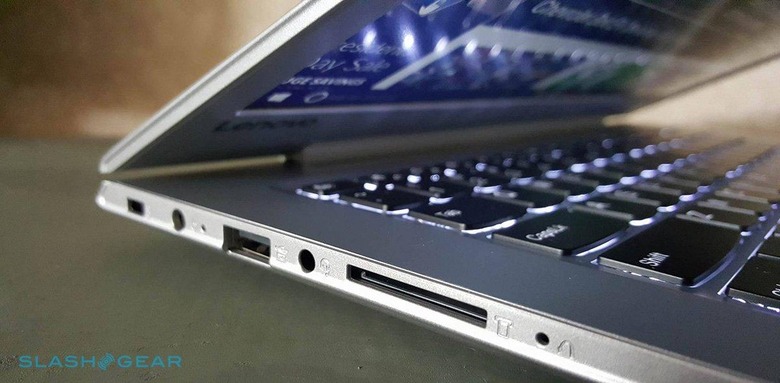 This particular laptop has a few extra-special somethings that catch one's attention, including dual stereo speakers alongside certified Harman Audio. There's also the choice between either Intel HD integrated graphics or discrete AMD graphics, letting users pick which works best for their needs. Lenovo also boasts the display as having an almost 180-degree viewing angle, and in practice the laptop's viewing angles are indeed great.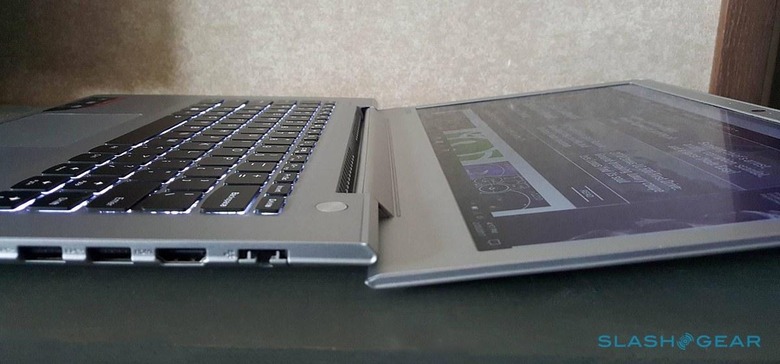 If you prefer the benefits of SSDs, you can choose a 256GB SSD option for this IdeaPad, but those more concerned with ample storage space also have a 1TB HDD option. And as far as physical security goes, the 510S supports Kensington MiniSaver cable locks.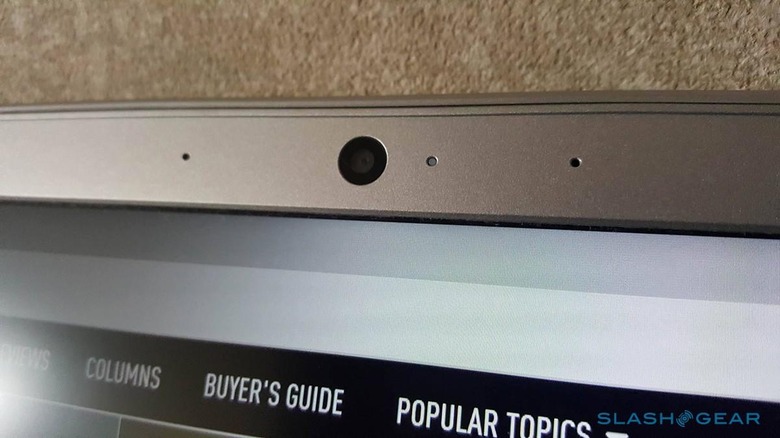 All in all, the 510S feels very solid and sturdy in one's hands despite its relatively light weight; though I wouldn't want to drop this model, I wouldn't be afraid of its breaking if I knocked it off a table accidentally, and that kind of reassurance is always welcomed. Typing is comfortable over long periods of time, and the display itself (Full HD IPS LED with anti-glare) is great to look at.
TECH SPECSProcessor

- Up to 7th Generation Intel® Core™ i7 Processor

Operating System: Windows 10 HomeGraphics

- Up to Intel® HD Graphics 620

- Up to AMD Radeon™ R7 M460 2 GB

Webcam / Microphone

- 0.3MP with Single Microphone

Memory

- Up to 8 GB DDR4

Storage

- Up to 1 TB HDD 5400 RPM

- Up to 256GB SSD

Audio

- 2 x Harman Audio Certified Stereo Speakers

Battery: 45WHrDisplay: 14" FHD IPS LED Anti-Glare Backlight (1920x1080) with integrated cameraWiFi 802.11 a/cLAN: 10/100/1000M Gigabit EthernetBluetooth 4.0Ports

- 2 x USB 3.0

- 1 x USB 2.0 with Always-on Charging;

- 3.5 mm Combo Audio Jack

- 1 x HDMI™

- 1 x RJ45 Gigabit LAN

- 4-in-1 Card Reader (SD, SDHC, SDXC, MMC)
Software & Performance
The 510S comes with some of Lenovo's own software bundled, including REACHit, SHAREit, Photo Master 2.0, OneKey Recovery, and Solution Center. Those are all arguably useful and so the preinstalled software isn't much of a hassle. There is a McAfee LiveSafe trial, though, as is common with the company's laptops, so keep that in mind. This IdeaPad model runs Windows 10.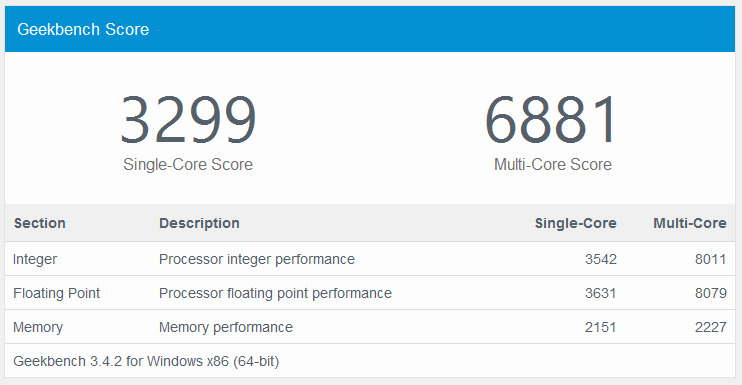 As far as performance goes, the variety of hardware configuration options means your results may vary. Our review unit features the higher-end hardware available, including an Intel Core i7-7500U processor, 8GB of RAM, AMD Radeon R7 M460, and a 256GB SSD. At this configuration, the laptop is quite fast and powerful. The battery, meanwhile, gives you several hours of usage depending on your system and how you're using it.
Things We Like
One of the first things I take into consideration when choosing a laptop, personally, is what kind of ports it offers. Will I need to carry adapters or dongles, or are the odds high the laptop will already offer whatever it is I need when I need it? The 510S, thankfully, skews toward the generous side when it comes to ports, offering a trio of USB offerings, Ethernet, a four-in-one card reader, and HDMI, covering the most popular consumer bases.
The audio is also decent — it's not going to blow you away, so don't expect it to. But as far as laptop speakers go, the 510S's offering is above the average line, and you can get just a bit of punch from bass-y music and movies. Because the speakers are positioned on opposite sides of the laptop, and on the curved part of the bottom edge, the audio isn't muffled and instead bounces just a bit off your desk or table to amplify the sound. Overall, it's pretty enjoyable, as far as laptop audio is concerned.
That's not to say there isn't more to like about the laptop, because there is, but we'd end up running through all the features listed above — everything from the construction quality to the display is excellent.
Issues
As mentioned above, the keyboard has a compact key layout that results in a small right SHIFT key. If you're used to typing on keyboards with a full-sized right SHIFT key above the directional keys, you're likely to keep hitting the "Up" arrow key until you re-learn to hit the SHIFT key further to the right.
Wrap-up
The Lenovo IdeaPad 510S follows in the footsteps of many IdeaPad models before it, and yet it manages to stand out as a notable addition to the popular PC lineup. The metal design is a particularly welcomed premium feature, as is the Harman Audio, IPS LED display, and high-end configuration options.
Despite all it has to offer, the laptop remains highly portable with a weight lesser than an average textbook and a slim design, and brings with it a moderate sub-$700 price tag, depending on configuration. Price starts at $650 USD on Lenovo's website.