Lenovo's "VR Ready" gaming PC is a potent portable console killer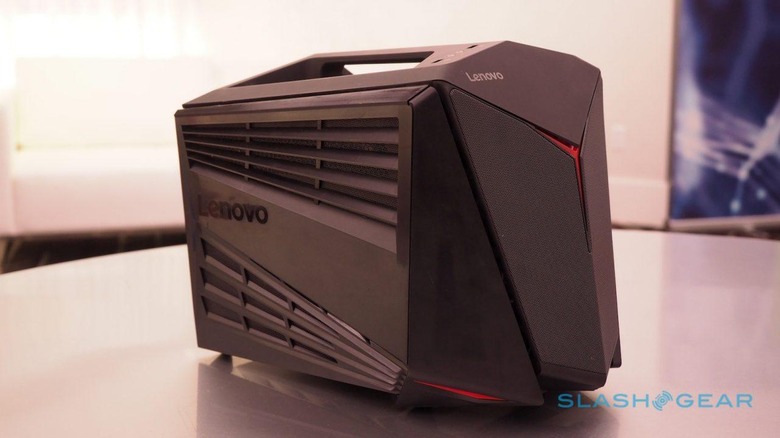 Lenovo's newest gaming PC might look like a Cylon's robot dog best-friend, but the IdeaCentre Y710 Cube is actually aimed at gamers looking to take 4K play out with them. Launched today at Gamescon 2016 in Germany, the diminutive desktop has an integrated carry handle for toting it between LAN parties or wherever you might want to demonstrate the latest virtual reality rig like Oculus or HTC Vive.
In fact, Lenovo is referring to it as "the console conqueror" and, if you've ever tried to pick up a typical gaming desktop, you'll know that an Xbox One or PlayStation 4 have definite weight and size advantages. The IdeaCentre Y710 Cube is 15.48 x 9.93 x 12.38 inches and starts out at just over 16 pounds, depending on configuration; I was able to comfortably pick it up and carry it around with one hand.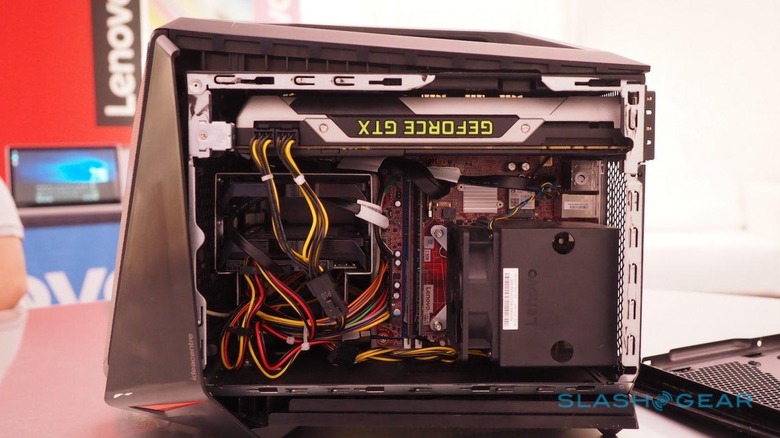 That would be a compromise too far if Lenovo had scrimped on the internals, of course, but happily that's not the case. Inside, there's up to an Intel Core i7 6th Generation processor and up to NVIDIA GeForce GTX 1080 8GB graphics, along with up to 32GB of DDR4 memory.
Slide off the side panel and you get relatively easy access to up to a 2TB HDD and 256GB SSD. Connectivity includes Killer LAN/WiFi 10/100/1000M, an HDMI, VGA, USB 2.0, and USB 3.0 on the rear, while there's also a pair of USB 3.0 ports on the top, one of which is powered on even when the PC is turned off so as to keep charging your phone or another accessory.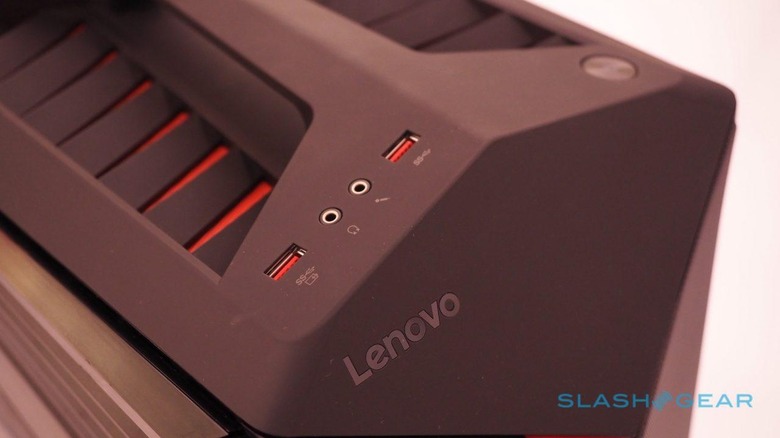 Lenovo will be offering a matching USB gaming keyboard and mouse, along with the option of an integrated wireless receiver for up to eight of Microsoft's Xbox One wireless controllers.
Unfortunately, while I could definitely see the form-factor being popular with gaming PC builders, Lenovo tells me it has no current plans to offer a barebones version. Instead, it'll be promoting the IdeaCentre Y710 Cube as a straightforward "VR Ready" way to get up and running with the latest games without sacrificing either power – as you might with a gaming laptop – or portability.
It goes on sale this October, priced from $1,299.99 with NVIDIA's GeForce GTX 1080 video card.