Lenovo IdeaCentre Q700 HTPC wants to slip under your HDTV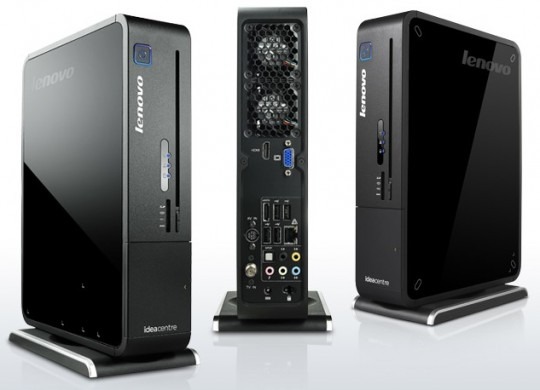 Lenovo have launched a new HTPC, the IdeaCentre Q Series, which while resembling a nettop actually packs a slightly more impressive 2.5GHz Intel Pentium dual-core E5200 CPU with 4GB of RAM and Intel X4500 graphics.  First on sale as the $499 IdeaCentre Q700, the 2.36 x 7.87 x 9.84 inch box packs a choice of 320GB, 500GB or 640GB hard-drives together with an HDMI output and optional WiFi b/g.
There's also a DVD burner, though no Blu-ray drive option at present, and the Q700's dual Mini PCI Express card slots can be taken up by the wireless networking and an optional hybrid NTSC/ATSC TV tuner.  Connectivity includes gigabit ethernet, an eSATA port, 5.1 surround sound outputs, eight USB 2.0 ports, Firewire 400, VGA, and both AV and TV inputs.  Lenovo also throw in a multi-format memory card reader.
Certain models come with a Philips media-center remote control (using an integrated IR receiver, rather than taking up a USB port with an external dongle) and OS across the board is Vista Home Premium 64.  The Lenovo IdeaCentre Q700 is available to order now, priced from $499.