Lenovo IdeaCentre C300, IdeaPad U350 & G550 announced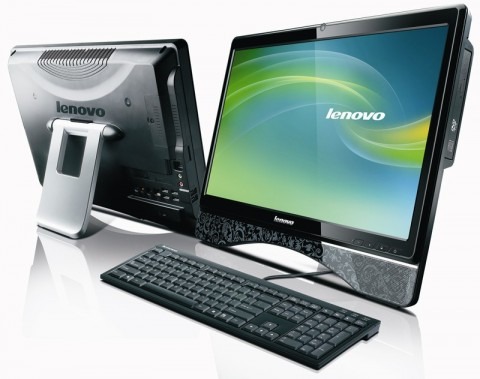 have announced a trio of entry-level machines, in the shape of the IdeaCentre C300 all-in-one desktop (shown here), the IdeaPad U350 13.3-inch ultraportable and the G550 15.6-inch notebook.  The patterned C300 packs a single-core Intel Atom 230 processor, integrated graphics and 20-inch 16:9 display; RAM is up to 2GB while storage is up to 640GB, and WiFi a/b/g is optional.
As for the IdeaPad U350, that's a little more interesting with a range of Intel CULV processors to choose from and a 13.3-inch LED-backlit 720p-capable 1366 x 768 display.  Up to 8GB of DDR3 RAM can be specified, together with up to a 500GB hard-drive, and graphics are courtesy of either the GMA 4500M or GMA 4500MHDMemory chipsets.  Battery life is up to 10hrs with the 8-cell pack, up to 5hrs with the 4-cell, and there's gigabit ethernet and a choice of WiFi options.
Finally, the G550 gets a 16:9 aspect 15.6-inch display running at 1366 x 768, a choice of Intel Centrino 2 or Core 2 Duo processors up to 2.80GHz, and up to 4GB of DDR3 RAM.  Storage is up to 320GB and graphics are catered for by either Intel's integrated GMA X4500 chipset or NVIDIA's GeForce G105M with 512MB of discrete memory.  Battery life with the former is 5hrs, though that's halved with the discrete graphics.  WiFi is standard, as is a DVD burner, and some models have Bluetooth and an HDMI port.
The Lenovo G550 will begin shipping in June, priced from $599, while the Lenovo IdeaPad U350 will begin shipping in July, priced from $649.  As for the Lenovo IdeaCentre C300, that will also ship in July, priced from $449.
Press Release:
Thin, Light and Loaded: Lenovo Brings More Features to the Latest Slim and Affordable "Idea" PCs

RESEARCH TRIANGLE PARK, NC – May 25, 2009: Lenovo today announced three new PCs designed to give consumers and small-office-home-office users cool, fun-to-use and highly reliable technology with the latest capabilities at surprisingly affordable prices. The new IdeaPad U350 laptop balances thin and light design with features that provide an excellent user experience without breaking the bank. The Lenovo G550 laptop brings small-to-medium business users the essential computing performance they need with fast memory and processing and powerful graphics in a new stylish, professional design. The Lenovo C300 all-in-one desktop completes the new additions to the Lenovo "Idea" PC line with slick entertainment features, like a 20-inch screen, making it perfect for families or students.

"Users are demanding thinner and lighter PCs with enhanced connectivity and extra long battery life to fit their increasingly mobile lifestyles," said Dion Weisler, vice president, Business Operations, Idea Product Group, Lenovo. "To meet this growing category for 'thinbooks', we're bringing customers products like the new IdeaPad U350 laptop, the IdeaPad S12 netbook and our recently introduced IdeaPad Y650 laptop."

IdeaPad U350 Laptop

Lenovo is pushing the envelope on design to bring consumers ultra-thin, ultra-light and ultra-loaded PC technology. Encased in a sophisticated sleek silver shell, the IdeaPad U350 laptop starts at 3.5 pounds and measures one inch thin1. While thin and light to the touch on the outside, Lenovo loaded the PC inside with the latest entertainment and computing features to enhance and simply users' digital worlds. A 16:9 aspect ratio high definition 13.3 inch LED panel and an HDMI connector allow users to fully enjoy watching movies or other multimedia in high definition.

The IdeaPad U350 laptop also packs in several unexpected features, such as Ambient Light Sensor which automatically adjusts the screen's brightness according to the lighting environment, reducing eye strain while preserving battery life. Also, Dolby Sound Room complements the video experience by providing a high quality surround-sound audio experience. And with VeriFace facial recognition technology, they can make their face their password for easy log in. A camera also comes in handy for video messaging or making Skype calls using the laptop's WiFi connectivity2.

The laptop's entertainment features are powered by a backbone of computing technologies, including choices of Intel® Core™2Solo and Pentium ultra low voltage processors, up to 8 GB high speed DDR3 memory and up to 500 GB of hard drive storage. These technologies help users to do more, faster, such as editing video to post on social networking sites and watching streaming video. For high reliability important to individual business users whether on the clock or off, Lenovo borrowed a component of ThinkPad laptop design with the Active Protection System. This helps protect data by temporarily stopping the hard drive if the laptop should fall. The IdeaPad U350 laptop also comes with OneKey™ Rescue System to help recover data in just a few simple steps if it becomes corrupted.

Lenovo G550 Laptop

Lenovo crafted the Lenovo G550 15.6-inch laptop to offer business professionals reliable, affordable and straightforward PC technology. The new laptop expands upon this value bringing users extra features, like style and design, making it ideal for personal computing too. The redesigned, thinner and lighter G Series laptops feature choices of either a hairline-like silver finish or a smooth and glossy slate-colored finish.

Equipped with entertainment essential including a 16:9 aspect ratio panel, DVD burner/player, users can easily display multimedia presentations at the office or watch movies at home. The laptops offer constant connectivity with WiFi, Ethernet and optional Bluetooth. They also come with VeriFace technology and built-in cameras. The G550 laptop comes equipped with a numeric keypad for ease in logging data, high speed memory, the latest Intel® Centrino®2 processor technology and choices of NVIDIA graphics.

IdeaCentre C300 All-in-One Desktop

With space for desktop computers shrinking, Lenovo's latest all-in-one IdeaCentre C300 desktop fits the requirements for even the most compact of spaces. The fold-away stand can be positioned between 12 and 40 degrees to help fit the all-in-one into the tightest nooks and crannies.

That leaves room for viewing crisp images on the large 20-inch 16:9 aspect ratio widescreen or watching movies from the all-in-one's built-in DVD burner/player. They can also video message with the built-in camera. Users can even choose models that fit their lifestyle and décor with choices of red, black or white. Based on the Intel® Atom™ platform, the all-in-one provides ample computing power and performance. Since its fold-away stand and hand grip make it portable, it comes with WiFi in addition to its Ethernet connectivity. For flexibility in connection to other media and peripherals, it comes with six USB ports, a firewire port and a 6-in-1 multicard reader. For increased reliability and to keep users productive, the all-in-one also comes with the Lenovo Rescue System.

Specifications

IdeaPad U350 Laptop

Display: 16:9 aspect ratio, 13.3 inch LED, HD 1366 X 768

Processor: Intel ultra low voltage CPUs and small form factor chipsets: Intel® Core 2 Solo SU3500 (1.4G, 800 MHz, 3 MB), Intel® Pentium® SU2700 (1.3G, 800 MHz, 2 MB), and Intel® Celeron 723 (1.2G, 800 MHz, 1MB) processors. Mobile Intel® GS40 and GS45 Express Chipset.

Graphics: Mobile Intel® GMA 4500M and Mobile Intel® GMA 4500MHDMemory

Memory: Up to 8 GB DDR3 800/1066 MHz DRAM

Hard Drive: Up to 500 GB 5400 rpm

Battery Life: 10 hours with 8 cell, 5 hours with 4 cell

Weight: 1.6kg

Dimensions:328mmX228mmX17-24.9mm

Connectivity: Ethernet 10/100/1000m/Intel WiFi Link 5150 1 X 2 AGN, Intel WiFi Link 5100 1 X 2 AGN, non-Intel wireless b/g/Bluetooth

Other: 1.3 megapixel camera, ambient light sensor technology, multi-touch touchpad, Dolby Sound Room/two 1.5 watt speakers, Active Protection System, Ambient Light Sensor, VGA ports, 4-in-1 multicard reader, Dolby Headphone, VeriFace 3.5, Quick Start

Software: VeriFace 3.5, Vista Home Basic/Home Premium, OneKey Rescue System

Lenovo G550 Laptop

Display: 16:9 aspect ratio, G550 has 15-inch, G450 has 14-inch, HD LED (1366 X 768, 220 nits)

Processor: Intel Centrino2; Core2Duo (25w/35w PGA, 2.26 GHz-2.80, up to 6 MB, 1066 MHz)

Graphics: Up to Nvidia GeForce G105M with 512 MB DDR2 memory or Intel integrated GMA X4500

Memory: Up to 4GB DDR3, 800/1066 MHz DRAM

Hard Drive: Up to 320 GB, 5400 rpm

Battery Life: 5 hours with 6 cell and integrated graphics, 2.5 hours with discrete graphics

Weight: 2.49 – 2.55 kg

Dimensions: 318 X 245 X 26.5-36.2mm

Connectivity: Ethernet, NIC/Intel WiFi Link 5150 1X2 AGN/Intel WiFi Link 5100 1X2 AGN/Non-Intel Wireless b/g/Bluetooth (optional)

Optical: 12.7mm SATA Optical (DVD Rambo)

Other: camera, HDMI port on PM/GM platform,

Software: Veriface 3.5, Vista Business/Home Premium/Basic/Starter

Lenovo C300 All-in-One Desktop

Display: 20-inch 16:9 aspect ratio (1600mm 900mm)

Processor: Intel Atom 230

Chipset: Intel 945GC chipset

Graphics: Intel integrated

Memory: 1-2 GB DDR2 667

Hard Drive: 160-640 GB 1 slot

Connectivity: Ethernet 100 MB, WiFi 802.11 abg (optional)

Optical: Tray in RAMBO (1 slot)

Other: 1.3 megapixel camera, 1394/firewire port, 6 USB, 6-in-1 multimedia card (secure digital multimedia card, XD, memory stick, memory stickpro, secure digital pro), two 2.0 audio 3 watts, 120 watt power adapter, wired USB mouse, wired PS/2 keyboard

Software: XP Home, Vista Home Basic, Vista Home Premium

Pricing and Availability3

The IdeaPad U350 laptop will be available starting in July. The Lenovo G550 laptop will be available starting in June, and the IdeaCentre C300 all-in-one desktop will be available starting in July. The PCs will be available through business partners and www.lenovo.com. Manufacturer suggested retail pricing for models starts at approximately $649, $599 and $449, respectively.

About Lenovo

Lenovo (HKSE: 992) (ADR: LNVGY) is dedicated to building exceptionally engineered personal computers. Lenovo's business model is built on innovation, operational efficiency and customer satisfaction as well as a focus on investment in emerging markets. Formed by Lenovo Group's acquisition of the former IBM Personal Computing Division, the company develops, manufactures and markets reliable, high-quality, secure and easy-to-use technology products and services worldwide. Lenovo has major research centers in Yamato, Japan; Beijing, Shanghai and Shenzhen, China; and Raleigh, North Carolina. For more information see www.lenovo.com.

1With a 4-cell battery.

2WWAN Service Providers: Requires separate agreement with select third party service provider, and is subject to credit approval and applicable service agreement/terms, rate plan and coverage maps of the provider. Service is available in select metropolitan markets, not available in all areas. Service provider, not Lenovo, is solely responsible for service. Lenovo customers may be contacted after purchase to activate service. Special credit and tenure restrictions and additional charges may apply to international roaming. A network connection, third-party software, additional hardware, and/or subscription to a third-party service may be required for certain solutions/applications. Additional restrictions apply

3Prices do not include tax or shipping and are subject to change without notice and is tied to specific terms and conditions. Reseller prices may vary. Price does not include all advertised features. All offers subject to availability. Lenovo reserves the right to alter product offerings and specifications at any time without notice