Lenovo IdeaCentre AIO 910 Review: A Big, Beautiful (And Pricey) All-In-One PC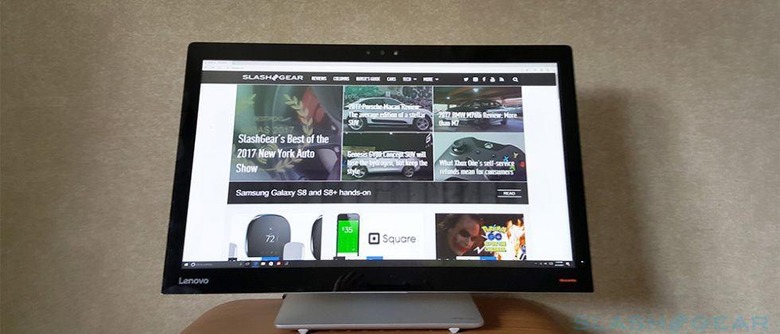 EDITORS' RATING: 8/10
Lenovo is back with a new all-in-one desktop computer, the IdeaCentre AIO 910. This model is aimed at consumers who want a simple but powerful desktop experience, and it follows in the footsteps of things like the A740. As we'd expect from an all-in-one desktop, this system brings everything someone needs for a proper computing experience: a large monitor, all the desktop hardware built into the monitor/base, plus a wireless keyboard and mouse. With a starting price of $1,799 USD, though, consumers largely have one big question about this AIO: is it worth it? Read our review to find out!
Hardware
The IdeaCentre AIO 910 arrives in a big, heavy box, wedged securely between two panels of soft foam. Retrieving it from the box is simple enough, but make no mistake, this is a very large PC. With a 27-inch display size, you'll have little need for a second monitor. Attached to the display is a big hinged metal stand with a thick base adorned by ports. You'll need a decent-sized and stable desk for this model, but that's not a criticism — once in place, the AIO 910 is a beauty, and something you feel is up to the task for a proper day of work.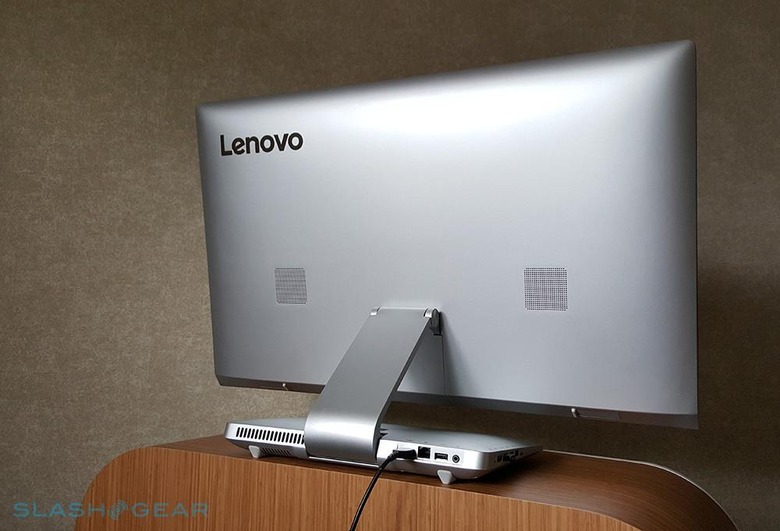 The entire model is a light silver-color with a metallic finish, and that includes the wireless keyboard. The wireless mouse is a similar color, though it is made of plastic with a soft coating on the surface. A single dongle nestled within the mouse connects both peripherals to the AIO — they work instantly (once you put the batteries in, of course), no drivers or other hassles to be found.
Overall, taking this machine out of the box and setting it all up was a three minute affair. Once in place on a desktop, the AIO looks mighty impressive. The solid impressions only grow bigger as you start readjusting the stand and realize how capable it is. The multi-touch display can be tipped backward fully and tipped forward a decent amount. Viewing angles are great, though the display will present light glares if you have a lamp or similar pointing at it.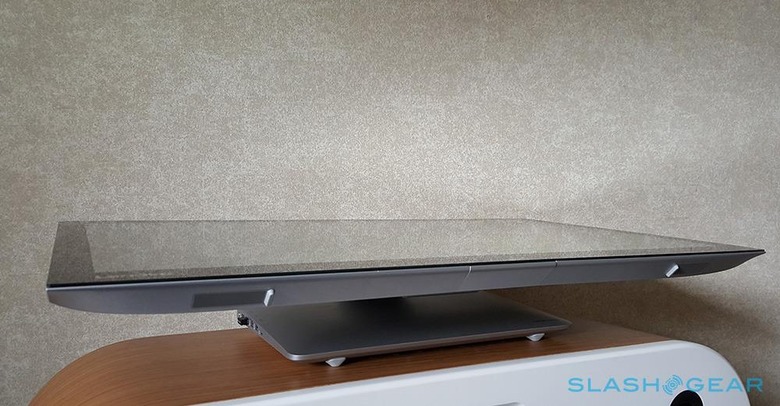 The -5 to +90-degree hinge capabilities means the display can be used to play table-top games, among other things. Due to the stand's clever design, though, you don't have to stand up to view the display as you'd expect. Instead, the dual hinges on the stand allow it to fold forward as the display tips backward, lowering its height at the same time. When fully flat, the display is hovering only a few inches above the desk's surface.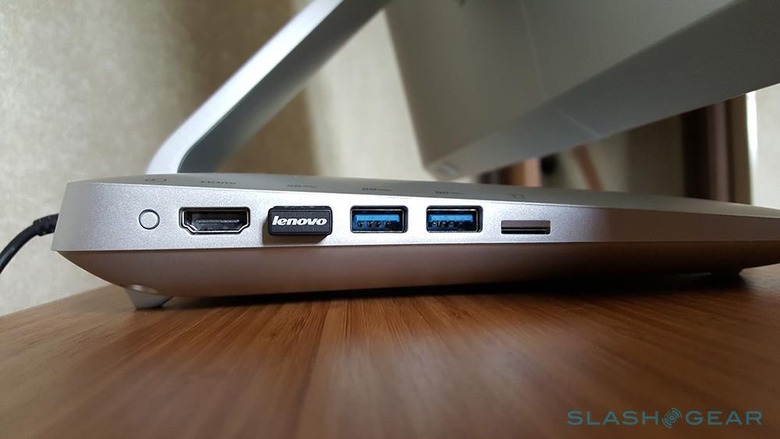 TECH SPECS

Processor: Up to 6th-gen Intel Core i7-6700T Processor (2.80GHz 8MB)

Operating System: Windows 10 Home

Discrete Graphics: Up to NVIDIA GeForce® GTX 950A 2GB

Memory: Up to 16GB DDR4 2133 MHz

Storage: Up to 1TB 5400 RPM + 256GB SSD

Audio: 2 x 3W Woofer + 2 x 2.5W Speakers, Harman/Kardon Certified

Display: 27" UHD with Multi-touch function (3840 X 2160)

Weight: Starting at 27.8 lbs (12.6 kg)

Optical Drive: External DVD Recordable

WiFi: 802.11 a/c, Bluetooth® 4.0

Rear Ports:

- 1 x USB 3.0

- 10/100/1000 LAN

- DC Jack

Side Ports: (3)USB 3.0, 3-in-1 Card Reader, Audio Combo Jack
Software & Performance
As always, performance will depend on your particular model's configuration. The unit we tested is the highest-end of the bunch, featuring the Core i7 processor option, 16GB of RAM, the Ultra HD display, and similar. Given those specs, it's no surprise the AIO 910 was fast and powerful, able to handle everything thrown at it without a problem.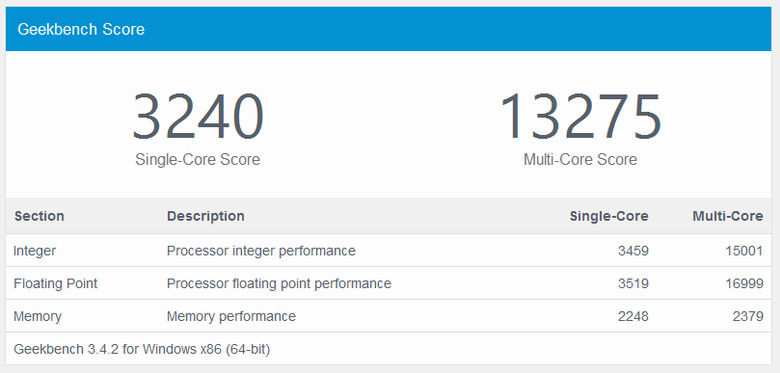 Some models, such as the new X1 Carbon, manage to skip Lenovo's preinstalled software, but the AIO 910 isn't so lucky. Buyers will find several of the company's own applications preinstalled on the A910, including its SHAREit, REACHit, and Solution Center. There's also CyberLink PowerDVD Create (which works with a separate optical drive), a Microsoft Office trial, and a McAfee LiveSafe trial.
What we like
Setting up the IdeaCentre AIO 910 is simple and takes only a few moments, giving buyers something to instantly like about this all-in-one. The upsides only grow from there. The large 27-inches of screen real estate means most people won't need a second display. The keyboard is designed in such a way that there was no trouble or adjustment period when transitioning between it and a MacBook. The mouse, though it is plastic and very lightweight, worked perfectly and was very responsive.

The display itself is arguably one of the most important parts of this machine, given that users can't exactly replace it for a different model if they find it lacking (this is an AIO, after all). I never found it lacking; it looks great when watching videos, when editing photos, and when doodling with a Wacom tablet. Whether it will suit gamers depends on the buyer, but I found that it was perfectly fine when used for casual gaming.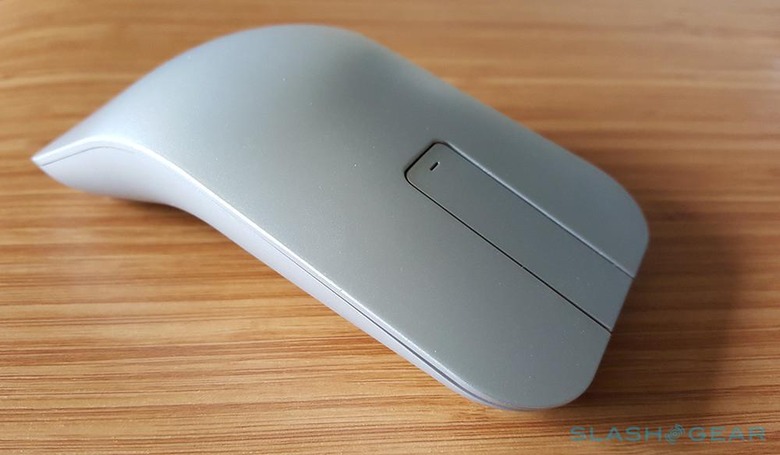 Issues
This isn't so much of an issue as it is a warning: the IdeaCentre AIO 910 is on the pricey side of the budget equation, and many casual users will find there are cheaper alternatives that are just as capable of meeting their needs. This all-in-one no doubt appeals to many users — graphic designers are one great example — and in that case, price is par for the course. Lenovo has less expensive all-in-one desktops for less demanding users, though, such as the $500 AIO 500 Series.
Wrap-up
There's a lot to like about the Lenovo AIO 910: its sleek metal design, its massive display, and its extra-flexible hinge, for starters. Buyers are given multiple options to choose from, as well, including the optional Ultra HD display, up to a 6th-gen Core i7, 1TB of storage, 16GB of RAM, and up to an NVIDIA GeForce GTX 950A. Those in the market for a powerhouse all-in-one that both looks sleek on a desk and brings the hardware necessary to get things done won't be disappointed.
Available now on Lenovo's website starting at $1,799.99 USD.