Lenovo E And M Series AIO PCs Equipped With Discrete Graphics And SSHDs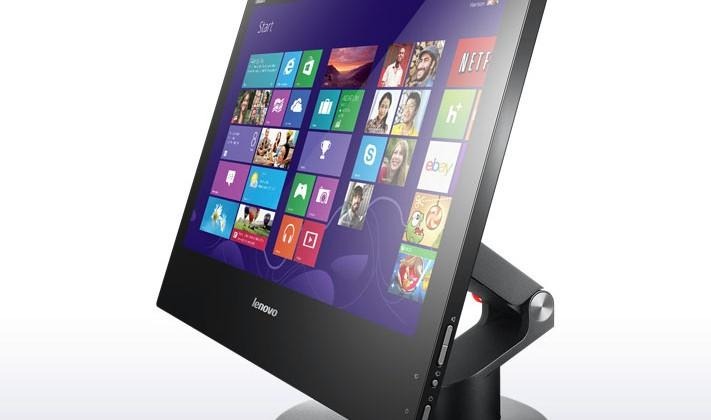 Lenovo has trotted out four new all-in-one desktop computers this week that have some very nice available hardware. The quartet of all-in-one desktop computers have some very nice available hardware along with improved cable management and new mounting options. Those new mounting options include Lenovo's ThinkCenter UltraFlex Stand.
The UltraFlex Stand has enough adjustability to allow vertical, rotate, and tilt movements across a wide range of positions including fully flat. The computers have various available Intel fourth-generation Core processors. Lenovo also offers optional discrete graphics and solid-state hybrid drives in some units.
The computers also have WiDi support allowing them to be easily connected to notebook computers or other displays. Among the new all-in-one offerings is the ThinkCenter E93z starting at $699 with availability in September. Lenovo says this machine is one of the thinnest all-in-one PCs ever built for business users and can be had with the optional UltraFlex Stand.
The machine supports 10-points of touch and can be powered by a fourth-generation Core i7 processors. The computer can also be had with a 1 GB Nvidia GeForce 720 discrete GPU on some models. The display is 21.5-inches and features infinity glass with full HD resolution. The next two all-in-ones from Lenovo are the E73z and M73z.
Lenovo says that those two all-in-one computers are ideal for VoIP calls and video conferencing with optimized 720p HD resolution cameras, arrayed microphones, and noise cancellation technology. The M73z has enhanced security features with a TPM Security Chip for data protection and self-encrypting hard drive. The E73z will be available in late September starting at $599 with the M73z available in October starting at the same price.
The last of the new all-in-one computers is the ThinkCenter M73. This machine is able to power up remotely using a compatible keyboard and has a number of mounting solutions. It's powered by fourth-generation Intel Core processors and features integrated graphics and available solid-state hybrid drives. It will be available in October starting at $439.
SOURCE: Lenovo