Lenovo debuts IdeaCentre Q180 as world's smallest desktop PC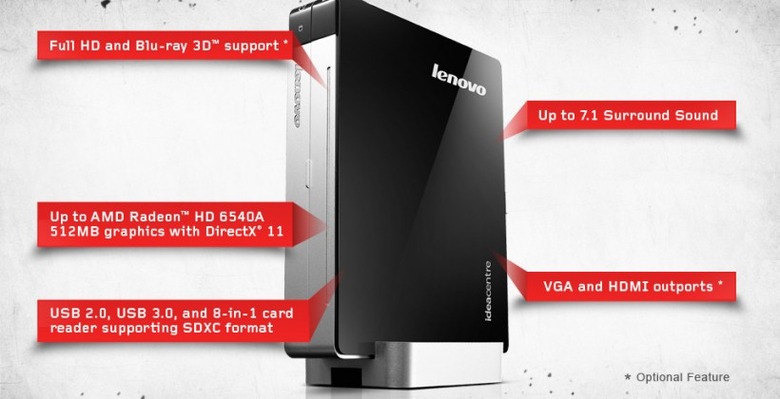 If you're really cramped on space or simply prefer minimalist styling but need a multimedia desktop PC, then Lenovo's IdeaCentre Q180 may suit your needs. The super sleek IdeaCentre Q180 went on sale today as the world's smallest desktop PC, measuring in at just about the size of a novel at 22mm thin.
But the IdeaCentre Q180 isn't just good looks in a tiny package, it boasts a whole slew of multimedia features to double as a compact home theater system. It features Full HD 1080p graphics processed by an AMD Radeon HD 6540A 512MB graphics with DirectX 11, 7.1 surround sound, and an optional Blu-ray Disc drive that also supports 3D playback. It's powered by an Intel Atom D2500 dual-core processor with up to 4GB of DDR3 RAM and up to 750GB of HDD storage or 128GB of SSD storage.
It also features plenty of ports, including USB 2.0, USB 3.0, VGA, HDMI, and an SD card reader. And, it works with an optional new enhanced multimedia remote keyboard that costs $79.99. Just the IdeaCentre Q180 itself starts at $349 and is available now on Lenovo's website.