Lenovo cut SSD upgrade prices on ThinkPads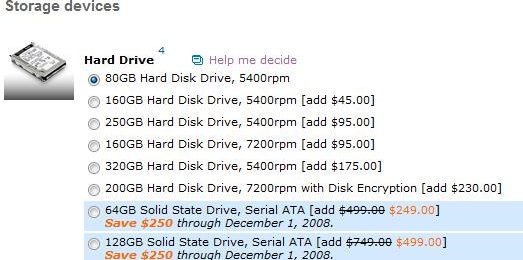 Lenovo have scythed prices on their SSD ThinkPad upgrades, cutting $250 from the existing 64GB solid-state drive and adding a new, 128GB option that also has a $250 discount.  That takes that 64GB drive down to half-price, as a $249 upgrade.
The 128GB SSD, meanwhile, would normally be priced at $749, but has been cut down to $499.  Lenovo does not mention who has manufactured the drives.
These prices are apparently good until December 1st, and seem to be consistent across all of the ThinkPad notebooks and Tablet PCs that offer SSD as an option.  Lenovo have given no indication of why they are discounting the drives, but it's possible that they're looking to clear stock in preparation for a switch to Intel's new consumer SSD models.
[via John Hill talks tablets]