Lenovo C325 all-in-one review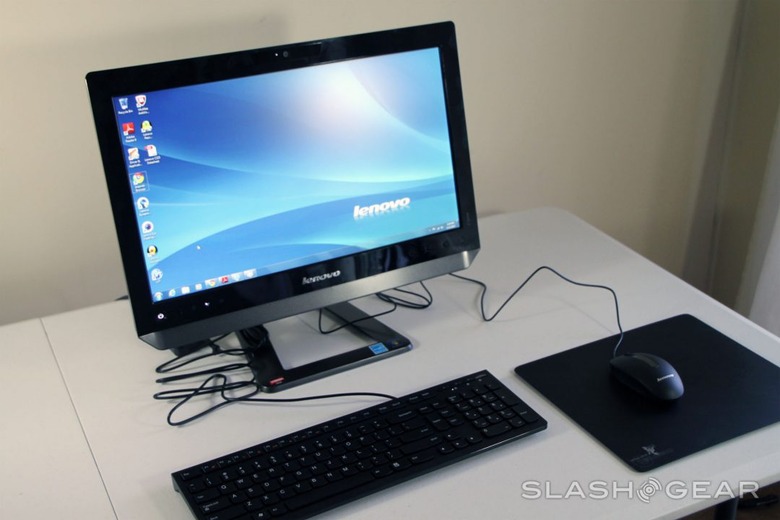 The all-in-one form factor presents an interesting use case: it required much of the same external setup as a desktop, but uses laptop parts in most cases and has the same resistance to expansion. The most obviously attractive quality of the all-in-one is that it allows for comfortable desktop-style use while being "easy" – just plug in a mouse and keyboard and you're good to go. With the iMac occupying the top end and various HP and Lenovo consumer models grabbing space just below, there's room for a low-cost option: Lenovo's $599 C325.
Hardware
As far as the hardware goes, the C325 is a good-looking if not overly showy model. A mostly plastic casing is accented by a full metal base, helping to keep the considerable weight of the screen and components in check. Much to my surprise, the glossy case contrasts with a matte LCD screen – a definite boon to those who operate in bright offices or homes. The 1600x900 resolution is appreciated, and not often seen in a 20-inch panel – though the much-advertised multi-touch option doesn't seem to be available yet.
Under the metaphorical hood lies The AMD E-450, a dual-core 1.65Ghz processor that should handle the standard web browsing, email, and light media of the vast majority of business and consumer users, but will be ill-fitted to advanced tasks. Ditto for the 4GB (8GB maximum) of DDR3 memory and Radeon HD 6320 integrated graphics. Our base configuration review unit came with a 500GB hard drive, but you can get a full terabyte if you spring for the upgrade. A standard DVD-RW drive on the right side of the integrated rounds out the major components.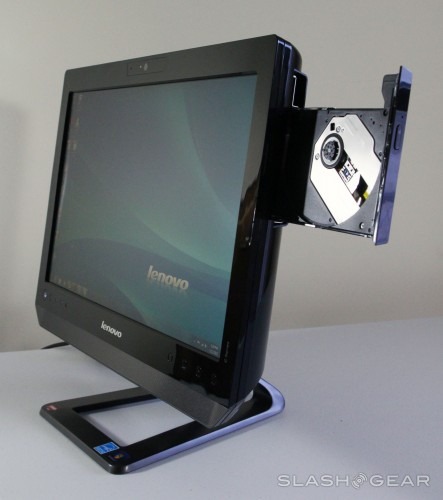 On the right side, a pair of USB 3.0 ports flank the microphone and headphone jacks, below a 6-in-1 memory card reader. Around the back are four more standard USB 2.0 ports and an old-school Ethernet port. The b/g/n WiFi module isn't accessible, but the hard drive and memory bays are – with room for a full-size 3.5-inch SATA drive and an empty RAM DIMM slot for easy upgrades. There's no way to output to an external monitor, but there's a connection for an optional TV tuner. All that's left on the front are the sizeable front-facing speakers, a rather puny .3 megapixel webcam and the power button an monitor controls. A basic wired mouse and keyboard are included - serviceable, if not extraordinary. Considering the integrated nature of all-in-one, wireless inputs would have been nice.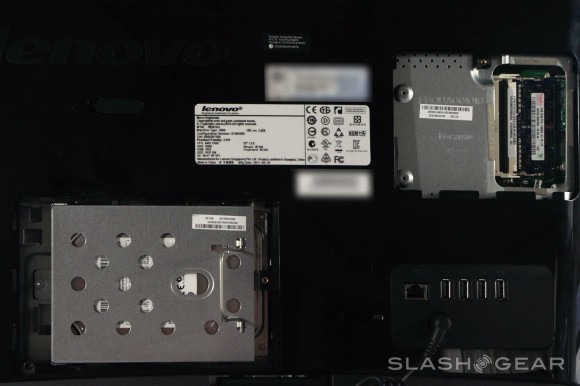 The whole package is pretty much exactly what you'd expect from an entry-level all-in-one: no more and mo less. Hardware highlights are the high-resolution screen (any more would be overkill, any less would be annoying) and easily accessible storage and memory. I'm not a fan of the glossy plastic, and a height-adjustable stand would have been useful – the steel base only pivots the unit about 25 degrees.
Software
The C325 packs in Windows 7 Home Premium 64-bit. For the base unit it doesn't do much, since there's only 3.5 gigabytes of available memory when combined with the integrated graphics. But if you ever intend to upgrade or just spring for more RAM at the get-go, it's a useful extension. There's no restore or OS disc, but you do get a CD of drivers for troubleshooting without an Internet connection.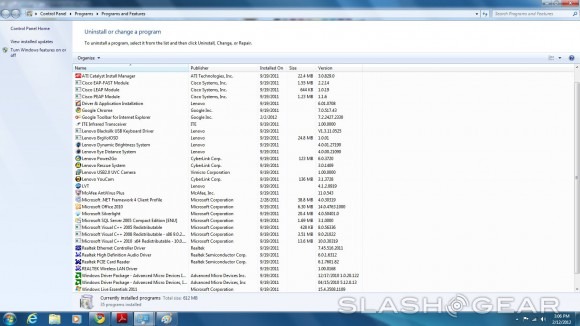 An unfortunate reality of low-priced PCs is that manufacturers will try to up the profit margin with software pack-ins. The C325 is better than most in this respect, something I can happily say about Lenovo machines in general. Aside from drivers and various Lenovo pack-ins, there's McAfee anti-virus, a trial install of Microsoft Office and Windows Live Essentials. One pre-install I do appreciate is Google Chrome – always nice to see manufacturers that recognize that Internet Explorer isn't an option for most power users. Too bad they had to throw in the Google Toolbar to "sweeten" the deal.
The all-in-one specifications won't let it do high-end gaming or media creation, but heavy browsing sessions, massive email databases and iTunes (the bane of Windows performance fanatics everywhere) work without complaint. AMD's E-series is worlds better than Atom-class processors, but still not as snappy as even the low end of Intel's Core series.
Performance
As indicated above, the C325 isn't suited to heavy-duty tasks – but then it isn't really meant to be. Even so, a little more oomph from the CPU would have been appreciated; this all-in-one will be outpaced by the average ultrabook. If all you intend to do with an all-in-one is browsing and some light media playback, it should suit your needs just fine. If you're looking for gaming, graphics or other high-end tasks, look elsewhere.
[sgbenchmark id=151 show=system]
[sgbenchmark id=151 show=score]
Value
The real equation you have to ask yourself is this: do I want a desktop that sacrifices size for expandability? For $600 you can get a pretty decent laptop these days, and you can find a more powerful desktop for far less. For the few usage cases where an all-in-one is ideal, the C325 fits the bill as a low-budget option. But can you find one of those cases where a laptop or standard desktop wouldn't fit better? Perhaps the equation would be changed with the addition of a quality multi-touch panel, but even then, usability – not utility – would be the primary bonus.
Wrap Up
As a low-cost entry in the all-in-one world, the Lenovo C325 is solid. Pluses include good fit and finish and easily upgradeable memory and storage, with an excellent matte screen. The downside is that there just isn't enough processing power for intensive tasks. With 4GB or more of memory multi-tasking shouldn't be problem, but anything else will be a trial for this machine.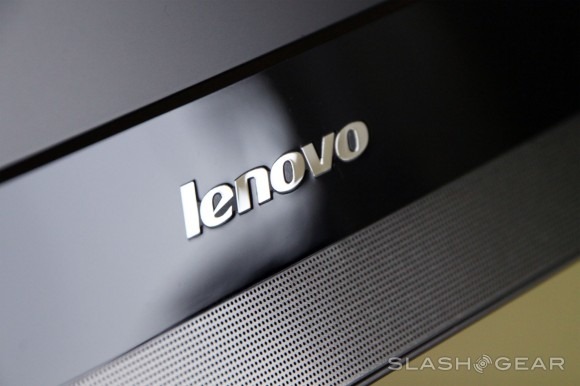 For basic terminals or a lightweight communal home computer, the C325 is a good choice, especially with upgraded memory and storage. But for those who need more performance or just can't find a good enough reason to indulge in the form factor, a traditional desktop will serve better at a lower price, while a laptop will do for portability.