Lenovo A- and S-Series tablets hands-on: Watch out Nexus 7, Lenovo is after you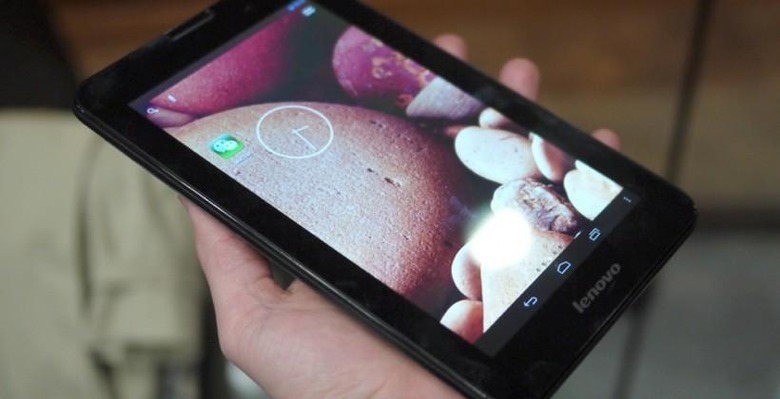 It's shaping up to be a day of Android as Mobile World Congress opens, with Lenovo joining the throng with a trio of tablets, the A-Series A1000 and A3000, and the S-Series S6000. The two A-Series models, both 7-inchers, target the entry- and mid-point of the market: the A1000 is the most affordable, though it offers Dolby Digital Plus audio and front stereo speakers, while the A3000 steps up to a quadcore chip and has a more impressive display.
The A1000 uses a 1024 x 600 TN panel, which is fair but not great; viewing angles suffer because of the cheaper LCD technology. Inside, there's a 1.2GHz dualcore processor and 16GB of storage, expandable by up to 32GB microSD cards. OS is Android 4.1 Jelly Bean, and Lenovo is positioning the A1000 as a "Pocket Studio" thanks to the Dolby branding. In the hand, it's reminiscent of the Nexus 7, and similarly plasticky, though Lenovo tells us that it will almost undoubtedly be cheaper than the Google/ASUS slate. Helping keep costs down is the absence of a rear camera, with the A1000 only getting a front-facing webcam.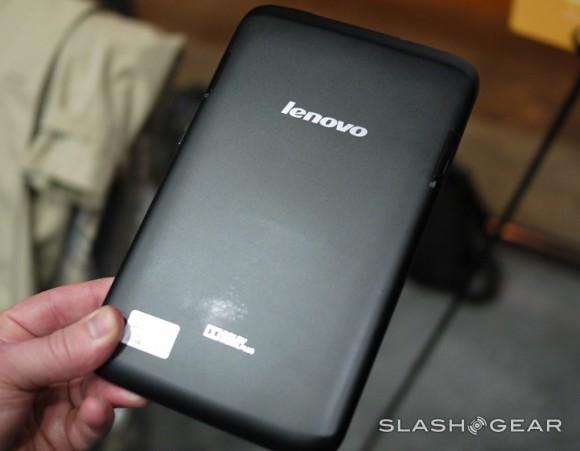 Far more successful, though, is the A3000, running a 1.2GHz quadcore MTK processor. It too has a 1024 x 600 display, but it uses an IPS panel and the viewing angles, color quality, and brightness are far improved over its cheaper sibling. 11mm thick and under 340g, it's easy to hold and slip into a jacket pocket; Lenovo has also stepped up its memory card support, with the A3000 capable of handling 64GB chips. There's a proper camera on the back for photography, too.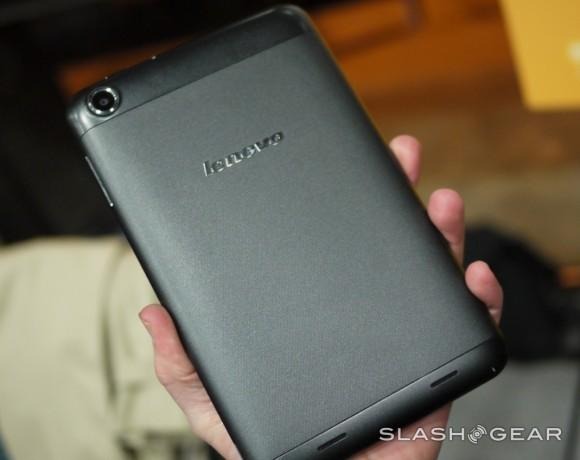 Unlike the A1000, the A3000 will be offered in both WiFi-only and WiFi/3G variants, using an HSPA+ chip for connectivity on the go. OS, as per the A1000, is Jelly Bean, though it'll still be Android 4.1 – not 4.2 – at launch, Lenovo confirmed.
As for the Lenovo S6000, that packs a 10.1-inch display running at 1280 x 800 resolution. It's not the very best panel we've seen, though it's IPS and has 178-degree viewing angles; the Nexus 10, for instance, puts the resolution to shame, though the Lenovo is a solid mainstream slate (and will be priced to suit). Inside, there's an MTK 8389/8125 1.2GHz quadcore processor and optional HSPA+.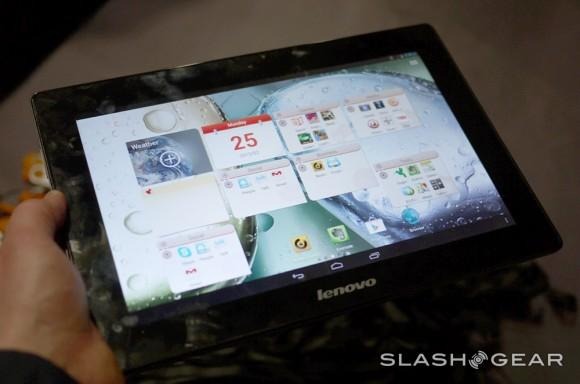 However, it's the slimline form-factor that really tips things in the S6000's favor. Lenovo has taken a leaf from Samsung's early Android tablets and targeted a waifish profile: the S6000 is just 8.6mm thick, as well as tipping the scales at 560g. That makes for a 10-inch tablet that can be comfortably held in one hand, even in landscape orientation, something which would soon lead to tired wrists with most similarly-sized slates. Lenovo claims battery life hasn't suffered, however, with the S6000 rated for more than 8hrs of browsing on a single charge, albeit over WiFi not 3G.
Pricing for all three of the slates hasn't been confirmed, though Lenovo says they'll all hit the market in a Q2 worldwide launch.