Leica X1 and M9 get premature previews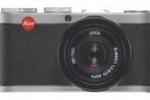 Details of two upcoming digital cameras, the Leica X1 and Leica M9, have been revealed, courtesy of a prematurely posted – and since yanked – microsite.  The X1 – "equipped with a CMOS sensor equal in size to that of many DSLR cameras" – and M9 information can all be found in this Flickr gallery.
The X1 is a fixed-lens camera with 24mm optics and a 12-megapixel sensor.  Meanwhile the M9 is said to have a full-frame 18.2-megapixel sensor and improved low-light performance.  Both cameras are tipped to get an official announcement on Wednesday September 9th.